Wrestling Season in Review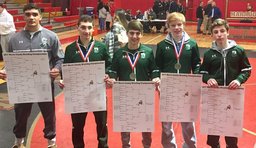 Hang on for a minute...we're trying to find some more stories you might like.
The end of the winter term marked the conclusion of an exceptional season for the wrestling team. Delbarton Wrestling finished with a record of 16-3 and a 2nd place ranking in New Jersey. Unfortunately, a closely-matched loss to Bergen Catholic in the state sectional finals denied the Green Wave the 1st place ranking in the state.
Over the course of the season, the team competed at several top-level tournaments which included "The Beast of the East", "Escape the Rock", "The Jack Welch Duals" and "The South Jersey Duals". Delbarton Wrestling represented the school well at each event.
After team competitions concluded, only the District, Region and State tournaments remained. A wrestler must finish among the top three in the District to move on to the Region, and top 4 at the Region to move on to the State tournament. At the District tournament, every Delbarton wrestler was a finalist and eight went on to win in the tournament: Anthony Clark, Patrick Glory, Travis Tavoso, Vincent Andreano, Kieran Calvetti, Cole Kreshpane and LJ Castellano. Of the 13 wrestlers who progressed to the Regional, two were champions, two finished in second and three placed third. Unfortunately, two of the top wrestlers had to withdraw due to injury and illness.  In total, there were seven wrestlers who qualified for the competition known as "States": Anthony Clark, Patrick Glory, Travis Tavoso, Kieran Calvetti, Cole Kreshpane, LJ Castellano, and Trey Zgombic; a very impressive number.  
At the state tournament, the team had a rare and exceptional accomplishment–two individual state champions. Anthony Clark, who won at 106 pounds and Patrick Glory, who placed 1st at 120 pounds. Other finalists included, LJ Castellano at 4th place, and Cole Kreshpane at 6th. In addition, Anthony Clark finished the season ranked 6th in the country and Patrick Glory remains the number 1 ranked wrestler in the nation at 120 pounds.
As the team looks forward to next year, the future is promising. Green Wave Wrestling will only graduate one starting senior this year, LJ Castellano, who moves on to Duke University to continue his wrestling career. With four freshman in the starting lineup this year and more talented incoming wrestlers next year, there is great anticipation for the 2017-2018 season. Go Green Wave Wrestling!