Minding Your Mind: The Importance of Mental Health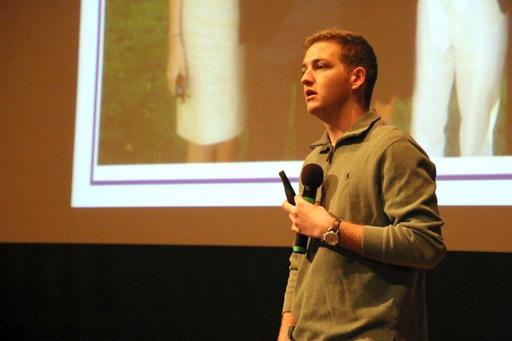 Hang on for a minute...we're trying to find some more stories you might like.
On Friday, March 24, Drew Bergman came in to speak with the school. Drew is a student at Temple University and a representative for the Minding Your Mind organization, a group which works to provide mental health education to teens. Drew's talk was very powerful, as he spoke directly from his own experience.
Drew showed a picture of his family on the big screen, which he said seemed to be perfect. However, underneath, Drew and his siblings struggled with his father's alcoholism and the widening gulf between his parents. As a result, he became depressed and resorted to cutting. Eventually, at the age of 12, Drew first attempted suicide. Drew said his dreams came true when he got accepted to St. Joe's Prep, a prestigious school in Philadelphia. Unfortunately, he struggled academically during his first year and by sophomore year, he attempted his second suicide. Drew survived and began to receive the treatment he needed. He explained that mental health was not dissimilar to physical health. Specifically, if you broke your arm, you would see a specialist to help you. Thus, when you have mental health problems, you should see a mental health specialist. Drew highlighted the importance of positive coping mechanisms such as exercise, yoga, and food. He also stressed the necessity of trusted adults to confide in.
Drew's talk is especially important at academically rigorous schools such as Delbarton. When he asked how many kids went to bed before 10:30, almost no one raised their hand. With the plethora of AP courses Delbarton students challenge themselves with and the stress of college, mental health proves to be just as important as physical health. As a school, we must remove the stigma attached to seeking guidance, and the school is lucky to have Dr. D'Urso, whose door is always open.