Covenant House Sleep Out: An Amazing Experience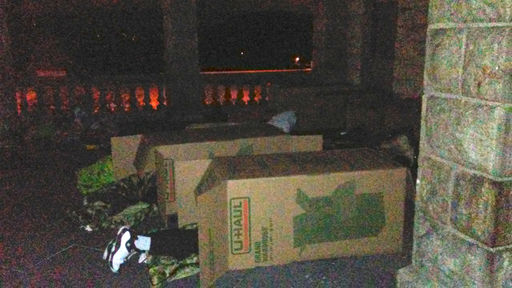 Hang on for a minute...we're trying to find some more stories you might like.
Mahatma Gandhi once said, "The best way to find yourself is to lose yourself in the service of others." On April 1st, 2017, Delbarton students slept outside, so that homeless teens wouldn't have to. Covenant House is a nonprofit charity which provides food, shelter, medical service, and job training for the homeless teens of our society. This year's sleep-out rose over $53,000 for Covenant House and the important work that they do. The students only had blankets and boxes to keep them warm. Indeed, the Delbarton community got a sense of the conditions that Covenant House works to prevent and alleviate.
Last week, I spoke with Steven Hadley '17, one of the Service Coordinators for this event. Throughout the interview, Steven emphasized that we should always appreciate the blessings and gifts God has given us. Many teens our age are homeless, because they have been either kicked out of the house, abused, molested, or a loved one has passed on. These young people then move to the streets, sometimes leading to gang involvement and feelings of loneliness. The Covenant House provides these young adults with the necessities of human life, serving as a beacon of hope.
Moreover, Steven pointed out that the first Sleep-Out at Delbarton helped two teens who were on their way to college and law school. Undoubtedly, Covenant House changes these lives, providing  opportunity and support for a successful future. Steven believes that many Benedictine and Delbarton values are demonstrated in this event, particularly the Benedictine value of hospitality. Since 100 percent of the Delbarton community participates in community service, this Benedictine value is present in all service projects, especially Covenant House. Delbarton broke the national record for fundraising for the first sleep out. For the second sleep out, Delbarton had doubled the participation and broke the national record it set the previous year.
By sleeping out in the cold, we are being hospitable and caring by giving homeless teens a warm bed to sleep in at night. Living the Benedictine values and giving back to the community will make you a better person both at Delbarton and in your own community. Service is an essential element of a Delbarton student since it builds character and personality. So, Steven Hadley and I encourage you to participate in the Delbarton Sleep Out in the coming years, so that you can gain the understanding and the experience of what it's like to be a homeless teen, who is not lazy, but forgotten. As St. Joseph once said, "We are born to love, we live to love, and we will die to love still more."