Farewell, Brother Paul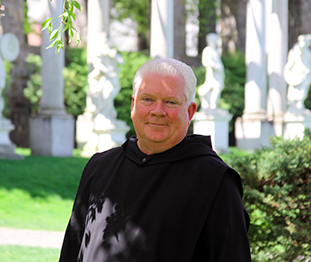 Brother Paul is one of the most important members of the Delbarton community, as a teacher and our headmaster.  He puts in countless hours to the school and to St. Mary's Abbey.  At first, Brother Paul never thought he would come to Delbarton.  He attended St. Benedict's Prep, and thought he would become a Benedictine Monk there in Newark.  However, many of the monks that had inspired Brother Paul moved to Delbarton.  He visited the Abbey and Delbarton, and he made his decision to come here.  As soon as he arrived at Delbarton, Brother Paul felt he had found a home.  The teachers and faculty were very welcoming, and he wanted to do whatever he could to help.  Many years of hard work and dedication followed.  
At the end of this academic year, Brother Paul will step down as headmaster of Delbarton School.  He will continue his vocation as a monk, as well as take a year-long sabbatical.  After he returns, he will still do whatever he can to help the school.  Brother Paul is thankful to the Delbarton community for being so supportive and kind to him over the years.
One of the reasons Brother Paul is stepping down as headmaster is the lack of free time.  His favorite passion is gardening, and he hopes to do more of it in the future.  He also enjoys spending time with friends, reading, cooking, and going to the movies.  He looks forward to having more time to do these things.  
No matter what the future holds for Brother Paul, we are thankful for his dedication to our school community and wish him luck in the next chapter of his life.