Gustav Holst's "Planets Suite" Review Series Pt 3: Mars
Hang on for a minute...we're trying to find some more stories you might like.
Link to music: https://www.youtube.com/watch?v=L0bcRCCg01I
Performance by the Chicago Symphony Orchestra
In this article, as we continue an examination of Gustav Holst's Planets, we will focus on Mars. Undoubtedly the most iconic movement of the Planets series, Mars has inspired much of John Williams' Star Wars music, specifically the Imperial March. It is perhaps best known for its 5-4 time signature: most music has 3 or 4 beats per measure, while Mars' 5 beats per measure is unique in that regard. It is characterized by an authoritative and imposing beat and sound quality: the abundance of brass instruments creates a majestic effect. The music serves as a perfect backdrop to any movies that depict a conflict, which aligns perfectly with Holst's motive (to portray the god Mars- bringer of war).
Holst primarily uses three specific patterns to create Mars. The first pattern is the aforementioned rhythm with an irregular 5 /4 time signature on the note G (see below) which appears at the beginning of the movement, and serves as the foundation for the piece.

The second main pattern is the first true melody (the first one merely setting the beat and "feel" for the piece. This melody first appears in tenor tuba. (see below) It moves from 5 /4 time signature (meter) to a 5/2 meter which briefly appears from measures 96 to 109. The 5/4 meter returns in measures 143-162.

The third pattern is evident in the theme between the tenor tuba and the trumpets. This theme does not pass around from instrument to instrument as much as the other two themes do, as this one primarily stays within the brass section.

At measure 79, Holst starts a very unique and interesting ascending scale sequence. An ascending scale essentially means that the notes keep going upward (one note at a time), and this is shared by the entire orchestra (depicted below). The effect is a surge of energy and the build up of tension to an eventual climax.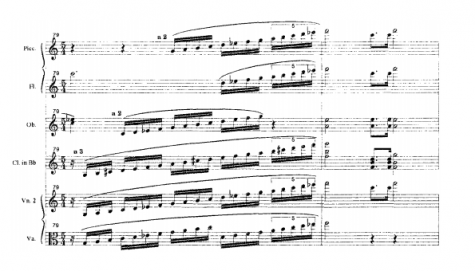 In general, this is arguably Holst's most famous pieces for good reason: the uniqueness of the piece's structure. Audiences are always captivated by the new and the old meshing together. Mars does this in that it combines a rare meter (5/4) with a very familiar and inspiring style of music: war-themed music. It has also directly inspired many other works. Most notably, John Williams' Imperial March (from Star Wars), Hans Zimmer's Gladiator soundtrack, and the theme music for the popular video game series "Hearts of Iron." While other movements may be just as well-constructed, the novelty of Mars enables it to stand out among the rest.
Next up: Jupiter