The Green Wave Harriers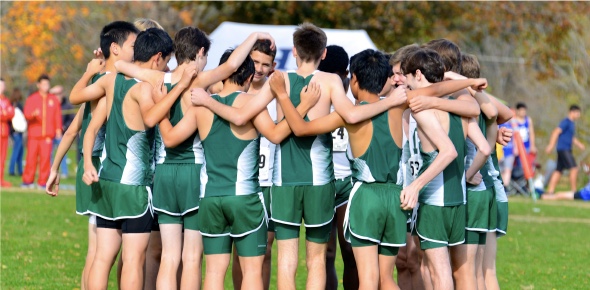 Staff Writer
Participation in this year's cross country team is unlike anything the program has seen before. The team has over 40 members, making it the largest in Delbarton's history and is made of predominantly underclassmen with a freshman team of approximately 20 runners. Because of the program's size, the team has aimed to use its newfound mass and skill to an advantage.
Last year's season, the cross country program reached some moderate successes. Captain Ira Daly qualified to the NJ Meet of Champions, the Varsity squad placed 4th at the Catholic Track Conference Champions, and the successful Freshman team took 2nd at both the County and NJAC championships. However, the team experienced an unorthodox amount of injury and illness. Senior Captain Jack Looney dislocated his shoulder, Sophmore Steven Daly was out for the season's entirety from an Iron Deficiency, and current Senior and varsity runner Finn Gannon had broken his arm. Because of these injuries, the team was not able to reach its maximum potential.
However this season, we hoped to change that.
Going into the season, the Cross Country team looked to rebuild its strength after the loss of its three senior Varsity runners from the Class of 2018: Jack Looney, Ira Daly, and Brendan Lawlor. Leading the pack, we have Junior Captain Steven Daly, who after his absence in the 2017 season hoped to re-establish himself as a watershed leader on the team. Following him, Juniors Harrison Vives and converted soccer-player Chris Falia have continually made a substantial impact on the team's success. Subsequently, Senior captains Karman Sandhu and Finn Gannon along with sophomores Dennis Collins and myself, Patrick Smart, have consistently held the 4th and 5th scoring positions. However, not only have these runners truly defined the Varsity squad, but Freshmen Evan Dolan and Ritchie Mistichelli have run with and scored points for the Varsity troupe at various times throughout the season.
So far, Delbarton cross country has earned a 2-3 record in local NJAC competitions, scoring landslide victories against Mount Olive and Pope John. The team ran in a handful of invitationals including the Leigh University Invitational in Bethlehem Pennsylvania, Shore Coaches Meet at Holmdel, the Bernee Magee Invitational, and Manhattan Invitational, among others. In an unexpected turn of events, the varsity finished 7th place out of 14 teams at the NJAC championships and 4th at the County Championships. The Freshman have had a very successful, finishing 2nd at both NJACs and Counties.
As the season comes to a close, the green wave cross country team looks to finish in the top spots at the Catholic Track Conference Championship, Non-Public Group A State Championship, and hopefully attend the New Jersey Meet of Champions. With the program annually substantially increasing in size, the Delbarton XC team hopes this season prepares the program for future success.