Fall Play Reflection: Metamorphoses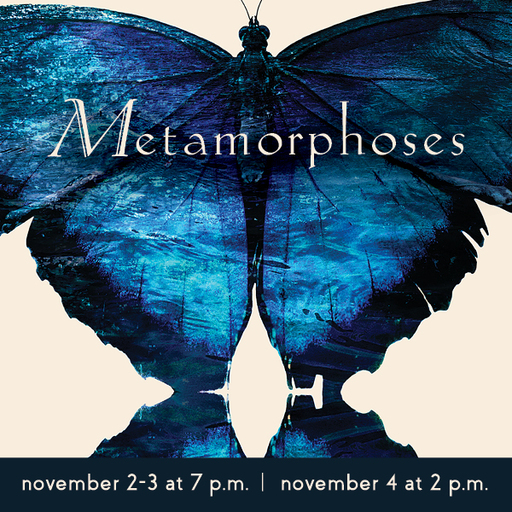 Hang on for a minute...we're trying to find some more stories you might like.
When I walked into auditions for the Fall play, Metamorpheses, I had expected to be greeted by a cast of familiar people and a play that I would probably forget about being in when I got older. Only one of those things turned out to be true. I am more than certain that this play, the memories the cast and I created, and the stories we portrayed will stick with me far into my rocking chair years.
I learned quite instantaneously that when someone performs Metamorpheses, it will remain with them long after the final curtain has been drawn. The first scene I read in auditions intrigued me, but, still, I had not been completely drawn in. Eventually, we got through a few segments and I was called up to perform another scene, the scene in which a drunken follower of Bacchus, Silenus, has an encounter with Midas. I had been assigned to Silenus. Someone had performed the scene before me (because in auditions we cycle through a few scenes and mix up who plays which role every time) so I had an idea of what to do. When I initially delivered my lines, they were too hammed up and over-the-top. But as the scene went on I got into the flow of things and I remembered a coaching tip I got about acting as a drunk. The lesson was that you have to pretend as if you are drunk but are trying to act sober. I started doing just that and my fellow actors started to crack up. I would also play the role of Silenus in the actual production.  All of the cast members played multiple roles in the production, but Silenus was my favorite.
However, this was just the inception of the journey that the cast and I would take. I had been mystified by the eloquent language, the fluid and impactful scenes, and the play's ability to pull such important messages from ancient tales. But the action of the play really came alive when we installed the pool. With a 30 x 40 foot pond liner for the "indoor pool", the significance of the scenes increased tenfold and the true art of the stories became evident. When the cast first saw the pool, we all knew we now had an obligation to commit fully to this play. We were not going to let such a beautiful script be performed by a bunch of high-school amateurs, but we wanted to be as professional as humanly possible.
Another facet that allowed for the play to be successful was the unbreakable friendships between the stage crew, cast members and the impeccable direction from Mr. Corica. Ultimately, I do not think I will have an experience quite like this ever again. Now and in the future, whenever people ask why I do theater, I will tell them about this show and how much it has impacted me and other cast members in such profound ways. That is why I highly encourage everyone who is considering to try out for the musical to do so. There is an extremely special feeling that one takes from theater that can only be realized when one actually performs something on stage. Auditions will take place after school from November 12-16 and I am anxious to see a lot of new faces there.