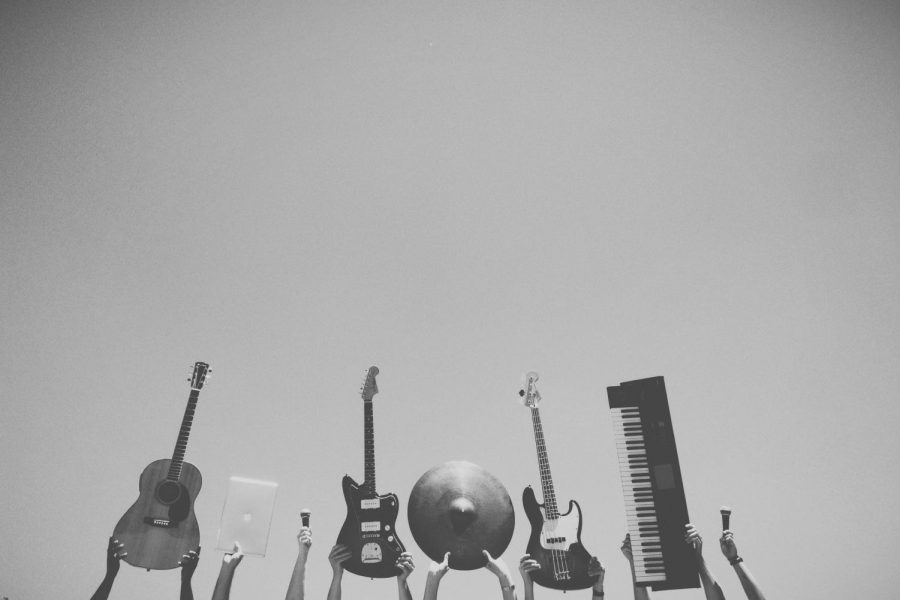 I don't have a mainstream taste in music. So for a "Top Ten List", I have to set some ground rules. All songs on this list have to be on any Billboard top list at least once, it has to be relevant in 2018, and each artist (not including featured artists) can only have one song on the list. But besides that, everything is on the table. This was a really hard list to make because of the fact that there weren't many songs that were actually good and were somewhat of a hit. But, after adding, removing, and changing order, I have come to a concrete list. Here are my "Top Ten Best Songs of 2018".
10."Nice For What" by Drake
Although not a big Drake fan, I have to admit he had an amazing year. To ignore him would be a crime. "Nice for What" was released on April 6th and debuted at number one on the Billboard Top 100 replacing his own 11-week number one hit "God's Plan." This song is oddly reminiscent of golden age hip-hop. The beat is traditional and doesn't have a heavy, fake, ear ripping, synthesizer that is used a lot in present rap. He samples a line from Lauryn Hill's 1998 song "Ex-Factor​" and integrates it into the beat. The lyrics, in this case, are not important. His goal in this song was for it to be a groovy jam and he nails it. Drake spends most of the song being goofy while also referencing the presence of social media in the modern world.
"Drunk Me" by Mitchell Tenpenny
While I generally dislike vague, kind of relatable love songs, "Drunk Me" does more than that. "Drunk Me" was released on March 26th and peaked at 53rd on the Hot 100 and 6th on the Hot Country songs list. This song mixes traditional country and a synthesizer to create an interesting instrumental that goes well with the lyrics. Mitchell Tenpenny uses vivid imagery to paint a scene. Most people think that becoming depressed will lead to substance abuse but this song points out that it takes heartbreak to change and to become a better person.
"Shallow" by Lady Gaga & Bradley Cooper
I actually saw this movie in theatres and thought it was great. "Shallow" is the first song in the most recent film version of "A Star is Born" released September 27th. It peaked at number 5 on the Billboard Hot 100 on October 20th. The instrumental sets the stage for this ballad perfectly. The slow acoustic guitar, the violin, and piano not only signify the relationship between the two main characters but also builds on Lady Gaga's amazing vocal ability. When it comes to songs in musicals and movies, they are supposed to be used to progress the plot. "Shallow" does that and then some.
"Lottery" by Jade Bird
This ballad about two young lovers gets very specific and light instrumental makes it an interesting listen. "Lottery" was released on January 12th and reached number one on the Triple-A list. This song is an acoustic ballad about two ex-lovers who remain good friends following their breakup and their slow disconnection. The acoustic guitar relays the message that she doesn't look back on her relationship in a negative way. She also makes it clear how the past shapes her future. The final line in the song, "Are you still betting on me?" leaves the message that they both need to move on from that failed relationship. This is much different than many other songs about exes. A good example is "Thank U, Next" by Ariana Grande. Her message is that the only purpose of her past relationships was to teach her some lesson but "Lottery" doesn't do that. It instead reminisces her relationships and truly reflects on their impact on her life.
"Hunger" by Florence + The Machine
Lead singer Florence Welsh has a unique voice that can either turn people off or string a chord inside themselves. "Hunger" released on May 3rd, reached number one on the hot Triple-A songs list (Adult Alternative) on June 23rd. The song starts with the lyrics "At seventeen I started to starve myself. /I thought that love was a kind of emptiness.." She shows her insecurities and at the same time, relay the message that everyone has insecurities and that is okay. She packs so much meaning into this song that I could dissect this song line by line. The vivid imagery she draws highlights the imperfections that everyone has. This song flew under the radar as far as the Hot 100 goes.
"King Of the Clouds" by Panic! At the Disco
Brendon Urie, the lead singer in Panic! At the Disco, has amazing range and he shows it off in "King Of the Clouds" which was released on June 18th in the band's 6th Studio Album "Pray for the Wicked." It peaked at 11 on the Hot Rock Songs List on July 7th. Their upbeat instrumental played in the minor key perfectly matches Brendon impressive vocal range while making it unique and interesting. The lyrics depict him daydreaming and how his head is always, well, in the clouds. There isn't much lyrical complexity but the interesting analogies and unique wordplay make this song a good listen and interesting to dissect.
"Make Me Feel" by Janelle Monáe
"Make Me Feel" by Janelle Monáe was released on February 22nd. I hit 99th on the Billboard hot 100 on March 10th and number 5 on the Dance Club Songs list on May 26th. This quirky and funky beat gives the song a Prince-esque feel and pays homage to iconic soul/ R&B music with a modern twist.The lyrics depict the raw, unstated love between two people while highlighting the obvious sexuality in the relationship.
"Shotgun" by George Ezra
Other reviews really hated on this song. But, I find it upbeat and optimistic in a music industry dominated by sad, depressing songs. "Shotgun" released on 18 May 2018 and peaked at number 1 on the UK Singles Chart on August 25th. Music needed a sunshine happy song and "Shotgun" fills that need. The clever use of synthesizers mixed with the guitar, brass instruments, and tambourine mix better than one would think. He starts off the song with the line, "Homegrown alligator, see you later. /Gotta hit the road, gotta hit the road." This kind of cheesy wordplay gives the song unique sort of charm. He paints green meadows and lush landscapes in your head coupled with a sense of adventure. He doesn't use complex lyrics and still able to make anybody feel happier. George Ezra's impressive and soothing baritone voice only adds to the experience. After my 7th or 8th listen, he had me singing along with the chorus. It is a song that should have done better in the US song market and is truly unappreciated.
"Perfect" by Ed Sheeran
"Perfect" was released September 26th, 2017 and remained at number one on the Billboard Hot 100 from December 23rd, 2017 to January 20th, 2018. I dislike a lot of Ed Sheeran's songs. For example, I hated "Shape of You" because it didn't fit in with Ed Sheeran's persona. Just like how Taylor Swift can't play the "bad girl" role, Ed Sheeran can't play the sexy male singer role like Adam Levine or Justin Timberlake. But, with "Perfect" he becomes vulnerable, relatable, and tender which is what his persona is. Ed Sheeran is an excellent singer and he should do more songs like this.
"The Ringer" by Eminem
Eminem is the best rapper of all time. There is no doubt in my mind. His album "Revival" released in December of 2017 flopped horribly. The problem was that as a 44-year-old rapper, he doesn't have the same angry rage he did back in The Marshall Mathers LP or the Eminem Show. "The Ringer" is the first song in his tenth studio album "Kamikaze" which was released on August 31st. "The Ringer"  peaked at number 8 on the Billboard Hot 100 on September 15th. "Kamikaze" as a whole combines the traditional beat he is used to with modern synthesized beat which makes for unique and hype beat. To back up my statement as the all-time best rapper, I look at this verse, "… chicken wang, MGK, Igg' Azae', Lil Pump, Lil Xan imitate Lil Wayne. /I should aim at everybody in the game, pick a name." This line takes aim at several iconic rappers while also subtly putting together an excellent rhyme scheme.  He weaves all these rhymes in while also imitating the flow in Lil Pump's song "Gucci Gang." He releases his old rage and lashes out against the media, critics, mumble rappers, and throws some more shade at President Donald Trump.
That's it for my top ten best songs of 2018. All in all, music has been on the decline. With the lack of a true "pop superstar" and the rise of "mumble rap", the quality of contemporary music has been slowly falling off. We hope 2019 will be interesting at least. Many artists like Ed Sheeran lay dormant during 2018 and I hope to see more this coming year.