Delbarton AP Studio Art Exhibit 2019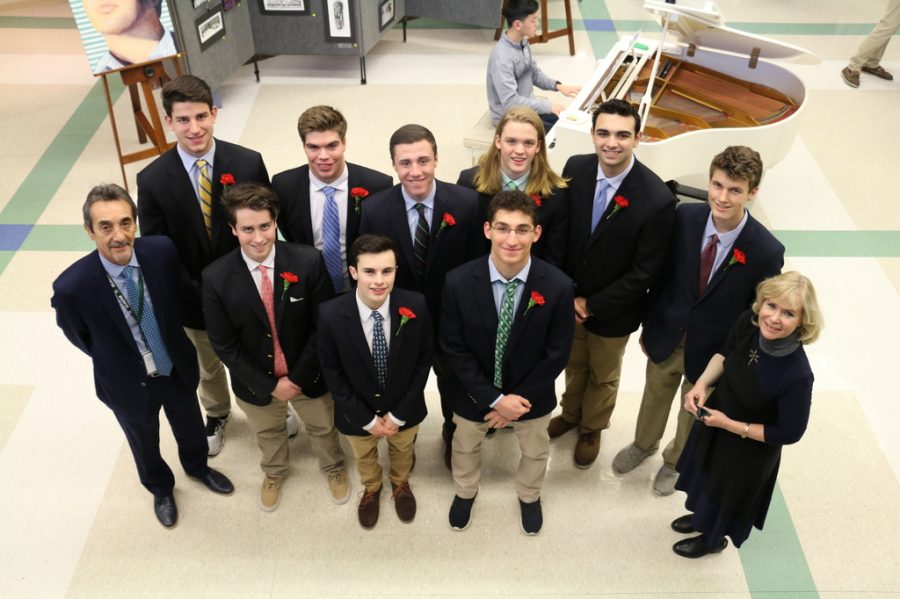 "In Art, all who have done something other than their predecessors have merited the epithet of 'revolutionary', and it is they alone who are the masters"-Paul Gauguin.
This past week, the Delbarton AP Studio Art Program debuted its annual gallery, which will run until March. The participants of this year's AP Studio Art Program include Lorenzo Liu, Chris Siegert, James Donini, Jacob Grayzel, Patrick Christie, AJ Lonski, Lucas Acocella, Thomas Madden, Ethan Lowndes, and Christian Gasser. In a previous article, I discussed the overall course and requirements of AP Studio Art, and how each student is required to complete a set of 12 concentration images in their senior year. This year, concentrations consisted of Gothic Architecture through etching, Glassware through white charcoal and modern dance through pencil. All of these concentrations speak to the artist's talent and interests in the art world. My concentration is a modern display of the twelve apostles through twelve images of Delbarton faculty. I worked with acrylic and oil paint, and incorporated Byzantine styles and motifs into the overall portrait and background. I can attest to the fact that all of the concentrations this year are unique and beautiful in their own way, and contribute a great deal of substance to society's view of art.
Nearly a week before the show, Ms. Lopez and Mr. Rodi worked diligently to get all our artworks matted and ready for the exhibit. Leading up to the exhibit, we worked during class and after school to organize all our artwork in the Fine Arts Center. Reflecting on the art show, I realized how much work has to be put in, in order to have an organized and aesthetic art gallery. In the end, the entire AP Studio Art group was amazed at how supportive the Delbarton community is of the arts. Family, Friends, and Faculty Members all came to the opening reception in support of us and our accomplishments.
The exhibit wouldn't have been such a success, or even possible, without the help and support of the AP Studio Art teachers, Ms. Lopez and Mr. Rodi. Ms. Lopez and Mr. Rodi work tirelessly to make us better artists and better individuals in society through the deep appreciation of art and beauty. I am deeply thankful to be able to be a part of this program, and I look forward to coming back and viewing future AP Studio Art exhibits!
P.S.
I strongly encourage you to stop by the FAC and take a look at the artwork displayed!  Vote for your choice of "Best in Show".