Delbarton Squash Team Becomes National Champions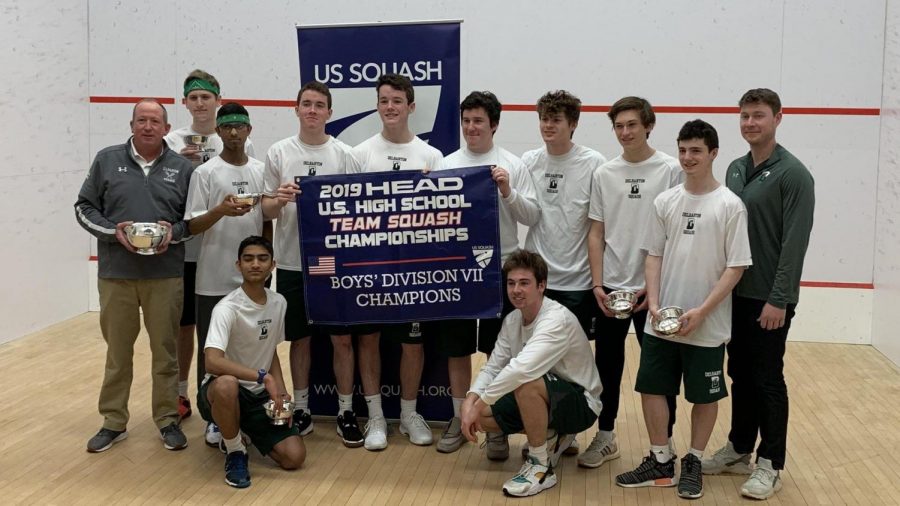 Peter Gajewski, Staff Writer
March 1, 2019
Every year, the squash team moves through the season with one ultimate goal in mind, the US High School Squash National Championship. This tournament marks the end of a rewarding season, when the players, after long hours on the court, are at the acme of their performance and ability. This year, the Delbarton team was ranked 11 out of 16 in our division. We would never have guessed that this year's nationals would turn out to be one of the most memorable ever.
Squash had a strong team this season, with every player putting in their maximum effort. Since our 6th seed, Mike Long, could not make it to the tournament, two of our players moved up a position and played tougher matches than usual. With Adam playing as the first seed, the lineup went as follows: Adam Majmudar, Anand Majmudar, David Boyer, Theo Coughlin, Peter Gajewski, Sean Doherty, and Tommy Smith. We started the tournament against the 12th ranked team from Portledge School (NY). This was a tough match; each player worked hard on the court, and we came out with a 5-2 win. With this solid victory under our belt, we entered our next two matches, against Darien School (CT) and Buckingham Browne & Nichols School (MA). Both of these matches were extremely close, with Delbarton scoring a 4-3 win for both. During each match, we relied on different players in order to secure a win, morphing an individual sport into a true team effort. In addition to the energy on the court, our alternates, Regan Paris, Aidan Higgins, and Ryan Minter, played an equally crucial role. It was their support and motivation that helped turn multiple matches around and achieve unimaginable comebacks.
As we entered the final match against the 2nd seed, St. Anne's-Belfield (VA), nerves were high, but every player was motivated to succeed. As the match progressed, Adam, Anand, and David each won their matches and the final match was left to determine the champion. As Theo Coughlin entered the court, the pressure of the entire tournament was on him. With the support of his teammates and an amazing performance by Theo, the team was able to take home a 4-3 victory for the title. The victory was a true team effort that every player on the team feels proud of. The weekend spent in Connecticut was one that none of us will ever forget.