Cross Country 2019 Mid-Season Review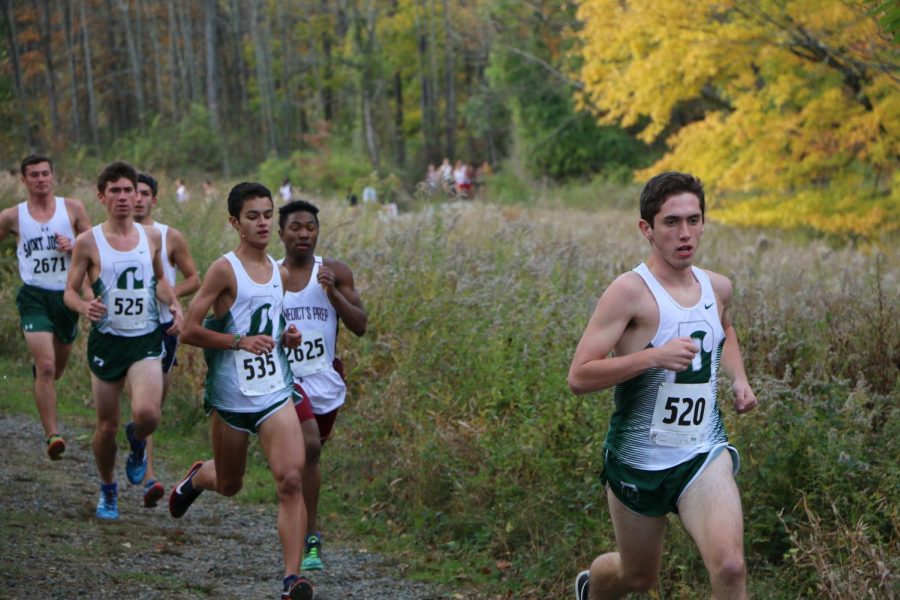 Matt Pasko, Staff Writer
October 15, 2019
The Delbarton Cross Country team has started off the 2019-2020 season with very strong showings. The team is off to a great start and is looking to improve their record this Sunday at the Holmdel Shore Coach's Invitational: a famously tough course to run. With 35 runners on the team, each meet is divided into either three or four races.
The first of those races is the novice race, which consists mostly of freshmen and sophomores. This race is usually anywhere from one and a half to two miles: much shorter than the other races. 
The next race is the JV race, which has sophomores and juniors competing. The distance for this race is typically a 5k or a 4k. 
The last race is the varsity race, where juniors and seniors run. This race is sometimes divided into two parts: the fastest four, and the future 4. 
The team has had five meets so far. The first meet was an invitational at Roxbury, where JV finished sixth, and Varsity finished third and fifth. The team also competed in three meets for the New Jersey Athletic Conference (NJAC), at Greystone Park. Delbarton is scored against 2 teams per meet and has a record of 5-1 in NJAC, with the Wave's only loss coming to Mendham. Another meet was held at Van Cortlandt Park in the Bronx, where they scored fourth overall. 
Each day after school ends, the team meets down at the track. After a warm-up lap and stretching, different groups go out and run different distances based on what race they run in. This year, our team has added seven new members: five freshmen (Paul Brady, Jake Loughran, Matt Pasko, Charlie Skilton, and Connor Kraeutler) as well as two sophomore transfer students (Domenic Caruso and Henry Nyre). 
 As a current freshman on the team, I had the chance to talk to my peers about their thoughts on the squad. Charlie Skilton '23 commented that "I had never done cross country before, and I am performing much better than I thought I would." Jake Loughran '23 talked about how one of the challenges of running is pushing yourself and not walking, even when you've run out of gas. I find that running makes you reach down inside yourself to find the strength to move faster and that you can truly improve yourself, both mentally and physically, by running. 
The coaches for this year's team are Mr. Johnson, Mr. Frost, and Mr. McHale, all of whom have done a great job organizing and leading the team in practices and meets. This year, Mr. Johnson is the head coach of the team, due to Mr. Sulley's retirement. Mr. Johnson commented on the challenges of leading the team, saying that while difficult, he enjoys coaching. He also said that his behind the scenes, financial, and administrative efforts combined with Mr. Frost's running background and expertise make a great pair.
Coach Johnson described this year's team as hardworking and dedicated, and also commended the three senior captains, Stephen Daly '20, Chris Faila '20, and Harrison Vives '20 for their leadership abilities and commitment to the team.
Currently halfway through the season in terms of meets, the 2019-20 Cross Country team looks very formidable as well as ready to head into the championships and give it all they have. 
The current roster of the team is listed below:
| | | | |
| --- | --- | --- | --- |
| | | | |
| Bentz, Andrew | | 2022 | |
| Bentz, Patrick | | 2020 | |
| Brady, Paul | | 2023 | |
| Caruso, Domenic | | 2022 | |
| Chen, Alan | | 2020 | |
| Collins, Dennis | | 2021 | |
| Crann, Reagan | | 2022 | |
| Daly, Stephen | | 2020 | |
| Davis, Owen | | 2022 | |
| Dolan, Evan | | 2022 | |
| Failla, Chris | | 2020 | |
| Gulati, Sachin | | 2021 | |
| Jagoe, John | | 2022 | |
| Kelly, Ethan | | 2022 | |
| Kraeutler, Connor | | 2023 | |
| Lee, Nathan | | 2022 | |
| Li, William | | 2021 | |
| Loia, Anthony | | 2022 | |
| Lopez, Eugenio | | 2022 | |
| Loughlin, Jake | | 2023 | |
| Maguire, Andrew | | 2022 | |
| Martin, Scott | | 2020 | |
| McChesney, Luke | | 2022 | |
| Mikula, Charles | | 2022 | |
| Mistichelli, Richie | | 2022 | |
| Nyre, Henry | | 2022 | |
| Pasko, Matthew | | 2023 | |
| Ritter, William | | 2022 | |
| Skilton, Charles | | 2023 | |
| Smart, Patrick | | 2021 | |
| Teehan, Connor | | 2021 | |
| Traynor, Declan | | 2021 | |
| Vives, Harrison | | 2020 | |
| Wu, Warren | | 2022 | |
| Yaman, Evren | | 2022 | |