Black History Month Fair Review: A Night to Remember!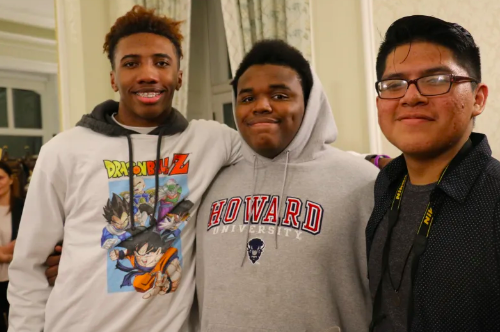 To say the night of February 28th was exceptional would be a complete understatement; Delbarton's Black History Celebration was an illuminating wonder. The scene was one of fantasy – from the fantastic food provided by Sage Dining Service and the amazing parents of Delbarton to the enthralling performance by Samad Savage – and the night unified the community.  The event truly embodied Delbarton's motto of "Mind, Body, and Spirit".
The night started with an introductions from senior Khyri Fortenberry, Father Michael, and Mrs. Gomez to begin the festivities. The attendees were plucked from present day Old Main and put into past time periods through the breathtaking art pieces from prominent artists and Delbarton's finest, including Jason Jn Baptiste. The pieces oozed with the artist's passion, so much so, that the paintings resembled windows into another world.
The night would move on with some social mingling accompanied by soothing sounds from influential black musicians and the distribution of the truly delicious food from Sage Dining and the generous parents of Delbarton. Simultaneously, attendees were plunged into different cultures surrounding black excellence. These beautiful cultures included Nigeria, Trinidad and Tobago, and Haiti. Everyone marveled at the rather personal glimpses of the international cultures.
To entice the competitive spirit of Delbarton, attendees participated in some trivia on black history and achievement. The questions ranged from as easy as the number of rings the great Kobe Bryant won with the Lakers to the meticulous efforts from Civil Rights activist Sojourner Truth. Prizes ranged from coveted apple air pods to gift cards for the Delbarton shop for the bwinners. 
The event reached a new height when the esteemed Samad Savage took to the floor to deliver one of the most venerable Delbarton performances in recent memory. The distinguished musician showed his talent within the first seconds, as he made on the spot harmonies that would usher in his following vocals. The talented vocalist shared his gift with the audience and loosened everyone up to turn the event into an absolute masterpiece. Through his hits such as "So" and "We Got Rich", memorable experiences forever stuck with the Delbarton community.
The event proved Delbarton checks not only academic excellence and stark athletics, but a unified and diverse community.