Delbarton Skiing: COVID-19 Edition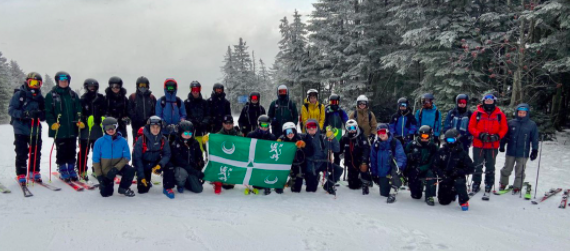 Evan Dolan, Varsity Skiing–Junior Captain
February 23, 2021
The legacy of skiing at Delbarton continues into 2021 as we make our way through a season like no other. The global coronavirus pandemic has certainly limited us in many regards; however, through resiliency and adaptability, we nevertheless make the most out of our time on the snow and with each other. We began dry-land training back in December and got to know our five new freshman skiers: Julian Dietrich, Louis Friedrich, Ryan Johnson, Liam Larson, and Hayden Van Vilet. Due to interstate travel restrictions we were forced to cancel our annual weekend team trip to Killington, Vermont.
After Christmas break, we hit the ground running and began training at the National Winter Activity Center (NWAC) in Vernon, NJ, a change from our past seasons at Mountain Creek. We came in a close second to Ridge at our first slalom race on Friday, January 8. Louis Friedrich '24 made his debut with an impressive second place finish in the overall individual rankings. We took second place to Ridge a week later in the same discipline, with an outstanding first place overall performance by senior captain, Thomas Johnson '21. We took victory at our final slalom race on the 20th of January, with the notable return of Tim Butler '21, our second senior captain.
Since our first giant slalom training on the 21st of January, we have found ourselves attending school from home, making the rest of our season largely undefined. We hope to be able to attend States, but the future (as has been the case for much of the last year) is up in the air. The same spirit of resilience and adaptability that brought us success in the first half of our season continues to motivate us from home as we await news on how to proceed.