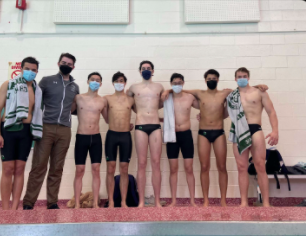 Delbarton Finishes Season at 9-1
Despite the craziness that confronted the school's athletics program, Delbarton Swimming still managed, unsurprisingly, to drive towards a very successful season with a 9-game winning streak. As a new member of the team, I felt the full-on Delbarton brotherhood and enthusiasm throughout the entire season. 
The team graduated their eight seniors (Jack Alexy, Dylan Cawley, Morgan Cecil, Andrew Gaston, Ethan Low, Ryan Park, Alex VanDenHende, and Hunter Zienowicz) and welcomed six new freshman (Mike Fialcowitz, Merric Hu, Jonah Kim, Francesco Pontoriero, Mark Sebastian, and myself). 
I had the opportunity to talk with Head Coach Pat Savidge about our season and ask some questions I had about the season just completed. He explains that despite the challenges of a Covid year, the swim team has done their best in his three year coaching career here, finishing ranked #15 in the state. Obviously, with the global pandemic there were drastic changes, the biggest being the swim meet environments. The pool's atmosphere is a big difference as well, for usually teammates and fans are packed near the pool, screaming and cheering. Despite the lack of fan participation, Coach Savidge said the boys did a great job getting loud and encouraging everyone, which I can agree with 100%. 
Coach thanked all the seniors for their hard work for the past three years and showing the underclassmen what it means to battle through adversity. And although seniors' season wasn't quite what anyone expected it to be, they served as excellent role models. For the underclassmen and rising seniors, he reminded them that next season "starts now". He also advised them "To use everyday as an opportunity to get better and work your tail off." 
Afterwards, I also talked with Coach Alma Lopez-Holder, (aka. Coach A.) about her thoughts on the season. Throughout the season, she mentioned three main highlights: the dual meets with St. Peter's Prep and Chatham, and Senior Day. Despite the narrow loss against St. Peters and the close win against Chatham, she felt that the team always brought their "A" game with lifetime personal bests. As a coach, she could not ask for more. This year, the team graduated a very talented group of men. Having the parents walk on deck with their children one last time was certainly a little tear-jerking. 
"Coach A" looks forward to the underclassmen stepping up to fill the upperclassmen's shoes as well as the incoming freshman class that will be entering this year. She had some parting words for the senior class and words of encouragement for the underclassmen. "Coach A" notes that the four years you spend in college will go by even faster than those of high school. She encouraged all to take advantage of every moment, whether they be good or bad, because everything is a lesson. She reminds us that God did not put us in a situation where we cannot handle the challenge. She wished them the best of luck and remembered "the green in their blood". To the underclassmen, she told them to not be afraid of being a leader, for being a leader does not come with an age requirement. Everyday we wake up is an opportunity to be a better version of ourselves. 
Although the seniors hoped for a different version of their graduating year, with the support of the Delbarton community, we managed to make everything work, to even hosting a Covid-friendly good-bye ceremony. To learn more about this, I asked our two senior captains, Hunter Zienowicz and Jack Alexy about their time here at Delbarton and what made this year special for them. 
Hunter Zienowicz can motivate any member of any team. With his motivational support in the water and out, his words allowed each and every one of us to push ourselves past the limit and support our fellow brothers. To start, I asked him to talk about his overall experience swimming at Delbarton. Coming into the team freshman year, Zienowicz admitted that he struggled heavily as he never swam competitively before. However, he credits Coach Savidge and Coach Lopez-Holder as well as former coaches Manno and Connelly for his growth and development. Eventually, Hunter's work ethic and dedication earned him a spot as captain in his  junior and senior years. Hunter explains how without his coaches, nothing would have been possible. From creating effective practices to organizing "Zoom drylands", he says that they have done everything in their power to help everyone on the team grow. His proudest moments on the team was when the group came together when they needed to the most. As Hunter leaves for Union College next year, he's focused on having a variety of new experiences and seeing where life takes him. We wish him the best of luck in his future endeavors. 
Jack Alexy holds an impressive record in his swimming career. He has represented Team USA in Budapest of 2019 for the World Junior Championships and has even qualified for this year's Olympic Trials. To put things briefly, Jack said he couldn't have asked for a better Delbarton swim team experience. Although nervous when first joining the team, he soon felt at ease thanks to his fellow- upperclassmen. During his four years, despite the changes in coaches, he feels that every coach, especially Mr. Savidge, helped him grow, to lead a team and to be there for their teammates. As a part of the swim team, there were a plethora of moments where he felt proud. However, Jack Alexy recalls two of his proudest moments on the team, one during his sophomore year when the team won Morris County's at the last relay event.  The second was this year's meet against St. Peter's Prep. "When we faced them a few years back we got beat pretty bad. However, when we raced against them this year, although they came out on top, it was very close and really competitive the whole way through and that showed me how much we have improved as a team." Jack is excited for the upcoming fall as a member of the University of California at Berkeley's swim team, but isn't too sure what swimming may look like after college. Instead, he's honing in on training for the Olympic Trials this June. We wish him the best of luck in his future endeavors and for UC Berkeley's class of 2025. 
Once again, thank you to all the coaches, seniors, team members, parents, and the Delbarton community for making this swim season a break in the wave.