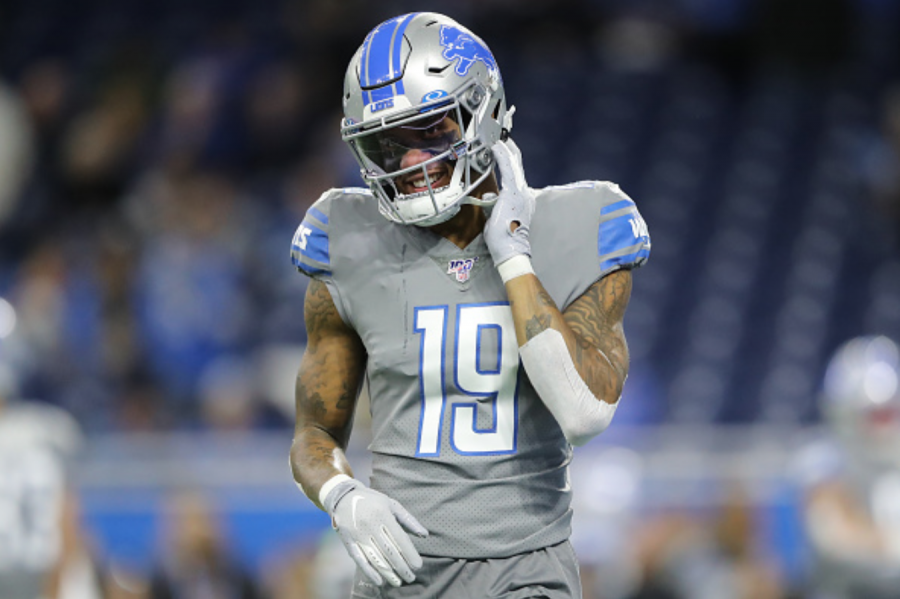 While the cap space for 2021 plummeted as a result of COVID-19, NFL franchises still found a way to make this free agency a wild frenzy.
All information according to CBS Sports (https://www.cbssports.com/) and Spotrac (https://www.spotrac.com/).
NFC East:  Giants   (Draft Priorities: Edge, WR, OL)
The G-Men spent big this offseason filling holes on both the offensive and defensive sides of the football. With the signing of offensive weapons Kenny Golladay, John Ross, and Kyle Rudolph, quarterback Daniel Jones now has much more help in the passing game. While Giants general manager David Gettleman did not address the lack of a signature pass rusher and lost defensive tackle Dalvin Tomlinson, he was able to re-sign key defensive lineman Leonard Williams. Gettleman also snatched the former Titans corner Adoree' Jackson, who will assist in coverage alongside pro-bowler James Bradberry. Looking towards the draft, the Giants should continue to add receiving options for the offense, as well as bolstering the offensive line and look for a playmaking edge rusher.
Grade: A
Cowboys  (Draft Priorities: CB, DT, OL)
Owner and manager Jerry Jones spent his money this offseason primarily on quarterback Dak Prescott, who recently signed a 4 year, $160 million dollar contract. Securing their future at quarterback was a main priority for Dallas, and while it cost a pretty penny, the office got it done. Dallas also added Atlanta safeties Keanu Neal and Damontae Kazee, as well as Jets linebacker Tarell Basham. These role players will help mainstays Leighton Vander Esch and Jaylon Smith in turning around a defense that ranked a dismal 28th last year. The Cowboys still have a major hole in the secondary, especially with the departure of Chidobe Awuzie, and they should invest in a cornerback with their first round pick.
Grade: B
Washington Football Team (Draft Priorities: QB, OLB, MLB)
The Washington Football Team didn't spend or chase after big name (and big money) free agents; rather, newly hired general manager Martin Mayhew invested in productive, yet inexpensive players. Journeyman QB Ryan Fitzpatrick will apply a strong, veteran leadership to the locker room, and while fans shouldn't expect all-pro gameplay, Fitzpatrick will execute coach Ron Rivera's offense with success. More importantly, Fitzpatrick will be more reliable than Dwayne Haskins, Alex Smith (now retired), and Kyle Allen. Washington also signed Carolina receiver Curtis Samuel, who will play alongside rising star Terry McLaurin. Cornerbacks William Jackson and Darryl Roberts will provide additional help in the secondary, especially with the departure of Ronald Darby. Overall, Washington's defense should hold up quite well against top offenses next year, however, a franchise quarterback has yet to arrive in D.C.

Grade: A
Eagles (Draft Priorities: WR, LB, QB)
Howie Roseman was forced to dig this franchise out of a salary cap nightmare, and as a result, Philadelphia had a minimal free agency budget. Veteran Joe Flacco will sit 2nd string behind Jalen Hurts, as of right now. Due to the fact that newly hired head coach Nick Sirianni did not draft Hurts, he may be looking for another option in the draft. The Eagles signees were mostly inexpensive defensive pieces. Safeties Anthony Harris and Andrew Adams were signed for cheap price tags to help out the secondary; however, the loss of Jalen Mills and Johnathan Ford is still a major downgrade. There are still significant holes in the receiving core and linebacker unit, even with the addition of Vikings MLB Eric Wilson. Overall, the Eagles made what they could out of a tight budget, however it won't be enough to turn around this team in one year.
Grade: C+
NFC North:  Packers (Draft Priorities: WR, C, DE)
After yet another NFC Championship loss this year, the Packers are looking to get back and finally push through to the Super Bowl. This offseason, Green Bay has yet to sign a new free agent and star QB Aaron Rogers is not happy with management. They retained running back Aaron Jones after another strong season, but they still lost All-Pro center Corey Linsley. The Packers also lost linebacker Christian Kirksey and power back Jamaal Williams. This offseason has been especially quiet, considering the options on the market. Green Bay failed to land a top receiver in a stacked free agency class, and they didn't manage to pick up a needed defensive end as well. After a lackluster 2020 draft, the Pack have a lot of work to do for this year's draft.
Grade: C-
Vikings:  (Draft Priorities: OG, S, TE)
The Vikings had an average free agency with a couple of nice pickups, as well as some significant losses. Minnesota's main signing was defensive tackle Dalvin Tomlinson from NY. Tomlinson is incredibly efficient in defending the run game, and he'll give a strong front to an already talented defensive front. Minnesota also signed former All-Pro corner Patrick Peterson from the Arizona Cardinals. Aside from the past couple of years, Pat Pete has been arguably the best defensive back in the league throughout the decade. With these great additions, the Vikings also lost a couple of key players: Tight end Kyle Rudolph and defensive end Ifeadi Odenigbo both went to the Giants, while safety Anthony Harris and linebacker Eric Wilson left for Philadelphia. Regardless, the Vikings will still present one of the most balanced and consistent rosters in the NFL. As for the draft, Minnesota needs an offensive guard, and they could also use some help at safety.
Grade: B+
Lions:  (Draft Priorities: WR, OL, DB)
Detroit suffered through another disappointing season this year, and their losses during the offseason don't help their cause. However, some good decisions have set them up well for the future. At the start of free agency, the Lions made a major splash when they traded star quarterback Matthew Stafford to the Rams in exchange for quarterback Jared Goff, as well as a couple of first round picks. This is really a win-win scenario because not only did LA upgrade their qb, but Detroit was able to gain a lot of draft capital for the upcoming years. The Lions also re-signed defensive end Romeo Okwara, signed half back Jamaal Williams, and wideout Tyrell Williams. However, the Lions lost a lot of key starters and stars of this team. Receivers Kenny Golladay, Jamal Agnew and Marvin Jones all signed elsewhere, and linebacker Jarrad Davis signed with the Jets. The Lions are still in rebuild mode, and in the draft they need to look for any long term studs they can get.
Grade: C+
Bears:  (Draft Priorities: OL, DE, QB)
Chicago had a quiet offseason, with a couple of strange pickups and interesting losses. The main signing was that of quarterback Andy Dalton. The former pro-bowler is essentially washed up, however, he is likely a better option than their previous starter Mitchell Trubisky, who signed with Buffalo. The Bears will still eventually need to invest in a franchise quarterback. Aside from this, the Bears didn't do too much. Chicago signed defensive depth players Angelo Blackson and Jeremiah Attaochu, as well as re-signing free safety Tashaun Gipson. Lastly, the Bears franchise tagged the talented Allen Robinson at wide receiver, a vital weapon and piece in this offense. Regardless, the Bears lost (Kyle Fuller, Roy Robertson-Harris, Cordarelle Patterson) more than they gained this offseason.
Grade: B
NFC South:  Saints (Draft Priorities: DT, LB, WR)
Due to the cap nightmare the Saints were in this offseason, they had an incredibly limited budget and were forced to cut some valuable players. Cornerback Janoris Jenkins signed with the Titans, edge Trey Hendrickson arrived in Cincinnati, DT Sheldon Rankins is headed to the Jets, and tight end Jared Cook departed for the Chargers. The biggest loss of all is the retirement of future hall-of-fame quarterback Drew Brees. However, even with these losses, the Saints roster still looks like a top 10 team. Quarterback Jameis Winston will supply just enough to keep this team competitive, and most of the starters from this top five defense are still with the team. New Orleans' office managed to maintain their most important players through contract negotiations and survived through a ruthless multi-million dollar pit. The Saints could use some help on the defensive front as well as in the receiving core, which they can address in the draft.
Grade: B+
Falcons:  (Draft Priorities: DE, QB, BPA)
The Falcons stayed reserved during this free agency with only a couple of pickups and losses. Atlanta picked up Carolina running back Mike Davis, who played well in the absence of Christian McCaffery this year. The Falcons also picked up kick returner and utility player Cordarrelle Patterson. Atlanta's biggest loss was starting center Alex Mack, who signed with San Francisco. Atlanta also lost safeties Keanu Neal and Damontae Kazee. This roster is still pretty decent, however chemistry and gameplay needs to improve on the defense in order for Atlanta to win games, as they did not pick up any pieces in free agency.
Grade: B
Panthers:  (Draft Priorities: LB, TE, BPA)
While the Panthers lost wide receiver Curtis Samuel, they invested their money entirely into the defense. Linebacker Haason Reddick had 12.5 sacks this past season, and he will look to aid an already decent pass rush in Carolina. Cornerback A.J. Bouye and defensive end Morgan Fox will also add stability within the defense. Even with these signings, Carolina's main acquisition was former Jets' quarterback Sam Darnold. Darnold was never given a true chance to prove himself as a contender due to injury, coaching, and the offensive line. In Carolina, he will attempt to get his career back on track, as Teddy Bridgewater was traded to Denver. As for the draft, Carolina could go in many different directions: wideout, tight end, linebacker, etc.
Grade: A
Buccaneers:  (Draft Priorities: BPA)
The Super Bowl champs retained all twenty-two starting players of their team last year. Do I really need to say anything else? Tom Brady will lead the same squad into next season, and it's clear the Bucs' players never considered leaving this team. Shaquil Barret, Leonard Fournette, Antonio Brown, Chris Godwin, Ndamukong Suh, and Rob Gronkowski are all coming back. Tampa Bay is primed for another visit to the Super Bowl.
Grade: A+
NFC West:  Rams  (Draft Priorities: LB, TE, BPA)
While the Rams lost a lot of key players on this roster, their team is still looking like major contenders for next season. Defensive backs John Johnson and Troy Hill are both joining Cleveland, while linebacker Samson Ebukam and defensive end Morgan Fox are also departing. LAR's only major signing was former Eagles' wideout DeSean Jackson. However, the major addition to this team was the trade for former pro-bowl quarterback Matthew Stafford. Stafford has instantly turned this team into a true Super Bowl contender, regardless of their losses.
Grade: A-
Seahawks:  (Draft Priorities: OL, DT, CB)
Seattle had an average free agency with a little bit of everything. Star corner Shaquill Griffin signed with Jacksonville this offseason, leaving a major hole in the secondary. However, the Seahawks were able to retain starters Chris Carson and Carlos Dunlap, two guys who will greatly assist their respective sides of the football. Seattle also signed Rams tight end Gerald Everett, a strong football player who is balanced in most aspects of the offense. While rumors and talks of a Russell Wilson trade had transpired, nothing actually came of the conversations. Regardless, Seattle is in win-now mode, but are likely only a couple of years away from rebuild mode.
Grade: B
Cardinals:  (Draft Priorities: CB, NT, BPA)
While Arizona did haul in some big name players, they mostly lost some definitive starters on this roster. The addition of former DPOY J.J. Watt is huge, as he will look to lead this defense with some veteran presence. The Cardinals also signed former pro-bowl wide receiver A.J. Green, one of the best all around receivers throughout the last decade. Along with these signings, however, Arizona lost Haason Reddick, Kenyan Drake, and Patrick Peterson, all of whom have performed well over the past couple of years. All in all, Arizona is looking to return to the playoffs for next season, and they certainly have the roster to do it. The major question is coaching, as games were lost for the Cardinals last year due to coaching errors. Regardless, the Cardinals are looking for essentially the best player available with their picks.
Grade: A-
49ers:  (Draft Priorities: QB, S, CB)
The Niners primarily bolstered their offensive line this offseason, adding and resigning some important players. Left tackle Trent Williams became the highest paid offensive lineman in the league after signing a 6 year, $138 million dollar contract. Williams consistently provides some of the best protection a quarterback can have across the league, and he will play alongside newly-signed center Alex Mack from the Falcons. Linebacker Samson Ebukam also signed with the 49ers, where he will likely start at the position. San Francisco also signed wideout Mohamed Sanu from Detroit, a good option to replace Kendrick Bourne who left for New England. As for the draft, the 49ers traded up to the 3rd pick in the draft with hopes of finding a franchise quarterback to play over Jimmy Garoppolo.
Grade: A-
AFC East:  Jets (Draft Priorities: QB, CB, OL)
The Jets had a lot of money to spend this offseason, and they definitely did not hold back. Edge rusher Carl Lawson will help put pressure on opposing quarterbacks, and he was a much needed addition to a defense that ranked 24th last season. Defensive tackle Sheldon Rankins will supply help in the run defense as well, and newly re-signed safety Marcus Maye will continue to impress. The Jets also signed safety LaMarcus Joyner from the Raiders. The main headline for the Jets this offseason was the trade that sent starting quarterback Sam Darnold to the Carolina Panthers. The Jets gained some draft capital out of this trade, and are almost certainly going to draft a quarterback with the second pick in the draft. This quarterback will enter a new offense under head coach Robert Saleh with weapons like Jamison Crowder and former Titans receiver Corey Davis.
Grade: A
Patriots:  (Draft Priorities: S, WR, QB)
Bill Belichick spent his money lavishly this offseason, something that we have never seen from the iconic head coach. While some players like offensive lineman Joe Thuney departed, big money and big name players are coming to New England. Ravens defensive end Matt Judon and Eagles safety Jalen Mills both signed 4 year deals, wide receivers Kendrick Bourne and Nelson Agholor will provide additional options for quarterback Cam Newton, and a tight end pair Jonnu Smith and Hunter Henry are joining the Patriots, too. Other guys like Davon Godchaux and Kyle Van Noy will add more depth to this roster. As long as Cam Newton can play consistently and safely, the Patriots could be returning to the playoffs next season.
Grade: A
Bills:  (Draft Priorities: RB, LB, BPA)
After an AFC Championship loss in this past season's playoffs, the Bills are back and hungry to return. Because of this, Buffalo stayed pretty quiet this free agency with only a couple of pickups. Saints wideout Emmanuel Sanders will fill the void that John Brown left, and he will look to be the number two receiver on this team, alongside Stefon Diggs. The Bills also picked up former Bears starting quarterback Mitchell Trubisky, who will sit as backup to Josh Allen. Looking towards next season, the Bills will have virtually the same squad as this year, and in the draft, they should find a running back or any additional pieces that will help this team.
Grade: B
Dolphins:  (Draft Priorities: WR, OL, BPA)
While Miami had a lot of money to spend, they stayed rather reserved, signing only a couple of players. Wide receiver Will Fuller from the Texans will fit nicely next to DeVante Parker, however, the Dolphins still need a legit receiving option for Tua Tagovailoa. Aside from a few other signings like running back Malcolm Brown and Cethan Carter, the Dolphins lost more than they gained. Guys like Davon Godchaux and Ryan Fitzpatrick left for new teams. Because of Miami's lack of aggressiveness during free agency, their picks in this year's draft are incredibly important.
Grade: C
AFC North:  Steelers (Draft Priorities: RB, SS, BPA)
Even though the Steelers lost some important players, their primary roster is still very much intact. While they lost guys like Bud Dupree and Mike Hilton, the Steelers are essentially the same team as last year. They re-signed JuJu Smith-Schuster, a talented wide receiver who fits well in the offense. Overall, the Steelers were incredibly quiet this offseason, and because of this, they have some work to do in the draft.
Grade: C+
Browns:  (Draft Priorities: DB, LB, BPA)
With an abundance of, Cleveland filled many of the team's holes with some strong signings this offseason. The Browns picked up Rams' defensive backs Troy Hill and John Johnson, who will fit perfectly into a young secondary. The Browns also gave defensive end Jadeveon Clowney a 1 year deal, offering help in the pass rush. They were also able to re-sign wide receiver Rashard Higgins and kicker Cody Parkey. Overall, the Browns made some impressive moves, and for the draft, they should look to draft some defensive backs.
Grade: A
Bengals:  (Draft Priorities: OL, LB, BPA)
After acquiring quarterback Joe Burrow with the first pick in the draft last year, the Bengals looked to add important pieces around him and help out the defense. While the Bengals lost guys like A.J. Green and Giovanni Bernard, bringing in running back Samaje Perine and left tackle Riley Reiff. The Bengals added plenty of defensive players, including Saints defensive end Trey Hendrickson and cornerbacks Chidobe Awuzie and Mike Hilton, to replace Carl Lawson and William Jackson respectively. The Bengals could have done more to the offensive line, considering that they had one of the worst offenses in the league after Burrow got hurt. However, Cincy can address these needs in the draft and the future.
Grade: B
Ravens:  (Draft Priorities: WR, DE, BPA)
While Baltimore lost edge rushers Matt Judon and Yannick Ngakoue, they invested in sustainability for the offense. Offensive linemen Alejandro Villanueva and Kevin Zeitler will provide better protection for quarterback Lamar Jackson. Chiefs wideout Sammy Watkins will offer more flexibility in the passing game. Also, linebacker Tyus Bowser will return for the Ravens next year. While the Ravens lost some key players, they filled those roles with depth players. However, wide receiver is still a major need.
Grade: B
AFC South:  Jaguars (Draft Priorities: S, OL, BPA)
The Jags didn't hold back this offseason as they fortified their defense and brought in weapons for the likely first round pick: Trevor Lawrence. Lions receivers Jamal Agnew and Marvin Jones will look to bring veteran leadership for a young team. Along with Laviska Shenault and D.J. Chark, the incoming quarterback for the Jaguars (whoever it is) will have plenty of options. As for the defense, corner Shaquill Griffin and safety Rayshawn Jenkins will assist in pass coverage, while defensive tackle Roy Robertson-Harris will apply more pressure on opposing offenses. Jacksonville is trying to set the stage for their new quarterback next year with some help both offensively and defensively, and they should continue to add depth in the draft.
Grade: A-
Titans:  (Draft Priorities: DB, OL, BPA)
While the Titans gained some talented players, they also lost a lot of playmakers. Tennessee signed Steelers edge Bud Dupree to replace Jadeveon Clowney and Saints cornerback Janoris Jenkins to replace Adoree' Jackson. The Titans also signed defensive end Denico Autry to add more depth on the defense. However, this team still lost even more major role-players. Defensive backs Malcolm Butler and Desmond King left signed with other teams, tight end Jonnu Smith left for New England, and stud wide receiver Corey Davis departed for the Jets. These losses greatly outweigh their gains, and unless Tennessee makes some serious moves in the draft, this roster will look a lot less dominant come September.
Grade: B-
Colts:  (Draft Priorities: DL, S, WR)
The Colts main move this offseason was trading for Eagles quarterback Carson Wentz. Wentz had a rough season this past year; however, in years past, Wentz has shown MVP caliber playmaking ability. This trade reunites Wentz with his old offensive coordinator, Frank Reich. Indianapolis have become instant super bowl contenders as a result of this trade. As for free agency, the Colts were quite reserved, primarily resigning key players to the team. Wide receiver T.Y. Hilton, cornerback Xavier Rhodes, and running back Marlon Mack are just some of the returning players for next season. The Colts could still use some help at receiver, as well as defensive linemen and safety.
Grade: A
Texans:  (Draft Priorities: DL, DB, BPA)
Because the Texans had to find a way out of deep cap trouble this offseason, they were unable to sign many players, leaving them with a lackluster free agency. Houston is also in additional trouble: star quarterback Deshaun Watson has requested to leave the team and the Texans don't have a first round pick in this year's draft. As a result, former defensive player of the year J.J. Watt and wide receiver Will Fuller signed with new teams. However, some positives did come out of this free agency for the Texans. Linebackers Kevin Pierre-Louis, Kamu Grugier-Hill, Christian Kirksey, and Jordan Jenkins will make an instant impact for this defense. Wide receiver Andre Roberts and running back Philip Lindsay will provide some additional assistance for the offense, too. The Texans will have to find some late-round gems in the draft if they want to succeed next season.
Grade: C
AFC West:  Broncos (Draft Priorities: DL, QB, BPA)
Denver focused on the secondary this offseason, signing some talented pieces, as well as limiting their losses. Corners Ronald Darby and Kyle Fuller will supply improved coverage on wide receivers, and safety Kareem Jackson should continue to succeed with the Broncos. While they lost running back Philip Lindsay, Vikings tailback Mike Boone will fit in nicely. The Broncos also traded for Panthers quarterback Teddy Bridgewater, who will compete with Drew Lock for the starting spot. Denver made some nice improvements to their roster, and they should contend with some of the top dogs in the AFC.
Grade: A-
Chiefs:  (Draft Priorities: LB, CB, BPA)
The Super Bowl runners-up made a few, bold decisions this offseason; however, their main roster is still intact for a run at the championship next season. The Chiefs did not re-sign starting lineman Eric Fisher, but they replaced him with guard Joe Thuney. Thuney signed a 5-year deal, and he will be a mainstay on the offensive line for seasons to come. The Chiefs signed defensive tackle Jarran Reed, who will help apply pressure on the defensive front. Kansas City also re-signed Mike Remmers, Daniel Sorensen, and Demarcus Robinson. Overall, the Chiefs minimized their losses and maintained some key players, and they will surely take another shot at the Super Bowl next season.
Grade: A-
Raiders:  (Draft Priorities: OL, LB, WR)
The Raiders had a balanced offseason with some simple signings to upgrade their roster. Defensive end Yannick Ngakoue will join Clelin Ferrell and Maxx Crosby on the line, and he will add a much needed edge presence. Las Vegas also replaced running back Devontae Booker with Arizona tailback Kenyan Drake and receiver Nelson Agholor with Bills wideout John Brown. On the defense, cornerback Casey Hayward will join a young and developing secondary, adding some veteran leadership for this squad. These signings quietly improved the Raiders depth, offering more versatility in a tough division.
Grade: B+
Chargers:  (Draft Priorities: OL, DB, BPA)
The other team in Los Angeles made some major changes this offseason, adding more help on the o-line and increasing depth on the defense. Packers center Corey Linsley signed a 5-year deal with the Chargers, giving quarterback Justin Herbert sufficient protection for the next few seasons, and Steelers' offensive tackle Matt Feiler will do the same. While the Bolts lost tight end Hunter Henry, veteran Jared Cook will offer reliability at the same position. As for the defense, linebacker Kyler Fackrell and corner Ryan Smith will strengthen overall roster depth. Looking towards the draft, the Chargers should continue to add to the offensive line.
Grade: A-