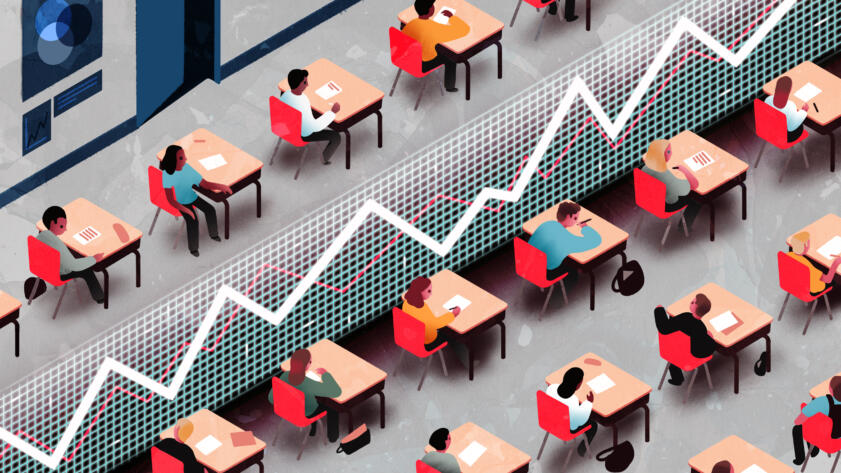 On October 3, 2021, the Delbarton School hosted its first in-person Open House after the pandemic had struck. Attracting over 800 people onto the campus, the School has experienced great success in its annual event. 
While I did help out at the Open House myself, I met with Dr. Donovan, who is the head of the admissions department, to ask about his thoughts and the overall logistics of this program. 
To Delbarton, the Open House is a relatively new concept for the school, started around five years ago on a limited scale with an aim to open up the school community to prospective students and their families while providing an engaging experience for all who attend. 
Historically, instead of the Open House, Delbarton hosted a parent Q&A session during the admission testing days. However, the school wanted to expand this small event into a greater admissions outreach and it was successful! This year, Delbarton hosted the largest number of people at the Open House, drawing in families from 110 towns, 12 counties, and 3 states. A "homerun" described by Dr. Donovan. 
Before we discussed what happened this year, Dr. Donovan and I talked about how the Open House went last year during unprecedented times. 
He explained how Delbarton was one of few schools that offered an in-person admissions season for prospective students. While there was an initial worry that this could discourage applicants, the School saw an opposite result, with a record number of applications, showing that parents valued an in-person education. Nonetheless, both in-person and online entrance exams and interviews were offered. In general, Delbarton saw an increase in numbers all around. 
Admissions for 7th grade: 75 applications (54 in 2019-20) with a 92% yield rate and 25% students of color. 
Admissions for 9th grade: 345 applications (272 in 2019-2020) with 80% yield rate and 35% self-identified as non-Caucasian (most diverse class so far). 
Now onto this year's Open House! 
The actual program of this event contained many new features. St. Benedict's Hall, Spada Commons, and the STEM center were introduced to members outside of the school community, used as spaces such as the athletic departments and demonstrations by the Robotics team, Delbotics. The former Valentine Library, now turned into a student commons, held the Middle School program. All components of Delbarton, ranging from biology to the arts to the soccer team, were showcased for everyone to enjoy and learn about. The parents even had their own social out in the garden! 
One of the key parts to the Open House was a 6-person student panel moderated by Mr. Ross. Here, families could text questions which Mr. Ross and Father Michael responded for the students to share their own answers. In doing so, interested families got authentic and conversational responses and insight into life as a student here at the School. 
But this great success didn't just come from thin air. Mr. Donovan credited the numerous faculty, administration, and students for their incredible work and support to make this great event possible. The extremely competent community here at the school was what made the place shine. He also gave a big shoutout to Mr. Lowy and Ms. Fiddes in the marketing and communications department for getting the word out about this event. 
Thank you to Dr. Donovan for your time and for your support for the Delbarton admissions team and community!