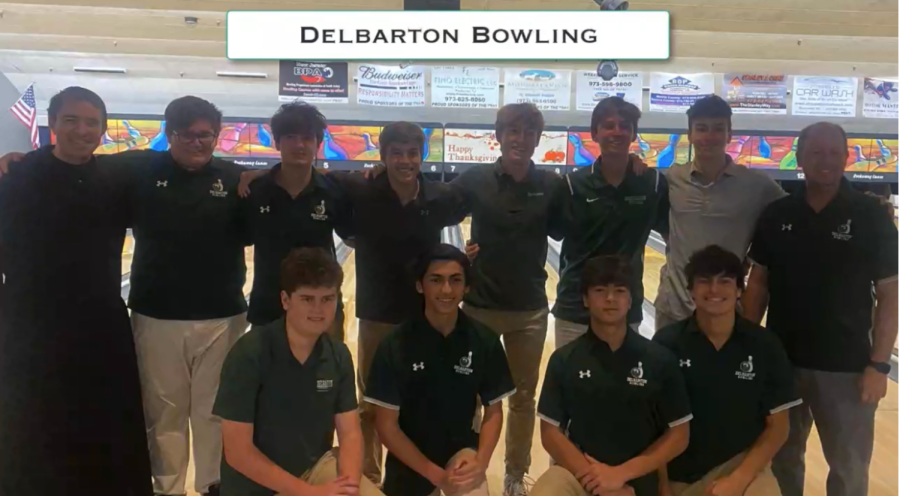 First, I would like to thank Coach Kane for making our 2022 season very special. Your dedication to Delbarton bowling is second to none. I would also like to thank Br. Finnbar for serving as our team chaplain.  Before the season began, we did not know if we were going to have enough people to maintain a varsity and a JV squad, but through a little convincing we put together a very special varsity team: Anthony Reale, Matt Porr, Dylan Desiderio, Colin Feeney, Vincent DiDomenico and Owen Kenny.
After finishing the season 9-7 last season, our JV guys brought tremendous energy to this year's team. Luke Towel, starting his bowling career as a sophomore was always ready to be thrown into the varsity lineup, no matter the circumstances. When I had to bowl against Luke for the first time in a practice bracket tournament, I bowled a 204, and Luke bowed a 214 making him victorious in round one! But as the practice round continued, I would eventually end up facing him again. In a tight battle I squeaked by Luke 204 to 203 evening the series at 1-1. 
I am happy that David Reale, my brother, joined the team this year as the the only freshman on the varsity squad. He is a great athlete and someday may take the throne from me. Owen Emge first joined the team as a one-handed bowler, but he soon realized that one hand wasn't enough, so he evolved into a two-handed bowler. Owen eventually became one of our best weapons on varsity and will be known for having the biggest smile and best attitude on the team. Next, Connor Toronto has been bowling for Delbarton since the very beginning of the program. Toronto has built an outstanding personal record for the past two years with an overall average of 237. Coming into this season I knew that I had to keep up with Toronto to have a  better overall better team.  We both look forward to finishing out our senior years of bowling together and strong. Gerard Buono (aka "Ge" or "Grease"), has developed tremendously as a bowler in the  last two years; after realizing he had to throw the ball harder, he became virtually unstoppable. Finally, Robby Maffucci and I have been teammates since 7th grade.  Robby and I have bowled on the Delbarton bowling team for about three years now and I have loved every second of it. HWe wish him well at Boston College.
Throughout our season the team showed tremendous perseverance and endured a lot of adversity. We had to deal with Covid rules, so if a bowler had to quarentine for two weeks, it had a significant impact on our 5-man variety lineup. This happened to our team a number of times during the season but we didn't give up. As "States" approached, we needed to prepare for this test of our mettle. We were the 6th team in our district and it didn't really seem like we had a chance of qualifying in our division. We had a very productive practice the day before and felt pretty confident coming into the first round of the TOC. As we arrived at the TOC qualifying match there were approximately 40 different teams in the field.
In a three-game round by our best bowlers, we performed the best we had all season, putting us in qualifying range. In the second round, we didn't bowl as well as we had, dropping us to third place, not in qualifying distance. In the final game, we had to erase a 60-pin difference to qualify.  We started to gain momentum and it all led down to our last 5 shots. We had to clear a distance of 100 pins in the next 5 frames.  This means we needed at least a spare or a strike from everyone. While we finished up our last couple of frames, my teammates Gerard, David, Connor, Luke, and I managed to cleose the distance to only 15 pins, meaning I needed at least a strike or a spare to win the game and qualify for the TOCs. I stepped up on the ally as there was pure silence behind me. I picked up my ball, trembling. I bowled my first ball and left a tricky 3-pin spare. This was a do-or-die moment. In the back of my head, I imagined the disappointment and the letdown I would give my teammates and everyone who supported me if I were to miss. I grabbed the ball for the second time, rolled it down the alley and picked up the spare allowing us to qualify! I had never been so scared in my life. Turning around and seeing the joy on the faces of Coach Kane and my teammates will be a moment I will remember for the rest of my life.
The impressive performances of my teammates combined and led to victory in our match and our 2021-2022 season was the best in the history of the Delbarton Bowling program. I am very proud to be the captain of this season and I am excited about our next season together. Go Green wave