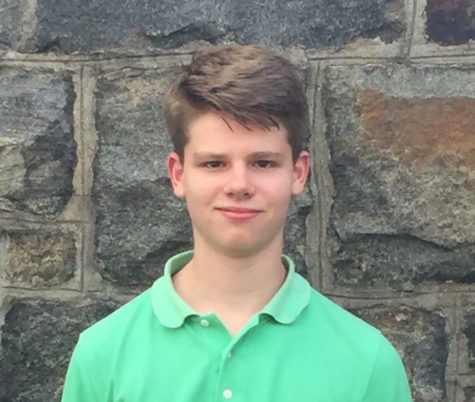 Hello. My name is Matthew Harper. I am a member of the Class of 2018. I currently hold the position of Editor-in-Chief for the Courier, our school newspaper. Other activities that I am involved in include the Current Events Club, the Math Club, and the Archway. 
Outside of extracurricular activities, I love to talk about biology, space, and technology. If you have any questions about the Courier or anything else, please email me at
Harper_M@delbarton.org
.
Matthew Harper, Editor-in-Chief
Nov 16, 2017

Student of the Week: William Li

(Story)

Nov 07, 2017

Humans: The Perpetrators of Climate Change

(Story)

Nov 07, 2017

Student of the Week: James "Skegs" Visceglia

(Story)

Oct 03, 2017

Math Tutor Center

(Story)

Apr 20, 2017

The Votes are in: Gianni Vinci Elected as Student Body President

(Story)

Mar 09, 2017

Squash Nationals: A Great Ending to the Season

(Story)

Feb 21, 2017

"Imposters": Well Worth the Investment

(Story)

Feb 14, 2017

The Young Pope Review

(Story)

Jan 13, 2017

Vacation in the British Virgin Islands

(Story)

Dec 06, 2016

Judi Benvenuti: Photo Exhibit of Italy in the Fine Arts Center

(Story)

Nov 30, 2016

"Inferno" Review: A Disappointing Adaptation of Dan Brown's Thriller

(Story)

Nov 14, 2016

Homecoming Pep Rally 2016

(Story)

Sep 19, 2016
Apr 27, 2016

Our Earth: What Will Happen?

(Story)

Apr 25, 2016

A Review of Netflix's House of Cards

(Story)

Mar 04, 2016

The Faculty vs. Student Basketball Game: A Great Conclusion to Spirit Week

(Story)

Feb 29, 2016

A New Addition: The Current Events Club

(Story)