The One Acts Festival 2018: Preview and Information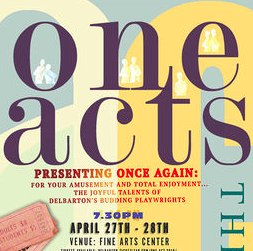 Hang on for a minute...we're trying to find some more stories you might like.
The Delbarton One Acts Festival is an annual masterpiece consisting of four plays, written, directed, and acted by Delbarton students as well as guests from neighboring schools. The process starts when people submit their ideas for plays, and four specific plays are selected to advance. This year, the four Delbarton students who's plays were selected by the committee were John Paciga '18, Peter Cain '18, Aidan McLaughlin '19, and Damien Sylva '20. Next came the auditions, where the casts were assembled by the directors. This year's directors included Trey Heller '18, Derek Lattmann '19,Christopher Maximos '19, Aidan McLaughlin '19, and Max Alexy '19. Once the rosters were finalized, only five weeks remained to turn the play concepts into a reality.
Here is a quick preview of what to expect from each of the plays.
"The Coat Closet

by

Peter Cain '18

, directed by

Trey Heller '18

: Three siblings contemplate their pasts and their futures as they wait for news on whether their father is able to save their family's home from foreclosure.

Hunting for Millenials

by

Damien Sylva '20

, directed by

Derek Lattmann '19 and Christopher Maximos '19

: The aging members of an antiquated hunting club turn to two young business consultants who seek to radically modify the club in order to attract younger members. But will anyone be happy with the results?

The Nephew of Liberty

written by

Aidan McLaughlin '19, directed by Aidan McLaughlin '19

and

Max Alexy '19:

 George Washington's one goal is to sculpt his nephew into a true, patriotic soldier. The only problem is that his nephew couldn't care less.

The Next Screenplay,

written and directed by

John Paciga '18:

This one act explores whether "dreams" are attainable ambitions or wishful thinking. On the brink of the next stage of their lives, high school seniors Alex and Perry struggle through the college process, strained relationships with their parents, and the battle between happiness and practicality as they pursue their true vocations."
One Acts moderator, Dr. Rachel Carlson, has been overseeing the process and the playwrights and directors have had her leadership and presence every step of the way as they embarked throughout this daunting but rewarding process.
See these plays come to life and come to support all of the hard work of the playwrights, directors, and cast members on April 27th and 28th! Tickets are available online at the following link (https://delbarton.ticketleap.com/one-act-2018/) for the One Acts Festival. They are during the evenings of Friday and Saturday (April 27-28) from 7:30-9:30pm on each day. Tickets are $5 for students and $8 for adults. We hope to see you all there!