2017-2018 Staff
Media Director
Hi! My name is Jack Looney, and I'm a member of the Class of 2018. This year, I hold the new position of Courier Media Director. I will be managing all social media platforms and expanding the influence of the school newspaper....
See Jack Looney's profile
Sports Editor
Hi. My name is Christian Agathis. I am currently a sophomore here at Delbarton, and I hold the position of Sports Editor. Besides the Courier, I am also a math tutor. Sports are a huge aspect at Delbarton, and it is my job to ...
See Christian Agathis's profile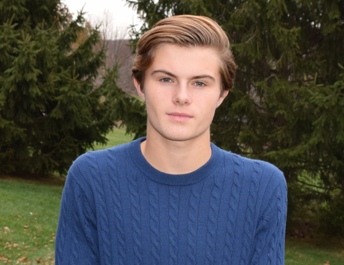 Editor, Opinion Section
James Santoro is a rising Senior interested in writing, music, and art. With a passion for individual expression and debate, James leads the Opinion section of the Courier for the 2017-2018 school year. He hopes to express his l...
See James Santoro's profile
Campus Ministry Editor
My name is CJ Gasser and I am a junior at Delbarton School. I have written for the Courier since 7th grade, and have a passion for literature and writing. I am involved in several community service projects at Delbarton, in particu...
See CJ Gasser 's profile
Delbarton Life Editor
Hi, I am Brandon Feng, editor for the "Delbarton Life" section. In addition to writing for the Courier, I am a service coordinator for the Interfaith Food Pantry and a leader of the "Microfinance" section of the Business and Eco...
See Brandon Feng's profile
Editor-In-Chief
My name is Eric Hsieh, and I am a Editor-In-Chief along with Matthew Harper. I am a member of the class of 2018 and have attended Delbarton since middle school. I love to write, whether it be about a recent victory in sports or...
See Eric Hsieh's profile
Arts Section Editor
Hi, my name is Yajur Sriraman, and I am the Arts Section Editor of the Courier. I am a current junior at Delbarton, and I participate in several activities here, including Brass Ensemble, Wind Ensemble, Abbey Orchestra, and Schola Can...
See Yajur Sriraman's profile
Editor-in-Chief
Hello. My name is Matthew Harper. I am a member of the Class of 2018. I currently hold the position of Editor-in-Chief for the Courier, our school newspaper. Other activities that I am involved in include the Current Events C...
See Matthew Harper's profile