2018 Wave Soccer Review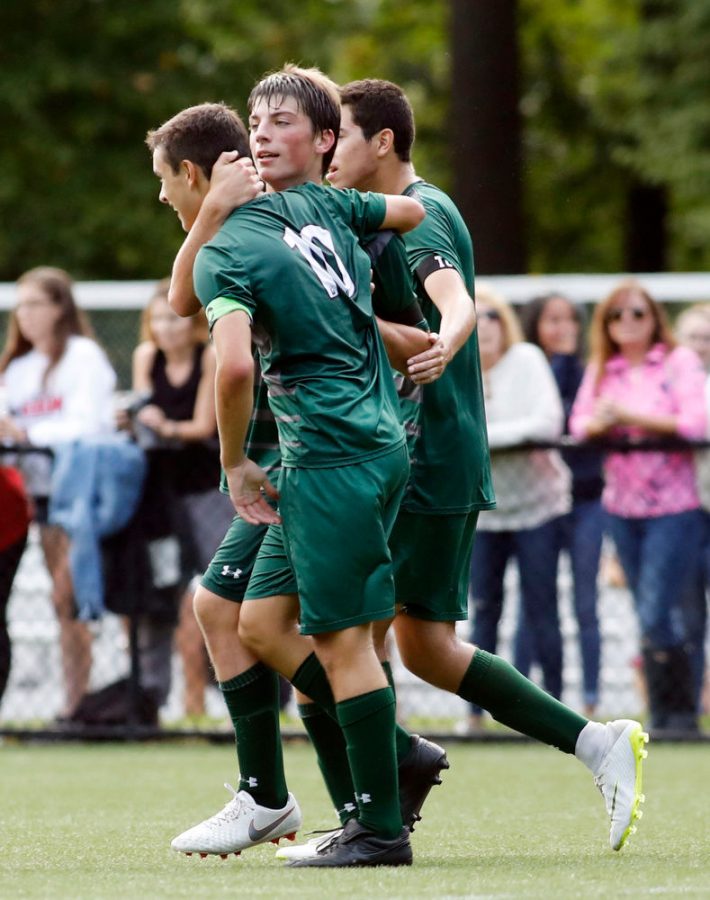 Hang on for a minute...we're trying to find some more stories you might like.
This year, the soccer team had an excellent season. The team finished 21-1-1, ending with a dramatic finish in the Non-public A state final. The Delbarton boys maintained a perfect record, battling through several dramatic finishes. The team was tested early when the school hosted the annual Delbarton Soccer Invitational tournament and the Wave beat two tough out-of-state powerhouses: Chaminade and La Salle. In fact, Fr. Michael, the team Chaplin, shared delight with the team on the sidelines when the Green Wave beat La Salle, his alma mater. Though the team lost the tournament to Christian Brothers Academy in goal differential, the perfect record was maintained. In a fiery competition against Mendham, Will Donovan scored the two goals, including a game-winning volley in the final minutes. Emerging out of the regular season trials, the soccer team kept the perfect record and won two trophies: the county championship and the county league. The boys fought their way to a semi-final against Seton Hall Prep. In the semi-final, the game went to penalty kicks. Thanks to three saves in a row by the heroic Kyle Swift, the team won the Non-public A North championship. All that was left was the state final. Unfortunately, the soccer team lost in a crazed final game against Christian Brothers Academy. Junior Brendan McSorley scored the only goal, and as the leading goal scorer, he shows promise for the team next year. At the end of the final game, Coach Donovan watched his team break down in tears. Team leaders walked around and picked each other up. In reflection, Coach Donovan stated that "this is the look of victory." Despite adversity, the tight-knit group of boys stayed together, a testament to the character, unity, and professionalism of the team.
Last year, Will Donovan spent the year sidelined by a tragic back injury. He spent the season waiting for another opportunity, after a triumphant Sophomore year. This season he was elected captain and led his team. He finished with seven goals and three assists, though the numbers, while impressive, cannot depict his contribution through leadership. Yet, when he scored, it was always decisive. Donovan scored the first goal and then the game winner in the game against Mendham this year. Additionally, in overtime against Mount Olive, Donovan scored to decide the game. Overall, he proved to be integral to the team this year. In reflection on the season, Donovan proposed that "altogether [he thought] it was a great season. We won our big rivalry games agents Mendham and Seton Hall and did it in front of both schools. . . . It's unfortunate we didn't win the state final versus CBA, but the team is motivated and ready for next year, and there are a lot of great younger players and leaders who are ready to come back next year and bring home the big trophy." Finally, when asked about his favorite moment on the team this season, he responded that "scoring the winner in the first Mendham game meant a lot because there were so many people at the game."