Slate Set for One-Act Festival
"Big Fish" February 8-10. One Act Festival April 26-27.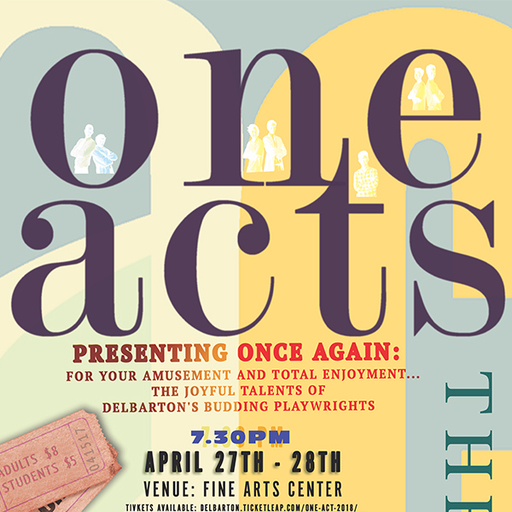 The Abbey Players of Delbarton School will mount their annual One-Act Festival on April 26-27, 2019.  The unique feature of this presentation is that the plays are entirely student-written, student-directed and student-acted original plays.
More than 15 student-authors submitted their work for consideration by the Selection Committee headed by Dr. Carlson.  The committee was composed of faculty members from a wide variety of departments, supported by Mr. Wyatt.  After a rigorous evaluation process, five plays were selected to present to the public at the April One-Act Festival.  "Rock Time" by Tim Royse, "Stockholm Syndrome" by Mark Wasik, "The Donoisseur" by Justin Yazdi, "The Almond Dilemma" by Bernardo Stival and "Quietly Into the Night" by Finn Gannon were selected from a very strong field of hopeful writers, many from Mr. Pillette's theater class.  All of the plays represent a wide variety of creative talent from comic entertainment to profound and thoughtful drama.
Mark your calendars and come support your brothers at the One Act Festival, April 26 and 27 in the Fine Arts Center.  Auditions for roles in these plays will be held February 19 and 20.
Be sure to see the winter musical, "Big Fish", this weekend, February 8 and 9 at 7 PM and Sunday, February 10 at 2 PM.