Delbarton Rugby Preview 2019
Hang on for a minute...we're trying to find some more stories you might like.
Delbarton's newest varsity sport, rugby, hopes to start their inaugural year strong. The team hopes to win the state championship for the first time in three years, after losing in the finals the past two years. Though rugby is only just now recognized as a varsity sport, there has always been an added seriousness when participating in this sport. Players have been asked to do just as much as other varsity sports, and the team is ecstatic to be rewarded for the hard work put in throughout the previous years.
Coach Linfante is returning as head coach for the varsity squad alongside JV Coach Jessica McKeever. Two new assistant coaches have also been added in Spanish teacher John Majano-Lopez, as well as Trevor Stiefken, a West Virginia University rugby alumni, and current member of Morris Men's Rugby Club. The staff has been working since the beginning of the school year to build the schedule for the upcoming season, and the slate of match-ups is undoubtedly the most competitive in Delbarton Rugby history. There have been captains' practices and workouts all winter long leading into the season, and the squad is itching to get into full swing. The preseason kicks off with the first practice on March 1, and over Spring Break the team will compete against Philadelphia's La Salle College High School as well as Malvern Prep. The first regular season match takes place on Sunday March 24th at 1:00 pm at Ryan Field versus arch-rival CBA.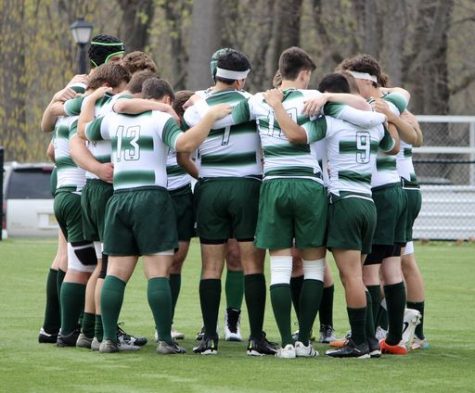 The varsity team, under the leadership of senior captains Christopher Siegert and James Donini, looks to try and replace eight starting seniors who were lost after last season. However, last year's B-Side had a stellar year, so there is a lot of talent coming up the ranks. Patrick Ryan, a sophomore and brother of former Delbarton Rugby star Joe Ryan, looks to take over his brother's role as Varsity flyhalf. Moreover, junior Matt LeDonne is extremely excited about his opportunity to fill the scrum half vacancy which was left by Giancarlo Ramirez, a three year starter. Though, there will have to be many younger players with less experience who need to step up to fill the vacant roles, the team is confident that the inaugural varsity season will be one to remember. There seems to be an added excitement around the upcoming season, and the team cannot wait until the season starts. Be sure to keep an eye out for upcoming games and opportunities to support the Varsity Rugby team.