Delbarton Soccer Routs Mendham in Rivalry Matchup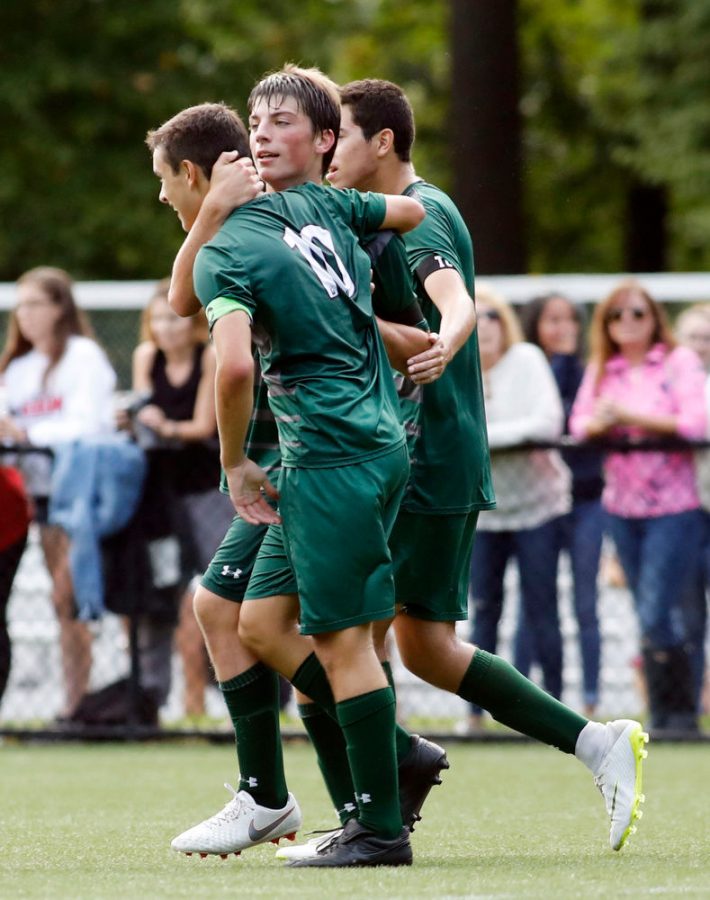 Peter Gajewski, Sports Section Editor
October 15, 2019
On Tuesday, September 17th, Delbarton soccer faced Mendham in what turned out to be an amazing victory. Controlling the game from the start, Delbarton managed a 4-0 win agains. Some early mistakes were made up for later in the game. With a controlling presence on the field, Ivan Scotto, Emerico Vespucci, Curt Calov, and Wade Merritt all scored to bring Delbarton a well-deserved victory against Mendham.
Prior to the game, Mendham students began smack-talking Delbarton soccer and Delbarton student-pits online. As a result, Delbarton seniors placed a huge emphasis on attendance at this game. A pregame party in the Senior lot, followed by a march of more than 250 students utterly shocked the Mendham students. The pit was one of the best yet and set a great start for what will surely be a great year for Delbarton student support. 
Delbarton now has an undefeated record heading into the Morris County Tournament with a seed of 1. With a bye in the first round of the tournament, the Delbarton Soccer team was well rested for round two against Mendham on September 29th. Similar to the game against Mendham on the 17th, Delbarton dominated the game and won with a decisive 6-1 score. The energized game was marked by two goals by Ivan Scotto and one goal by Bryce, Curt Calov, Nathan Zimmermann, and Andrew Tremante. 
After the well-earned victory on Sunday, Ivan Scotto, the soccer team's co-captain, noted that, "through the team's hard work and unique playing style, we hope to continue our success in the Morris County Tournament. This can only be done if we take it each game at a time and continue to play with the same urgency and team chemistry as we have been. We are grateful for the continued support of the Delbarton community and the sacrifices made by Coach Donovan, Del Guercio, Hartle, and Dimeo to remind us of our goals and always keep us one step ahead." Delbarton has set a precedent for excellence in soccer and has made a name for itself as one of the best teams in the country. With continued support from students and hard work from the players, Delbarton soccer is sure to have another spectacular season.