New Faculty Profile: Mr. Lebrenz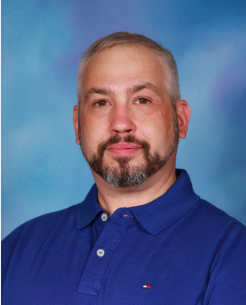 Wan Virtudazo, Staff Writer
November 11, 2019
Along with thirteen other new faculty members, Mr. Lebrenz arrived at Delbarton in August, 2019 and is ready to make his mark on the school.  As the new technical theater director, following in the footsteps of Mr. Bodd, Mr. Lebrenze is excited about his current opportunity.
Mr. Lebrenz is a man of formidable background, with his parents being masters of their respective crafts. With a family history of carpentering, welding, and auto-mechanics in his blood, it is easy to see why he has developed a life-long passion for theatrical engineering.
Born to a middle-class family in the town of Wayne, New Jersey, Mr. Lebrenz spent his teenage years developing his skills, "fixing stuff." From building a Chevy Nova out of junkyard scrap to remodeling an old vacuum cleaner into a carpet-ripping machine, George Lebrenz's ability showed itself even at a young age. After attending Wayne Valley High School, he took art classes, learned mechanical drafting in a studio, and participated in marching bands and pit orchestras.  "I'm good with my hands," says Mr. Lebrenz regarding his personal talents. After his senior year in high school, he enrolled in the University of North Carolina School of the Arts. After college, Mr. Lebrenz worked for professional companies like Hudson Scenic, the Metropolitan Opera House, owned and operated "No Time for Love Productions", and built and engineered structures used in Broadway shows, films, and other venues for twenty or more years, culminating into an impressive 3,000 total shows.
Before his change of scenery (lol), he reduced his working hours at Hudson Scenic,where up until five years ago, he was a teacher. His engineering and architecture students in Ramapo High and Indian Hills school were in good (and powerful) hands.
When asked why he came to Delbarton as a theatrical director, Mr. Lebrenze responded, "The family atmosphere, the camaraderie. Everyone here works together. Everyone here is working toward a common goal. It's really nice to see that people are embodying the Benedictine ideals… "This is what I wanted to do to give back, because it encompasses everything I've done. I'm teaching and I'm also running a theater." We welcome Mr. Lebrenz into the Delbarton community and are excited to see his contributions to the school.