Delbarton 2019 Open House: A Major Success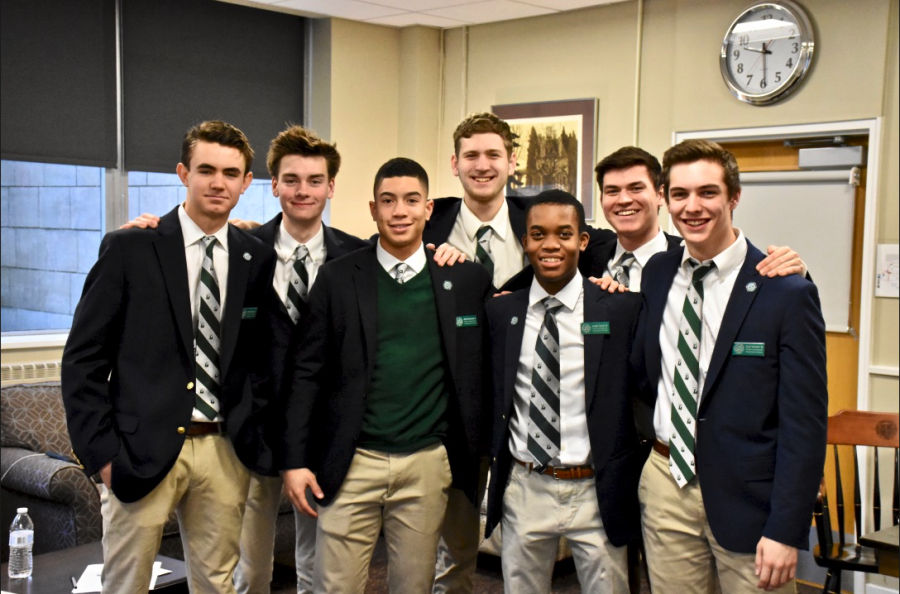 Jamarc Simon, Staff Writer
October 28, 2019
The Open House is always marked as a crucial event on the Delbarton calendar and this year's installment proved why. On October 12, more than 700 people packed Delbarton's Fine Art Center, eager to hear about what the Delbarton School has to offer. Student Ambassadors were there early, greeting parents and handing out brochures of the day's events before Father Michael kicked off the day with a welcome speech. After convening in the Fine Arts Center, families were free to walk around campus and receive more information about the many academic opportunities and extra-curricular options avaialable to Delbarton students. 
Stationed right outside of the Fine Arts Center was the "Sports Information Center", which attracted a large number of visitors. Each team had its coach and several members of the team present to share more details about their sport. Tables full of sign-up papers were surrounded by prospective students and their parents intrigued by Delbarton's many sports teams. 
Families then proceeded to Trinity Hall where they visited classrooms to learn about various academic subjects and non-sport clubs and activities. Many teachers were on hand to explain academic options and they came up with fun ideas to keep the parents and students engaged. Spanish teacher Mr. Paris held a mock Spanish class on the third floor in the Language Lab, giving families the opportunity to walk in and see what a true Delbarton class is like. 
In the Science Wing, Mr. Martin displayed several products that past Delbarton students invented in their senior-only incubator class. Among the inventions were Sandy Soles and the Lazy Taco, two products created by students that were meant to make students' lives easier. Families were fascinated by the products and had high praise for the students' ingenuity and overall creativity. 
Likewise, the English department also received a large number of visitors as Mr. Currie and Mrs. Brown explained to families the "Assertion-Support-Explanation" writing style, Membean, the reading requirements for each grade, and the choice reading option that students have each year. In addition to describing their classes, they fielded questions and offered advice to the parents. When one parent asked how her son could improve his reading level, Mr. Currie's advice was simply, to "read constantly." After visiting classrooms, families had the opportunity to be led by Student Ambassadors on a campus tour starting in Old Main's portico. 
Ultimately, the day was a tremendous success. There were many moving parts and the Student Ambassadors, faculty, staff and many others had their work cut out for them, but as Dr. David Donovan put it, "the smooth operation of [the] Open House is a testament to the care and competence of every member of the Delbarton community."