New Faculty Profile Mrs. Otterbein Yoo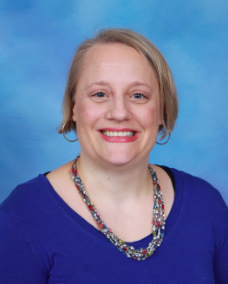 This past September, Mrs. Jennifer Otterbein -Yoo, commonly known as Mrs. Otterbein,  joined Delbarton's fourteen-person freshman class of new faculty. Last week, I was fortunate enough to sit down one-on-one with Mrs. Otterbein to gain a little insight on her journey to Delbarton and her Delbarton experience thus far.
Mrs. Jennifer Otterbein was born and raised in West Caldwell NJ, a town she adores. Her family was  very active participants in the Caldwell community during Mrs. Otterbien's childhood. In fact, to this day, her brothers work as local volunteer firefighters and her mom is heavily involved with the Caldwell Public Library. Mrs. Otterbein attended Caldwell High School, where she was involved in softball and cheerleading. She remembers her first interaction with Delbarton, on the football field.  During that time in their mutual history, Caldwell and the Green Wave were intense rivals, so intense, that Mrs. Otterbein remembers not having the most positive attitude toward Delbarton during her high school rivalry years. 
After high school, Mrs. Otterbein attended William and Mary University where she earned a dual major in International Relations, (with a concentration in Russian Studies), and Spanish Language. After working for a short time in New York City, Mrs. Otterbein became a Spanish teacher at Pequannock High School. During her time at Pequannock, Mrs. Otterbein fell in love with Christian Missionary trips. As teachers sometimes have the ability to travel during the summer months, Mrs. Otterbein brought her students to Honduras, where she helped translate Spanish into English for American doctors working in Honduran hospitals. During these trips, Mrs. Otterbein felt extremely called to missionary work. As a result, after 8 years, she left Pequannock High School for the Alliance Theology Seminary in Nyack, New York. There she spent four years preparing to become a Christian missionary and completed an internship at "Peace and Hope" a Peruvian Social Justice group. 
After graduating from Seminary, Otterbein was set to go to Colombia on her first mission. However, in an unfortunate turn of events, she could not get the required visa. As a result, Mrs. Otterbein returned to the east coast and accepted a position at Oratory Prep in Summit. Despite a compelling job offer from Pequannock High School, Mrs. Otterbein explains felt called to a Catholic environment. Ironically, in just the first few days of working at Oratory, Mrs. Otterbein met her current husband, Mr. Jimmy Yoo. As fate would have it, the two realized that they had attended the same high school, graduating in the very same year. As a result, they decided to grab dinner to catch up. Later, in a Otterbein bittersweet decision, she chose to forego her mission and pursued her relationship with Mr. Yoo.  Although this decision was extremely difficult, Mrs. Otterbein believes that God was interceding in her life, ultimately leading her to start a new family with Mr. Yoo. 
After several years at Oratory, Mrs. Otterbein came to Delbarton, where she now teaches World Religions to juniors and Family Life to sophomores. She is actively involved in campus ministry, leading Delbarton's weekly EPOCH trip to the Madison YMCA. She also is extremely excited to get involved in Delbarton's retreat program, through which she will attend a Senior Day of Reflection, a Junior KAIROS retreat and a Sophomore Romero Retreat in Camden. Mrs. Otterbein said what she most loves about Delbarton is the positivity on campus. "Students are excited about everything" and happy to be at school. She particularly enjoyed the Halloween Pageant and Homecoming, both of which emphasized the importance of community at school. Mrs. Otterbien also loves the respectful demeanor and general good manners of our students as they hold doors, say "thank you" and "hello" to teachers in the hallway. 
Mrs. Otterbein and her family continue their involvment in their local church, where she runs a monthly book club and teaches Sunday School. On her commute to school, she listens to Podcasts like The Daily from the New York Times, Crime Junkie and Office Ladies. With her daughter Hannah (age 4) and son Henry (18 months), the family likes to get outside and do just about anything they can do with each other on the weekends, from going to the zoo to enjoying some 80's music as they cook dinner. 
As a current student of Mrs. Otterbein, I can attest to the fact that Mrs. Otterbein is a very valuable addition to the Delbarton community and thank her for sharing her story with The Courier.