Pierce's Picks: Fantasy Football Rankings Week of 9/13
Fantasy football is officially back! I am excited to be sharing my rankings, tips, and more throughout the season, but I first wanted to kick things off with my pre-season draft rankings. These rankings do not reflect my views on players' real-life value, but rather how much I value them in fantasy football (PPR format).
QB: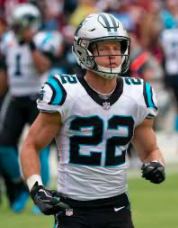 Patrick Mahomes (Kansas City Chiefs)
Patrick Mahomes is the future of the NFL, and if he's on your fantasy team, you should be starting him every week. Despite getting injured in the second quarter on TNF in Denver—which caused him to miss an additional two weeks—Mahomes still threw for 26 touchdowns (ESPN). While this is a significant drop-off from his electric 2018 season where he threw for 50 touchdowns, the film on Mahomes shows that he is still the best QB in the game—and he was paid like it this offseason. He also torched defenses in the 2019 playoffs, throwing for 10 touchdowns in three games while also rushing for an additional two scores (Pro Football Reference). This included three touchdowns and 286 passing yards against the San Francisco 49ers, who allowed the second-fewest passing yards during the regular season (Pro Football Reference). No team has truly been able to stop Mahomes.
All the key pieces are still there from that Super Bowl offense except for RB Damian Williams. However,  first-round pick Clyde Edwards-Helaire fits the Chiefs' scheme better than Williams. Edwards-Helaire will be a great security blanket for Mahomes; hence, he should be able to avoid having to scramble or take hits in the pocket. This should limit his injury risk, and injuries are really the only thing that can stop Mahomes from being an MVP candidate. 
2. Lamar Jackson (Baltimore Ravens)
Similar to Mahomes, NFL defenses have yet to solve Lamar Jackson. Even though Baltimore was upset in the playoffs last year, it wasn't really Jackson's fault. He threw for 365 yards, and his two interceptions were not because of bad reads or bad throws. Jackson will continue to dominate with his legs and his arm until NFL defensive coordinators are able to come up with an effective game plan to stop him.
The only concern for Jackson is his durability. Scrambling quarterbacks have much shorter careers and miss more games due to their nature of play. So far, defenses have not been able to touch him due to his great agility, but with teams having a full year of film on him now, he might not have as many gaps to run the ball.
Finally, if Jackson were to repeat his 2019 MVP season, he would be almost guaranteed to finish as QB1. However, I'm predicting a slight regression for the former Louisville Cardinal. His 9.0% TD rate was the highest in the NFL over the past decade, and the last quarterback to repeat as the top-scoring fantasy QB was Daunte Culpepper in 2004 (ESPN).
3. Russell Wilson (Seattle Seahawks)
The Super Bowl window for Wilson and the Seahawks is closing, quickly. Wilson has finished as QB11 or better for the last eight seasons, and he has been one of the most consistent quarterbacks over the last decade. Wilson took care of the ball well last year with a TD:INT ratio of 31:5. Wilson does not have an extremely high ceiling, but he is a safe pick that can anchor any lineup.
Wilson will have more prolific weapons to utilize this season. DK Metcalf will be going into his second season after a successful rookie campaign, where he kept improving as the season went on. This included a 7/160/1 stat line in an NFC Wild Card matchup against the Eagles. The Seahawks also added former Panthers' TE Greg Olsen, who should be a nice security blanket for Wilson, and WR Josh Gordon. 
4. Deshaun Watson (Houston Texans)
Watson has finished as QB4 for two consecutive years, and he has cemented himself as the future of the Houston Texans. Watson, like the other three quarterbacks above him, has the ability to beat defenses multiple ways. He is incredibly efficient rushing the ball, finishing top four in QB rushing attempts, yards, and touchdowns over the past two seasons (ESPN).
The loss of DeAndre Hopkins puts Watson below Russell Wilson, but he still remains a high-end QB1 in my rankings. Brandin Cooks and Randall Cobb are underrated receivers who can stretch the field, and Will Fuller is still in the fold. David Johnson is an upgrade over Lamar Miller and Duke Johnson, so defenses will have to respect the Texans' run game, opening up the field for Watson. Finally, Watson has found success even when not targeting Hopkins, as he has a career 9.2 YPA to receivers other than Hopkins (ESPN). Of course, Hopkins also took the opposition's top cornerback out of the picture even when he wasn't targeted, but Watson is a winner and has proven he can succeed in college and the NFL no matter what other talent is around him.
5. Carson Wentz (Philadelphia Eagles)
Wentz has done a lot with a little. The Eagles were thin at WR last season, but Wentz still finished as a top 10 fantasy quarterback.
Wentz should succeed in fantasy through volume alone, as he ranked first in snaps among QBs, and he finished the season being fifth in pass attempts. Wentz has a safe floor, but his ceiling is relatively low due to his still lackluster receiver core. Philadelphia improved at WR in the draft by selecting Jalen Reagor, and Miles Sanders is an intriguing back this season, but that might not be enough to compensate for Philadelphia having the third-most drops in the NFL and only 4.8 RAC yards (ESPN).
So, Wentz has a safe floor, but a relatively low ceiling. However, if he can get unexpected production from his receivers, he has the chance to finish as QB3 or better this season.  If you missed out on the top five QB's, here is the "Best of the Rest":
Dak Prescott (Dallas Cowboys)

Kyler Murray (Arizona Cardinals)

Tom Brady (Tampa Bay Buccaneers)

Matt Ryan (Atlanta Falcons)

Matthew Stafford (Detroit Lions)
RB:
Christian McCaffrey (Carolina Panthers)
Christian McCaffrey is the best running back in the league, and new OC Joe Brady is going to put the ball in his hands as much as possible. McCaffrey is incredibly efficient, and we've already seen the numbers he can put up with a heavy workload. It's simple. If you have the first overall pick, pick CMC.
2. Saquon Barkley (New York Giants)
Barkley played in only 13 games last year due to injury, but in those 13 weeks, he finished with the third most fantasy points among RBs (ESPN).
  In addition, analysts speculate that Barkley suffered a high ankle sprain in week 3, which means he played 5 games while injured. The stats back this claim up. Before his injury, Barkley was averaging 103.7 total yards/game and 6.4 YPC (Pro Football Reference). During the time where people speculate he was injured, Barkley averaged only 84.4 total yards/game and 3.2 YPC (Pro Football Reference). Then, after sitting out for three weeks, Barkley returned to his typical elite production, averaging 179.7 total yards/game and 6.2 YPC (Pro Football Reference). If Barkley stays healthy, he will put up numbers similar to his rookie season, which should make him RB3 or better.
3. Ezekiel Elliott (Dallas Cowboys)
The logo at midfield of AT&T Stadium is not the only star on the field. Zeke has consistently produced since being drafted by Dallas with the fourth overall pick, and he leads the NFL in carries and rushing yards since his debut in 2016 (ESPN). His ceiling is not as high as Barkley or McCaffrey, but his floor is very close to the two other dynamic backs. Even though Elliott saw a dip in targets last year, he was much more active around the goal-line, finishing with a total of 12 rushing touchdowns (ESPN). Even with a head coaching change, Zeke can be relied on as a top-end RB1.
4. Derrick Henry (Tennessee Titans)
"The King" is returning to Tennessee after a breakout season in 2019, where he led the NFL in carries, rushing yards, and rushing touchdowns (ESPN). Henry did not have a heavy workload before 2019, which means he should have plenty in the tank to pound the ball up the opposing defense's throats. The Titans are going to run the ball. And then run the ball. And then run the ball. Henry has an incredibly safe floor due to the number of touches he is going to get, so he is a very safe pick in the middle of the first round.
5. Clyde Edwards-Helaire (Kansas City Chiefs)
The argument for drafting Edwards-Helaire is very simple. First, he is the workhorse-back in the most prolific offense in the NFL that is coached by guru Andy Reid. He will see around 200 carries this year, so there is no question about his workload. The issue some fantasy owners may have is with the uncertainty he brings in regards to efficiency since he is a rookie. Even if you think he is a terrible runner, he will still fit in this system. Starting RBs under Mahomes have averaged 1.75 TDs/game; hence, even if Clyde is a terrible rusher, a Mahomes-run offense is impossible to be inefficient in. He also fits the Chiefs' game plan perfectly, as he can catch out of the backfield.
The Best of the Rest:
Alvin Kamara (New Orleans Saints)

Dalvin Cook (Minnesota Vikings)

Josh Jacobs (Las Vegas Raiders)

Miles Sanders (Philadelphia Eagles)

Joe Mixon (Cincinnati Bengals)
WR:
Michael Thomas (New Orleans Saints)
Thomas, who is just entering the prime of his career, is an absolute PPR machine. He has received a plethora of hate from fans who have complained about his short route tree, but nobody can deny his productivity on slant routes. That, along with the fact he stirs up drama in the league, makes him one of the league's most hated players. However, if you draft Michael Thomas this year, he may turn into one of your favorite players. 
The addition of Emmanuel Sanders may raise some concern for fantasy managers, but I see him filling the role of Ted Ginn, who left New Orleans for Chicago this off-season. Thomas only received 9 deep targets last year (Player Profiler), so if anything Sanders should complement Thomas well by opening up the field. Furthermore, Thomas will still be the number one guy. I don't think Drew Brees has the arm strength to heave the ball deep anymore, so he will be looking to throw the ball short to Thomas on most plays.
2. Julio Jones (Atlanta Falcons)
Julio Jones was arguably the second-most consistent fantasy wide receiver of the 2010s behind Antonio Brown. Julio has never had a high ceiling due to his lack of touchdowns. He has averaged 6.4 scores per year since 2014 (ESPN), and this has frustrated some fantasy owners who in the past needed Julio to have a "boom game." However, Jones might see a slight uptick in the TD department since the Falcons parted ways with TE Austin Hooper who found the end zone six times last season (ESPN). 
Still, even if Jones only puts up 6 – 7 touchdowns, you know what you're getting out of him—perhaps the only receiver with a higher floor is Michael Thomas. Jones will continue to rack up yards and receptions in Dirk Koetter's pass-heavy offense, so it is extremely likely that Julio will finish no lower than WR5, making him a safe bet to grab in the second round.
3.Davante Adams (Green Bay Packers)
Adams missed 4 games last year, but he still finished the season with almost 1,000 receiving yards (997, ESPN). Adams missed time due to a toe sprain that occurred in week 4, and this made it even harder for him to adjust to Matt LaFleur's system. Prior to his injury, Adams did not haul in a single touchdown as the Packers offense failed to eclipse 27 points even with the emergence of former UTEP running back Aaron Jones. His struggles continued in his first game back from injury, but after that, he finished no lower than WR16 every week except week 14 (Player Profiler). In total, during the 12 weeks he was active, Adams finished as WR2, trailing only Michael Thomas. Barring another injury, Adams is almost a guarantee to finish as a top 5 wideout this year.
4. Tyreek Hill (Kansas City Chiefs)
Hill has the highest upside of any receiver in any given week, but his big, explosive play-style does not always lead to productivity, which also makes him one of the riskier receivers on this list on a week-by-week basis. I actually think Tyreek Hill will be WR2 at the end of the year, but I think most of his points will come from a few monster games. While you will most likely win those games that Hill dominates, you will also be putting yourself in a hole in those weeks where he doesn't produce at a WR1 level. It's the lack of consistency that keeps Hill out of the top 3 for me. In addition, he doesn't get a ton of receptions, so his value diminishes even more in PPR leagues. 
Still, as mentioned before, Hill at the end of the season will have accumulated a ton of fantasy points, so he is definitely worth consideration in the early to mid-second round. Plus, he has the best passer in the game, Patrick Mahomes, throwing the football his way. 
Finally, the Chiefs defense started out slowly toward the end of the season and especially in the playoffs, so Mahomes may be forced to drop back early in games, which just means more targets for Hill, who trails only Travis Kelce in regards to target priority (ESPN).
5. DeAndre Hopkins (Arizona Cardinals)
It is incredibly difficult for a receiver to get assimilated into a new offense, and it will be even harder for Hopkins to find a groove in Arizona due to the shortened offseason. In fact, since 2010, receivers who joined a new team AND had an ADP higher or equal to WR48 saw their production dip significantly. Only 33% of the receivers beat their ADP and only 31% improved in PPG (Fantasy Points).
In addition, the Cardinals came into last year with a pass-heavy, vertical offense. However, after having success on the ground via Kenyan Drake, they are going to be a more run-heavy offense, which means fewer targets for Hopkins. He is going to an offense that will utilize him less than Houston, and he is also playing with an inferior quarterback. This all creates a recipe for less fantasy production from Hopkins this year. 
Still, Hopkins will be Kyler Murray's primary target and will still make circus catches while producing at an elite level, and he should be a serious consideration for you in the second round.
Honorable Mention Candidates:
Chris Godwin (Tampa Bay Buccaneers)

Adam Thielen (Minnesota Vikings)

Mike Evans (Tampa Bay Buccaneers)

D.J. Moore (Carolina Panthers)

Kenny Golladay (Detroit Lions)