Pierce's Picks: How to Handle Last Week's Injury Bug
Injuries Decimate Fantasy Rosters in Week 2!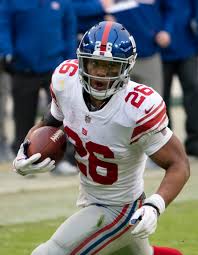 Welcome back to the latest edition of Pierce's Picks!
This week, I, along with many other fantasy owners, am trying to digest this past week's plethora of injuries around the NFL. Injuries are a normal occurrence in fantasy football, but in all my years playing, I don't think I've seen an injury report as expansive as last week's. Notable fantasy football players that went down include Saquon Barkley, Parris Campbell, Courtland Sutton, Christian McCaffrey, Jimmy Garoppolo, and Drew Lock. That list does not even include the key defensive players who suffered major injuries. However, since 99% of fantasy leagues don't roster individual defensive players, we won't discuss them. Still, I would caution owners of the 49ers D/ST, since both Solomon Thomas and Nick Bosa—their two stars on the defensive line—will be out for the year. Their injury woes could exacerbate next week as well since they will be playing on the same (dreaded) MetLife Stadium turf that they complained about last week. 
In this article, I will be going over what I think fantasy owners should do if they owned a specific player that went down with an injury. In addition, if you are looking to bolster your lineup, this is a perfect week to make strategic decisions via the waiver wire.
Saquon Barkley (New York Giants, RB)
Barkley, who was drafted within the first three selections of most fantasy drafts, went down in week two after underperforming in his abbreviated 2020 campaign. Barkley tore his ACL, and he will not play another snap of football this year—the recovery for an ACL tear is on average nine months (Mayo Clinic). Even worse, he may miss the start of training camp next year, as he most likely will have to wait to have his surgery. According to the International Journal of Sports Physical Therapy, surgery should be performed at least 3 weeks after injury in order to avoid arthrofibrosis, which the Illinois Bone and Joint Institute describes as a complication of the knee that occurs when the joint becomes stiff. Consequently, the knee loses its range of motion, which is obviously not ideal for a running back.
After Barkley's injury, the Giants searched the free agent market and signed Devonta Freeman to a $3 million deal (ESPN). However, I do not trust Freeman at all. Barkley was unable to succeed behind the Giants' offensive line, and I don't see how Freeman's production can be better than Barkley's considering he is an older, slower, and less powerful back. Also, Freeman might not be incorporated into the offense right away, as New York still has Dion Lewis and Wayne Gallman clogging up the backfield. Ergo, I would stay away from any New York Giants' running back.
Christian McCaffrey (Carolina Panthers, RB)
After injuring his ankle in the second half against Tampa Bay, McCaffrey has been ruled out for 4-6 weeks with a high ankle sprain (Rotoworld). Furthermore, I don't think Carolina will rush McCaffrey back considering their season already looks unsalvageable. Lower-body injuries always concern me, especially for running backs, so depending on your situation, I think you may have to consider trading him. Yes, I know. I am telling you to consider trading McCaffrey—who will be back in time for the playoffs barring any setbacks or reinjuries—after ranking him as my number one fantasy player just two weeks ago. If you drafted McCaffrey, you likely don't have another top-tier RB on your roster (e.g., Kamara, Elliott) due to the format of "snake drafts". Thus, you will probably have to start average to below-average running backs for however long the Panthers' superstar is out. This is fine if you are sitting at 1-1 or 2-0, but if you find yourself weak in the running back department at 0-2, you might not be able to afford to wait for McCaffrey to come back. Obviously, if you cannot find a trade partner willing to give up an above-average running back in return for McCaffrey, you should keep him on your bench and try to execute other trades.
If you still cannot find a trade partner, your next best bet would be to turn toward the free agent pool. Mike Davis has not seen a ton of touches in the NFL, but he has produced in his limited role. For example, he put up 15.5 PPR points against the Buccaneers even though he only rushed the ball one time (ESPN). With CMC out, his volume will only increase. In fact, Davis actually saw more targets in the fourth quarter last week than Julio Jones and DK Metcalf saw in their entire games (ESPN).