NJ Football Recap and Preview: Delbarton Looks to Carry Momentum into Week 2 Matchup Against DePaul
A New Look and a Winning Tradition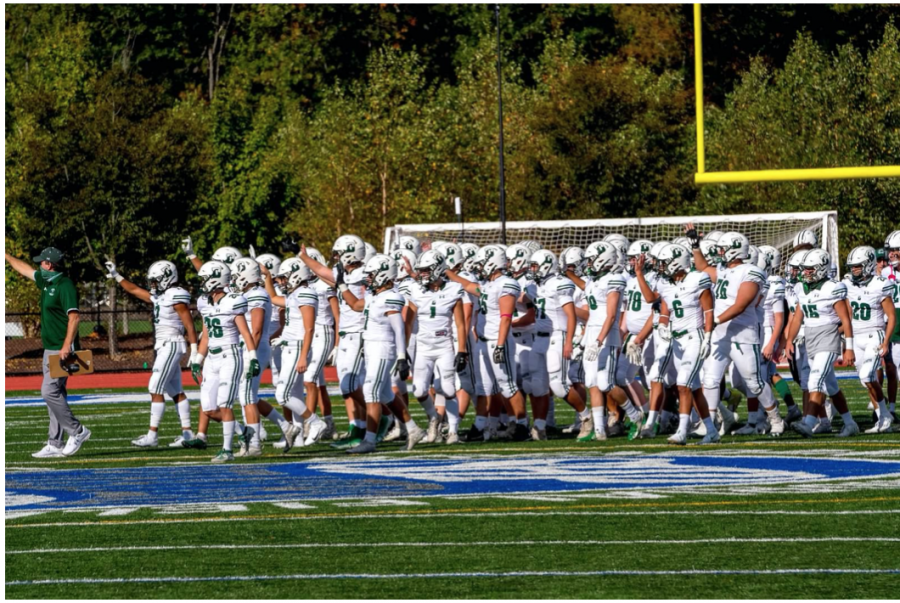 High school football is back! And what a weekend it was for New Jersey. Almost every high school, with the exception of those affected by COVID-19, took the field this past weekend to play their first regular-season game of a modified schedule; plans went very well with help of a few key precautions.
I want to begin by clarifying the schedule modifications for this fall. Each team has been awarded six games against New Jersey opponents. This eliminates inter-state games like Delbarton vs. St. Anthony's High School (Long Island, NY). At the end of the regular season lies a quasi-playoff system. Plans are still very much fluid, but the intention is to group teams into four-team pods based on regular-season performance. Thus, teams have eight games max, seven guaranteed. While the winner of each individual pod is not a "State Champion," "Pod Champion" still counts for something. Although I've grown to loathe the word "pod," pod-based playoffs are a better alternative than nothing at all, as is the case all over the United States. Delbarton in particular is guaranteed eight games with the recent addition of St. Joseph's Regional, the number three ranked high school football team in New Jersey, as a Thanksgiving Day game. The main takeaway here is that, although circumstances are different, we should all be glad we have a season at all.
The games themselves look very different from previous years.  A few of the main alterations concern social distancing and protective facemasks. Viewership is limited. Each player is awarded two tickets for family members to attend games; consequently, there are no "pits". However, families are encouraged to view games via a streaming platform that will be active for most NJ high school football games this fall. In terms of the players themselves, sidelines are advised to socially distance. At Delbarton, we've instituted a system of cones on the sidelines to divide players. Each player is supposed to claim a cone and stand at it while not involved in the game. Active players may move freely to talk to coaches and watch film on the sidelines. This being said, masks are required. Every player on the sidelines must wear a protective mask. Some more obvious changes follow. Instead of a communal water jug, individual water bottles are provided. When traveling to away games, players are not allowed to use the opposing team's locker room. One final alteration is the box that the players and coaches stand in. Previously constrained to the twenty-five, players and coaches may now spread all the way down the ten-yard line for social distancing purposes.
With logistics out of the way, let's talk about the games themselves. Here are some notable scores from the weekend:
Hudson Catholic – 52; North Bergen – 12

Bergen Catholic – 24; St. Joe's Regional – 21

Don Bosco – 34; Paramus Catholic – 13

DePaul – 31; Pope John – 0
While these scores may not pique your interest—the next score will. The Delbarton Green Wave trampled the Seton Hall Prep Pirates 24-7. Things got off to a concerning start, I'll be the first to admit. A few three and outs on the offense and a muffed punt—which resulted in an ensuing Prep touchdown—highlighted these concerns. However, due to a strong defensive effort by the Green Wave, the score stayed manageable until the Delbarton offense caught its stride. Touchdowns began piling on and soon enough the offense seemed to be clicking again.
A rushing touchdown courtesy of quarterback Cole Freeman paired with two passing touchdowns to tight end Nick Petrillo and transfer tight end Dylan Hakes, respectively, highlighted the offensive effort for Delbarton. In the fourth quarter, kicker Pat Ryan drilled a field goal to make it a three-score game and essentially put the game on ice.
Another note from Saturday's game is NaSean Hill's injury. While the diagnosis is still unknown, our prayers are with the junior running back. Aidan Papantonis was forced to step up, and he certainly did with a few key runs. None of this would've been possible without the Green Wave offensive line, led by a dominant trio of seniors including Matt Ricciardelli, Owen Hand, and Michael Dangler. Brendan Gay, the towering sophomore, and junior Cole Morgan added to the battle in the trenches.
On the other side of the ball, the Delbarton defense held strong, only letting up one touchdown as a result of the aforementioned muffed punt, which pinned the Green Wave inside their own ten-yard line. The defensive line, headlined by Elijah Hills, Matt Gemma, Chuck Nnaeto, and Pat Caughey dominated the game. Seton Hall's quarterback could not get comfortable in the pocket making for a poor passing performance. Linebackers P.J. Casale, Dylan Miccolis, and RJ Martini also made their presences known. The trio combined to stifle the Seton Hall Prep run game. In the secondary, seniors Jake Jarmolowich and Azarai Lewis shut down all passing opportunities the Pirates had. Underclassmen Jack Eisenhardt (corner) and Jake Checcio (safety) held their own in their first varsity starts as well, making plays all over the field. Altogether, the Green Wave showed flaws initially. Whether the result of COVID-19 protocol or simply nerves, it's all speculation. This being said, the coaching staff was able to calm the team and get things back on track. The Wave finished strong in every manner with smiles on faces and hands waving goodbye to the team from West Orange. A successful day.
Having said this, there is still much to improve upon going into a Week 2 matchup against a dynamic DePaul football team. DePaul, coming off a shutout of Pope John, has the potential to be Delbarton's strongest opponent this year. The game itself has the potential to be, dare I say, an instant classic. Last year's triple-overtime thriller lends credence to this belief. Delbarton's celebration, although deserved, will end come Monday. Focus will be set solely on beating DePaul. Delbarton should look to expand upon the strong running game shown against Seton Hall, and further develop the passing game to create a diverse offensive threat. Defensively, this should be a war of attrition. If the defensive line continues to pressure the quarterback like this past weekend, Delbarton's win probability should increase dramatically. DePaul has playmakers at every skill position. If they can't get the ball, they can't hurt the Green Wave defense. "Last year was a fluke." "Delbarton is no DePaul." "Delbarton's luck will run out this year." Let 'em talk. The Green Wave will look to prove the critics wrong. Saturday's game will be a deciding factor in a series tied 1-1 between senior classes. Without a doubt, Week 2 has all the ingredients of an exciting matchup. I wouldn't want to miss it. 
Score Prediction: Delbarton over DePaul 28 – 21