Delbarton Soccer: Built for Adversity
Tough Times don't last. Tough People do.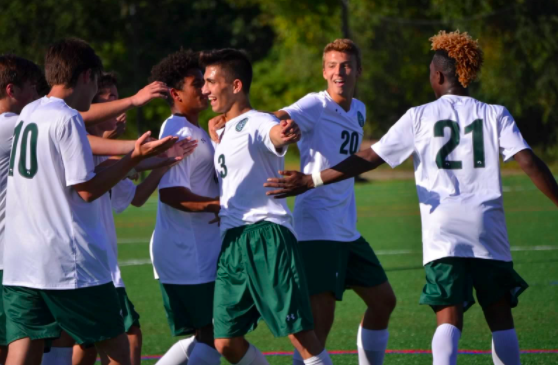 Even though the return to school means the end of summer freedom for another nine months and a return to the constant grind of academics, I look forward to every September and the beginning of a new season with Delbarton soccer. Each season brings with it expectations, pressures and challenges, but it is overcoming these obstacles together as a team that provides the foundation for our success on the field. I truly believe that the defeats we have suffered together in recent years have built a unique drive to succeed this season. 
However, this fall will bring challenges unlike any the team has faced before. The coronavirus pandemic has transformed every aspect of our lives, including high school soccer.  The season will be shorter, with fewer games played and traditional opponents have been rescheduled or left off the schedule completely. In the days leading up to our first game, I spoke with some of my teammates and coaches about what has been most difficult this season.
Manager Timothy Hanlon indicated that, "Every time we enter a building… [or] want to talk to a friend or another manager we have to have a mask on." This also prevents the use of a team locker room, which junior Ryan Donovan described as "where the team bonding comes naturally". Indeed, without a locker room, we were unable to conduct a preseason team retreat, an experience which Coach Donovan pointed out, "helps us build a strong team". Coach Donovan also highlighted key injuries to seniors Aidan Lawlor and Mikey Muñoz. The impact of these injuries cannot be understated in such a short season, where, as junior Michael Pisciotto explained, "games go by in a blink of an eye". However, as co-captain Max Cresti revealed, "despite all of the disappointments we've faced, the team has grown stronger and closer as a result." 
Exemplifying this resilience, senior co-captain Mikey Kopeld indicated, "I believe that we're all just happy to be here, no matter the discomfort or strangeness we feel." Coach Donovan further reflected that this season has made him "rethink the value of athletics…[and] the important things in [everyone's] lives." In my mind, Coach Donovan couldn't have said it any better. While missing the early part of this season with an injury, I have gained a new perspective on what this team means to me. With this in mind, I will relish the moments on the field with my teammates even more, especially since, to echo the words of co-captain Curt Calov, "every game could be our last…in the green and white." Thus, given all of the uncertainty and adversity that athletes face today, cherishing these moments with teammates is paramount.