NJ Football Recap and Preview: Delbarton Hopes to Overcome Another Top-10 Opponent Week 3 Against Don Bosco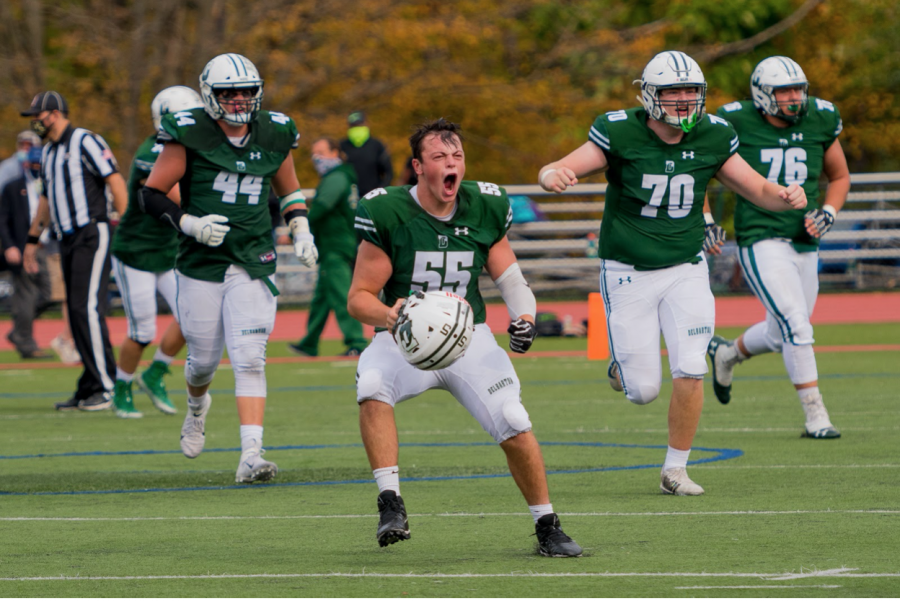 "Last year was a fluke." "Delbarton is no DePaul." "Delbarton's luck will run out this year."
No such words shall ever be uttered again unless to recall the motivation for Delbarton's dominant performance this past weekend.
For the second straight week, Delbarton Green Wave Varsity Football has walked away from their Saturday game victorious against a formidable opponent. The theme leading up to game day: It wasn't luck. The Wave intended to shut down the critics who claimed last year's triple-overtime win was a fluke. They did exactly that. 
The Wave received the opening kickoff and began the game on offense. The very first play, a screen to senior running back Gary Lewis, went for 30 yards. The drive that followed resulted in a touchdown pass from Cole Freeman to junior receiver David Link on a crossing route. This would be the first of Link's two-touchdown day. The next drive seemed promising, but an interception stalled it. However, the offense kept their heads up, as that would be their last turnover.  The ensuing drive, started with outstanding field position, resulted yet again in a touchdown. This time, Gary Lewis powered his way in from the one yard-line to put the Green Wave up two scores in the first quarter.    On their first drive of the second quarter, the Wave led another impressive drive which would result in David Link's second touchdown, on another crossing route.
The second half was a defensive affair on both sides. The Wave managed a few key time-wasting drives which placed the Spartans in desperate need of time late in the game. A key field goal from senior Pat Ryan rounded out the score at 24 points for the Green Wave. Overall, the Green Wave offense had an impressive day in terms of both passing and rushing. Offensive Coordinator Luke Chiarlonzio called a great game all around and never took his foot off the gas pedal—part of the game plan coming into this game. The receiving core of Andrew Ross, David Link, and Joseph Udina improved mightily from a nearly catchless game against Seton Hall. As predicted, the offensive line held their own allowing for a steady run game. Gary Lewis made the switch from receiver to running back this week and showed much of the same talent he exhibited his sophomore year. Cole Freeman did exactly what everyone expected him to do: make good decisions, deliver accurate passes, and score touchdowns. 
Defensively, the Green Wave showed off tremendous conditioning and an unparalleled will to succeed. The theme of the day seemed to be "bend don't break," as the Spartans reached scoring territory but ultimately stalled out on several occasions. On one drive, the Spartans attempted a fake field goal in the red zone—which failed. From the very first Spartan drive, it was clear Delbarton was not going to go "gently into that good night," so to speak. The defense seemed more motivated than last week.
The defensive star of the day was safety Jake Jarmolowich who had two key interceptions which completely shifted the momentum of the game in favor of Delbarton. His first interception directly followed Delbarton's first turn-over. Jarmolowich sniffed out a risky pass, which he nearly returned for a touchdown. This led to a Delbarton touchdown on a drive that began deep within DePaul territory. His second interception came at yet another critical moment. DePaul was poised to score well within the red zone following an onside kick, Jarmolowich intercepted his second pass. The Delbarton defensive line proved a force to reckon with. Stifling run after run and forcing the Spartan quarterback to constantly leave the pocket was a recipe for success. The linebacking corps was faced with another hefty task this week: tackling the elusive DePaul running back. They too stepped up when it mattered. The corners and safeties seem to be hitting their stride as well. The secondary was locked up all day. Ultimately, another dominant performance by the Delbarton defense, allowing a mere 14 points to one of the most potent offenses in New Jersey.
Some other notable scores from the weekend:
St. Joe's – 49; Seton Hall Prep – 21

Bergen Catholic – 42; Pope John – 7

Hun School – 46; Paramus Catholic – 20

St. Peter's Prep – 21; Don Bosco – 7
While this week's win was a statement, next week holds another formidable opponent: Don Bosco. Don Bosco is undoubtedly one of the proudest football programs in the state. Year in and year out, they prove themselves against very strong opponents. However, Delbarton has shown unparalleled heart this season and will look to continue rolling into a Friday night away game. The key to success is much the same this week as it was last week. Keep the offense steady with an onslaught of runs mixed with passes. Keep dominating defensively.
Score Prediction: Delbarton over Don Bosco 24 – 17
Seton Hall Prep Individual Game Awards:
Offensive Scout Player of the Week: Jalen Pierre

Defensive Scout Player of the Week: Anthony Reale

Do Hard Things Award: Pat Caughey

Special Teams Player of the Week: Matt Gemma

Be A Great Teammate Award: Jack Forgione