Presidential Debate Recap: What Can We Expect Next?
Election Day – November 3!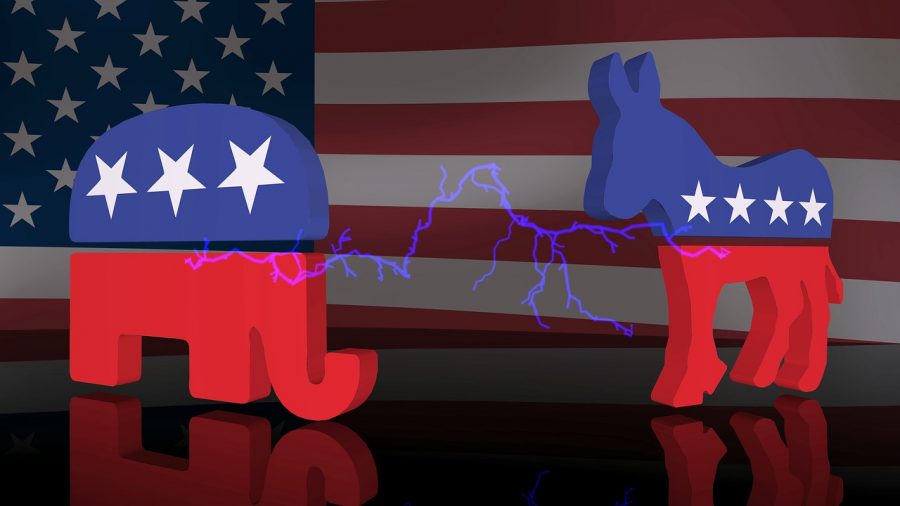 Matthew Dooley, Staff Writer
October 26, 2020
After a chaotic and unproductive first presidential debate, and a second debate that never happened, many Americans wonder what will happen this election cycle. Thankfully, Thursday's final presidential debate gave voters a clearer picture of the 2020 race, as former Vice President Joe Biden and President Donald Trump took to the stage for a more mature discussion of the issues facing our country.
Following the first debate, which was plagued with interruptions between candidates and arguments with the moderator, the Debate Commission enforced time limits by muting the candidates' microphones while the other was speaking, and NBC's Kristen Welker moderated with great and challenging questions to both candidates. Among the topics discussed were COVID 19, race, national security/foreign policy, American families,  immigration, and climate change. Despite the difference in tone during this debate, there were still lies and exaggerations on both sides, so it's difficult to declare a winner. I seek to analyze the performances of each candidate, and how they may affect the general election.
Donald Trump: For the most recent debate, President Donald Trump seemed to take the advice of his campaign advisors (and perhaps the pleas of the American people), and engaged in a more presidential and civil tone. However, Trump failed to explain any new plan relating to COVID-19, or how he would replace the Affordable Care Act, which he and most Republicans working to eliminate. He also doubled-down on blaming China for the presence of the coronavirus in the US, and he downplayed the threat of climate change as a global issue. Additional notable stumbles from the President include when he said that he was the "least racist person in [the] room," which many on both sides found to be a problematic sentiment, and when he bragged about the safety and cleanliness of ICE detention centers, which has been proven untrue by numerous firsthand accounts, and misses the larger concern about family separation at the border. Despite these problems, Donald Trump did have some significant moments in which he was able to effectively challenge Joe Biden, like when he pointed out that cages at the Mexican border were built by the Obama-Biden Administration, and how Biden's support of the 1994 Crime Bill disproportionately affected black communities. He also had a notable 'gotcha' moment, in which he was able to disprove Biden's assertion that he (Biden) had never advocated for banning fracking. All in all, while Trump's performance may have improved in this debate, his key arguments centered around attacking his opponent, yet he was not able to provide his own policy ideas for certain issues facing the country.
Joe Biden: Despite Trump's narrative against him that he is mentally "unfit" for office, former Vice President Joe Biden held his own during this debate, proving that he does have what it takes to lead our country. He attacked Donald Trump for his negligence regarding COVID-19, global warming, and described an impressive initiative on how to provide equal opportunity for black communities (related to education, jobs, and healthcare). However, he did have a few difficult moments. In the discussion on foreign policy, Biden spent significant time denying accusations of his or his son's involvement with foreign entities. And in addition to his difficulty responding to attacks brought by Trump, he made an analogy between North Korean leader Kim Jong-Un and Adolf Hitler, which many found to be unsettling. But, Joe Biden's closing statement was an inspiring unifying sentiment about his hope to unify the United States as a country. He said, "I'm an American President. I represent all of you, whether you voted for me or against me, and I'm going to make sure that you're represented … we're going to choose science over fiction. We're going to choose hope over fear. We're going to choose to move forward because we have enormous opportunities… to make things better."
With few undecided voters at this stage and millions of Americans having already cast their ballots, it seems unlikely that this debate will change the course of the election. There wasn't a clear objective winner or loser, and according to a poll conducted by Sinclair Broadcast Group, the debate didn't change anything for the overwhelming majority of those questioned. The impact of the debate may not be fully known until election day, but if the polling trends continue, Joe Biden's hopeful message may be enough to make him the next commander-in-chief.