Astronomy Night is Out of This World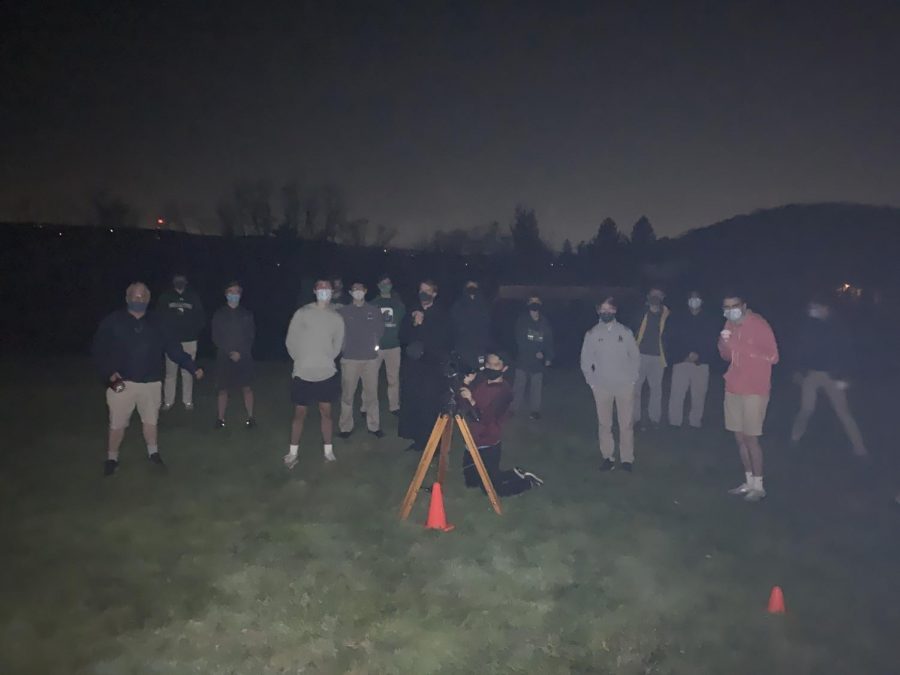 Will Li and Mr. Bitler, Staff Writer
November 13, 2020
The Research in Science Club was pleased to host its first ever Astronomy Night at Delbarton this last Friday evening (November 6, 2020). Our previous Astronomy Night was postponed due to poor weather conditions, but on this occasion we were blessed with beautiful clear skies and–  with over twenty students –  an enthusiastic turnout! The purpose of the event was to introduce students to the night sky and to many interesting astronomical topics – and to have a fun (socially distanced) club get-together!
Mr. Bitler began the evening with a 15 minute 'tour' of the universe – covering the solar system, the Milky Way galaxy, Earth-like exoplanets in the galaxy, the topic of alien life, the size of the entire universe – and what we see when we walk out at night and look up at the stars at different times during the night and the year. 
Following Mr. Bitler's talk, students broke off into activities: some waited in line for the telescope, others engaged in lively conversations about science, and still others played glow-in-the-dark frisbee at the football field. Will Li even took a group for a late night, stargazing hike by Delbarton's lower pond. It was a great de-stresser on a Friday night. As informative as astronomy is, the Research Club can still have fun with science! 
We were able to see a superb array of astronomical objects.  Jupiter and Saturn were out in the clear and warm night, along the ecliptic, and Mars was blazingly red and bright (as it is now the nearest to the Earth).  We trained the two Delbarton Celestron telescopes on those planets, and were able to show students these fellow travelers in our solar system.  We were also able to observe the North Star, the Navigator's Triangle, the Big and Small Dippers, the constellation Andromeda, the Great Square of Pegasus, Casseopeia, the Pleiades, and Draco.  
Students asked a great many questions, and we had a surprise visit from Brother Finnbar, who enhanced the evening with many interesting and intriguing discussions of Christianity, philosophy, mathematics, statistics, literature and the saints.
We all learned a great deal, and had some great conversation about our universe.  Many thanks to all the club members and officers who made the event a great success!