New Faculty Profile: Mr Mengisteab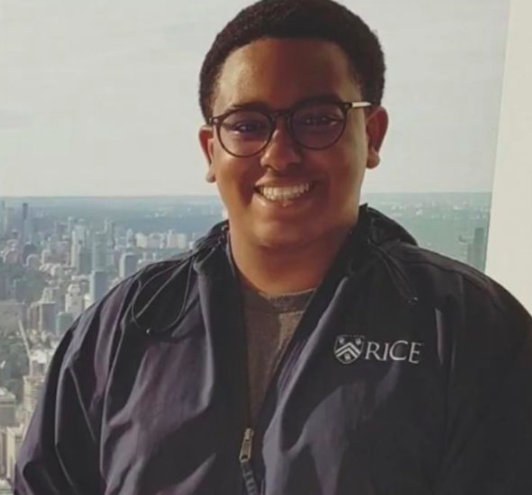 In the eventful year of 2020, Delbarton has graciously opened its arms to eight new faculty members. Mr. Noah Mengisteab is part of the freshman faculty members who come to Delbarton with fresh ideas on ways to improve the community.  
Mr. Mengisteab hails from Stone Mountain, Georgia, which everyone in the suburbs just calls Atlanta, "home to phenomenal southern food, warmish weather, culturally refined trap music, and of course, mediocre playoff performance" Mr. M. joked.  He was a student at the Marist School and participated in sports, inducted into the National Honor Society, and was speech and debate captain, but more on that later. Following the completion of high school, Mr. Mengisteab attended the prestigious Rice University, with a major in Political Science focusing on Domestic Politics and international relations course work. Like all students, Covid-19 left him at Zoom University, but he graduated in May with a Bachelor's degree. Due to his passion in this field, as a student at Rice, he conducted policy research with a focus on local governance and criminal justice legislation. 
Before coming to Delbarton, Mr. Mengisteab did have some teaching experience. He was a Director of Debate and forensics at Duchesne Academy. Coming to Delbarton, he assumed the role of the Delbarton Forensic Program's Assistant Director and Public Forum coach along with Head Director, Ms. Mary Gormley, and Public Forum coach, Mr. Adam Carlisle. He currently teaches a freshman World History I course, with whom he works with brilliant freshmen and with seniors for Contemporary Issues.  
For Mr. Mengisteab, he thought at first, basketball was his passion, but quickly fell in love with forensics. Past debate coaching has not only been an enlightening experience for him, but also allowed him and his team to explore different cities and states. He claims, "Because of the number of times I've visited Boston and Minneapolis, I know the Boston Commons and Minneapolis Mall of America like the back of my hand." Wow! 
Coming to Delbarton, like any other new student or teacher, meant nervousness and excitement. However, he was met by the Delbarton community's open arms and truly feels part of the staff already. Truly, a Benedictine welcome. 
Quick Fun Facts: 
In 2015, while attending a debate camp at Dartmouth, Mr. Mengisteab got to shake former US Secretary of State, Hilary Clinton's hand. 

Sophomore year of college, his friends had a video of him screaming at Falcons quarterback Matt Ryan and awkwardly dapping up Mohammad Sanu during Superbowl media day. 

Summer of 2018, Mr. Mengisteab had the honor of meeting former Representative John Lewis during a lunch with his Black Male Leadership Initiative friends in Atlanta. 

His favorite music genre is mainstream rap with special interests for J. Cole, Kendrick Lamar, Drake, Migos, Travis Scott, Amine, and the occasional Lil Baby Lil Uzi Vert. On a controversial note, he said that 21's last album was not good at all. Ha!