NJ Football Recap and Preview: The Wave Rolls To 6-0
Covid Crisis Causes Changes to the Schedule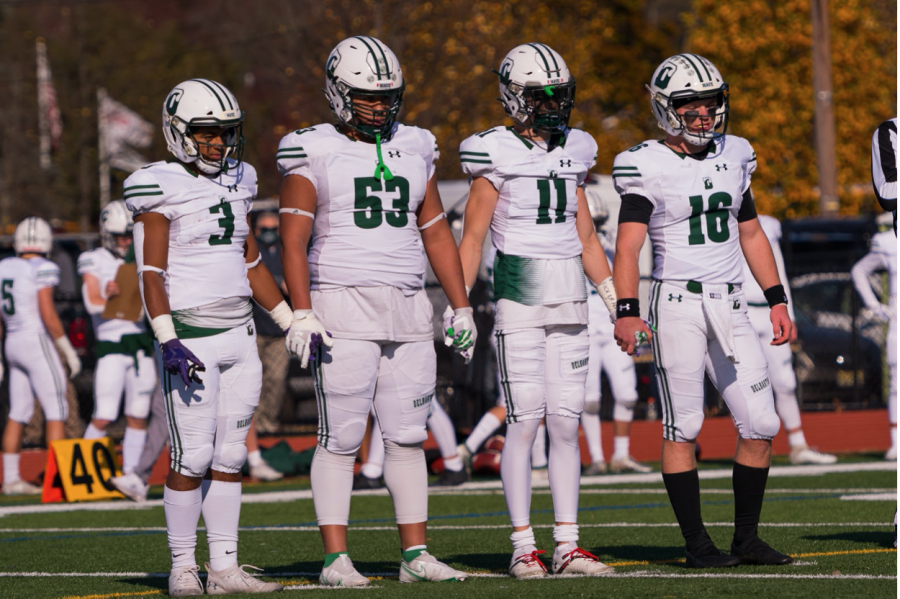 Before I get into Saturday's game, I'd like to take a moment to clarify the current state of New Jersey football.
Every team has been awarded three games after the end of the official "regular season". While these games are not technically "playoff games", teams are treating them as such. Every week provides an opportunity to move up in the state rankings. With this said, schedules are volatile as a result of an uptick in COVID-19 cases state-wide. Delbarton was the victim of a few key schedule alterations. Delbarton's original schedule was as follows: 
Week Five → Morristown High School

Week Six → Bergen Catholic

Week Seven → Saint Peter's Prep

Week Eight → Saint Joseph's Regional
Morristown was the first team to succumb to COVID-19, canceling their season as a result of the virus' impact on their school and sports programs. Paramus Catholic replaced them in what would have been a good Week Five matchup for the Wave. However, Paramus delivered the news late in the week that they would not be able to play on Saturday, 7 November. Due to the late notice, Delbarton could not schedule another game. Perhaps the most important schedule change was the loss of Saint Peter's Prep who also closed down for two weeks. NJSIAA altered Delbarton's schedule, moving the Bergen game back to Week Seven and supplanting Saint Peter's with St. Joseph's (Metuchen) for Week Six. The schedule now looks like this:
Week Five → Bye

Week Six → St. Joseph's (Metuchen)

Week Seven → Bergen Catholic

Week Eight → St. Joseph's Regional
With schedule changes out of the way, let's focus on this past Saturday's game against St. Joe's. The game played out about as expected. St. Joe's is a tough, under-manned team without a lot of depth. However, their starters are very respectable football players. The problem with having a small team is that you tend to exert a lot of energy very early, subsequently gassing yourself as you enter the later stages of the game. This is especially so when you play an up-tempo, one-way team like Delbarton who prides itself on efficiency. It was clear early on that St. Joe's would not be able to match Delbarton's pace. The Green Wave got off to a relatively hot start, scoring on most of their first-half drives. 
Having not played for a week hampered the Wave early on. By early on, I mean the first few plays were not particularly impressive. An incomplete pass and a rush for no gain produced some agitation, but the offense responded shortly after, completing an eighteen-yard pass down the seam on third down.
This was a much needed confidence-booster for the offense who never looked back for the remainder of the game. A few more rush attempts put Delbarton in scoring territory, where Gary Lewis produced the game's first points on an outside zone play. The subsequent drive was not as successful, however,  Delbarton responded with an efficient third drive capped off by quarterback Cole Freeman on another outside zone play. Freeman showed off his athleticism yet again on the ensuing drive with an impressive scramble touchdown, dodging and weaving his way through seemingly the entire Falcon defense.
Up 21-0, injuries began to plague the offensive line.  Our prayers are with lineman Cole Morgan who suffered a back injury and lineman Brendan Gay, who injured his ankle. Penalties kept the Green Wave out of the endzone for a few drives, but they were eventually able to score once more in the first half on a completed naked concept to tight end Dylan Hakes.
As the second half began, Delbarton took a conservative approach, mainly rushing the ball in order to chew time off the clock.  Delbarton's scoring concluded in the third quarter on another completed pass to Dylan Hakes, who waltzed into the endzone untouched. Ultimately, it's tough to complain about a thirty-five point effort. Though it was clear the Green Wave was not playing their best offensive football, I have full faith a Week Seven matchup against Bergen Catholic will reignite the fire we saw against Don Bosco.
Fatigue was a clear factor in the Falcons' inability to compete with the Green Wave. St. Joe's opted for a meticulous approach to their offensive attack. However, it didn't seem very well planned. Personally, I'd try to steer clear of one of the best—if not THE best—defensive lines in the state. The Falcons' inefficacy resulted in their demise. Sacks, tackles for losses, and hurried passes seemed common trends whenever the Falcons possessed the ball. They were never able to get anything going anywhere on the field.
The Green Wave defense was even able to add to the scoreboard on a safety which put the score total to 37. St. Joe's couldn't complete a pass, barring their uncanny proclivity for hitch routes on third and long. Delbarton secondary locked up any down-field pass attempts and took away the entire middle of the field. It took a few quarters before the Falcons were even able to claim a first down. That stat speaks for itself. The Green Wave defense posted yet another dominant—a word I've become accustomed to using—performance this past weekend. St. Joe's only points came late in the fourth against a medley of second-string and starting defensive players. I'd love to wax poetic about Saturday, but there really is no reason. It was a spectacular performance by a spectacular defense. End of story.
Final Score: Delbarton – 37; St. Joseph's – 6
Looking forward, the Green Wave will face its toughest matchup of the season: Bergen Catholic. If you're not familiar with New Jersey football, Bergen Catholic is a historic powerhouse. Year in and year out they boast some of the state's best players and most dominant performances. Currently ranked number two in the state, Bergen Catholic is nothing like the teams Delbarton has played the past few weeks. This will not be a blowout. Both teams are primed and ready to go for what should be a superb matchup between top-tier football teams as we near the end of the 2020 high school football season.
Score Prediction: Delbarton – 28; Bergen Catholic – 24
Notable scores:
Don Bosco – 21; Bergen Catholic – 20