The End
An Abrupt End to an Undefeated Season
Warm-ups had concluded and Chuck Nnaeto had given the team one final speech. Everything had led up to this moment. Every practice, every sprint, every walk up the hill to our locker-room. Everything had led up this to this one moment, this chance to prove Delbarton football belongs in the conversation with the New Jersey football powerhouses.
As Chuck, a Bergen Catholic transfer, concluded his speech, we broke: "Wave on me Wave on three. One, two, three. WAVE!" We took off our helmets and jogged over to the tent. Typically there's a period of five minutes prior to the prayer and subsequent kickoff, where we mentally collect ourselves and prepare to take the field. I spend the time reminding myself of the week's new plays and their signals. So I began as I usually would. I ran through the plays in my mind a few times and drank a bottle of Fruit Punch Gatorade. It was a perfect day, I thought. About 60 degrees and sunny, with a brisk breeze every now and again to remind us it was fall.
The week's practice had been a cold one, so I was grateful for the sudden nice weather. Such a beautiful setting. When I concluded my ruminating, I stood up to return to the group and make conversation while waiting for Coach Bowers. Everyone on the team was up, pacing more so than walking. It may have been nerves before the game, or perhaps everyone was aware that something was not quite right. It had been around ten, maybe fifteen minutes since we last saw coaches in the tent. They all stood on the sideline watching mid-field. Rumors began to swirl. "Why is it taking so long?… I wonder if something is wrong."
Coach Bowers was the object of our interest. He stood at mid-field with Bergen's Head Coach and a cohort of officials, deliberating something presumably of value. Then the trainers joined the conversation. That's the moment when I first considered the worst. COVID-19. Did Bergen have a case? Did Governor Murphy issue a new mandate? What could possibly have a bearing on our game so late in the week? It was all just speculation, as most of the season had been.
As the waiting continued, Coach Flynn made his way to the tent and said "Something is happening which is out of control." My heart sank, faces dropped, helmets hit the ground, and the pacing intensified. All we could do was wait longer. Kickoff had been postponed for fifteen more minutes. The time passed slowly. It got darker. Clouds rolled in, the breeze turned into full-blown wind. Autumnal browns and yellows fell captive to a world of gray which reeked of dead leaves and anxiety. News slowly funneled in, perhaps it was only rumors, but Coach Flynn eventually issued his final edict: "The Board of Health is going to decide." That's when we knew it was over. There had been a case of COVID. We knew one case is all it took to shut everything down. This seemed to be it. We'd made it to the biggest game of our lives, and now the Board of Health was going to prevent us from playing it.
Finally, after around what I can only guess was thirty minutes, Coach Bowers made his way from midfield toward our tent. Anxiety swelled and faces turned red with fear. He whispered something to Coach Chi who promptly spiked his clipboard. The other coaches put their hands on their heads and paced around with looks of disgust. I blinked a long blink, preparing for the worst. When I opened my eyes, Coach Bowers was with the team. We huddled.
"We're not able to play today."
The words we'd dreaded all year. A member of our own team had contracted COVID-19 and tested positive just moments before kickoff. Curse words. Helmets flying. Screams. Wails of agony. Tears. Heads dropped to hands. Hands on knees. Hugs. Helplessness. Horror. All the worst emotions.
I couldn't believe it. Just like that, we were shut down. Everyone began to embrace and trade gratitude for the season. It was weird. I never thought I'd be the senior getting thank you's from the underclassmen. I didn't expect it to go by so quickly and end so abruptly. I guess it's human nature to imagine a storybook ending. We beat Bergen Catholic, then beat St. Joe's, and go out undefeated as champions. I felt like that was the only possible denouement to such a successful season: 8-0. We had earned it. Everyone had worked so hard for it. I've never been so proud of a group. But I suppose it wasn't meant to be. I suppose there will always be circumstances out of our control that we can only learn to live with.
We made our way to the locker room, most of us still crying. We high-fived the biggest turnout of senior classmates we'd seen all year. We got out of our pads, put on our clothes, and walked back down to the field, perhaps for the last time, to reminisce in that green and white D which we'd kneeled on so many times before. I think the most powerful part of all this is that everything we did, we did as a team. I couldn't have asked for a better group of teammates. And I couldn't be prouder of writing for this group. They inspired me to translate effort into words. And for that, I'm eternally grateful.

I've played with these seniors since freshman year. They're my closest friends. We truly are brothers. I still remember our first practice. We sat in Father Ed's room to introduce ourselves. As we ran through ice breakers the bells sounded and we entered a lockdown scenario. From what I remember it was just a test of the emergency PA system. In a way, our careers ended as they began: with a lockdown. Unfortunately, this time it wasn't a drill. It's poetic in a sense. Every good book travels the full circle and concludes where it started in one way or another. Control "the controllables". I can't help but come to the conclusion that the only things able to stop this team are things beyond our control. This group had outrageous potential and we knew it. I feel as though we realized our potential this year, and you'd have to be crazy to disagree.
I remember summer workouts, Temple Neck with Coach Beach, running with Coach Joe, painstaking walks up from Lower Pond, Raw Gang, lifts in the crowded weight room, sausage, bacon, green eggs, never having enough potatoes, and ice-cold chocolate milk in the caf. I remember Hell Week, voluntary splash time, Kamikaze necks, "DZANGGGGGG", the horrid smells of the locker room, jostling for position in the helmet and shoulder pads line, making BlueFace's story, watching Mr. Wit Da Hoodie live at Metlife. I remember "Get 'em up," the County Fair, Chicken Parm with peas, Commitment Cards, Friday awards, chippy seven-on-sevens in the offseason, Coach Chi yelling at the "soft" offensive line, Coach Flynn yelling for the sake of yelling, and Cole putting his hands on his hips any time the receivers inconvenienced him, or in other words, any time he missed a throw (that's a joke Cole). I remember Stump The Stars, donuts and juice on Friday mornings, trying not to ruin my jersey at lunch, huddling around the presumably lethal toxins emitted from the portable lights for warmth. I remember the hugs, the high fives, the chest bumps, the smiles, the shark fins. Year 1. Year 2. Year 3. Year 4. I remember it all.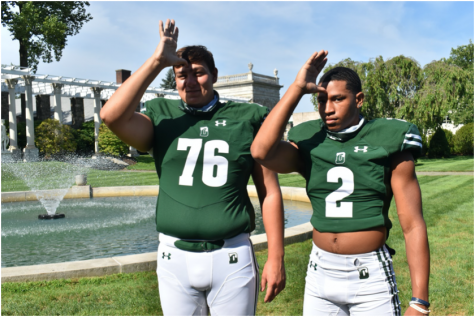 We had our arguments. That's for sure. It wasn't always sunshine and rainbows on the field. Words were said. Some carried weight. Most were in jest. But when we walked off the field we were always teammates, friends and brothers. If you came after one of us, you came after all of us. We always had each other's backs. I think we should look back on this season not for the negatives. We all know about COVID. I'm sick and tired of hearing that word. We should take a second to admire this group's accomplishments: first Delbarton team to beat Don Bosco in decades, ranked top three in the state (started in the high twenties), 6-0 undefeated season, Super-Conference Champions. We couldn't have physically accomplished anything else with our given circumstances. We outscored our opponents 194 to 58. We proved that Delbarton football is not a joke. We want to play the big dogs. I have full faith the underclassmen will continue to prove the doubters wrong. But this article is dedicated to the 6-0, Conference-Champion, 2020 Delbarton Varsity Football Team.
To everyone involved with making the past four years of my life unforgettable:
Thank you