Pierce's Picks: Get Your 'Phins Up for the Playoffs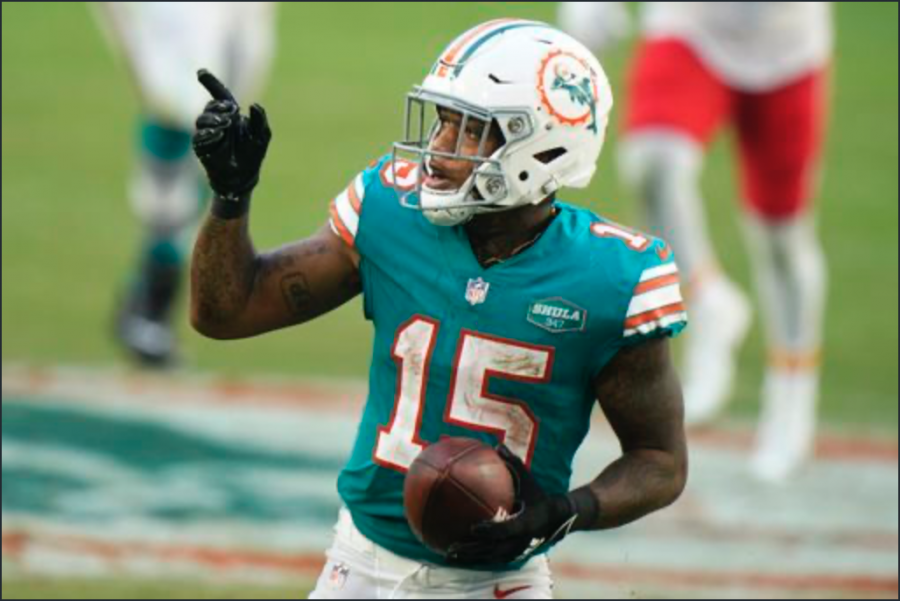 Welcome back to the latest edition of Pierce's Picks!
Hopefully, your team is still alive in the race for a fantasy football championship. If you've never made a deep playoff run before, then get ready for the most nerve-wracking weekend of your life. However, I hope that I can relieve some of those nerves by giving insight into who I believe can make a difference-maker this week in fantasy football, especially if you are thin at the RB position. Let's get into it.
ADD: Lynn Bowden Jr. (WR/RB, Miami Dolphins)
This is one of my riskier picks, but since the RB position has been decimated with injuries this year, it might be one you need to take. Bowden, who is rostered in 10.2% of ESPN leagues, is one of the most versatile players in the NFL. However, players who have a versatile skill set sometimes struggle to find a true position, which could be advantageous, but this also leads to less playing time. Thus, in his first four games, Bowden played on average only 8.75% of his team's snaps (Lineups). However, as the season has progressed, his role has gotten larger. Specifically, he was on the field for 31%, 44%, and 71% of the Dolphins' snaps in the last three weeks respectively. Furthermore, in the Dolphins' matchup against the Chiefs last week, Bowden put up a solid 15.4 points in PPR format (ESPN). He is slowly adjusting to the NFL, and I believe that he can have a breakout game on Sunday when the 'Phins host the New England Patriots. I'm not going to evaluate the Pats' run defense since, however, as Bowden has only rushed the ball twice in the past two games compared to eleven receptions. So, he is practically a WR that you can put in your RB slot, which is beneficial for those in PPR formats. New England's defense has staunch this year led by the reigning DPOY Stephon Gilmore. In fact, they've given up the 5th fewest fantasy points to WRs this year (ESPN). However, their defense has shown its weaknesses this year, evident by the Rams' dominating performance on Thursday Night Football last week. Ergo, this is not a defense I would shy away from. One of my other major concerns is how Tua Tagovailoa, the Dolphins' QB, will fare against Bill Belichick. Belichick is one of the best coaches in the NFL's history, and he has a strong track record against rookie quarterbacks. For example, the Patriots embarrassed rookie Justin Herbert and the Chargers just a few weeks ago, which makes me wonder if Tua can perform much better.
However, even though Bowden carries a lot of risk, he also has a ton of upside. According to NBC, Mike Gesicki, DeVante Parker, and Jakeem Grant were limited in Thursday's practice due to injuries they all suffered last week. In addition, Myles Gaskin will be unable to suit up on Sunday due to COVID-19 protocols (NBC). This is a huge opportunity for Bowden. With fantasy football, you look at two things: production and volume. Bowden ran the most routes for the Dolphins when their other weapons went down last week, which means he will be Tua's primary playmaker this week (ESPN). So, Bowden will have a ton of opportunities to showcase his unique skill set. Also, even though Bowden is a raw talent and going up against the Patriots, we can't ignore his production in college. As the University of Kentucky's QUARTERBACK last year (their starter went down with an injury), he led the SEC, arguably the best college football conference in the country, in rushing yards (UK Athletics). This statistic is almost unfathomable, and it shows that Bowden can produce if he gets enough chances. So, Bowden is a high-risk, high-reward player this week, so if your RBs are lackluster and you are desperate for points, I'd recommend taking a look at Bowden.