Insider look at Delbarton's very own Sports Broadcasting Club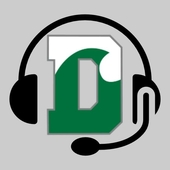 Reporting to you live from 230 Mendham Road, the Broadcasting Club has finally prevailed at Delbarton. When Jim Rosenhaus (Class of '82) came to Delbarton back in September to speak with students interested in pursuing a career in the sports industry, both Rudy Maurizi and myself, Hudson Honeker, were inspired by his presentation to start a club to pursue these interests. Mr. Rosenhaus, a fourteen-year veteran of the Cleveland Guardians (previously the Cleveland Indians) radio broadcast team, spoke of his experiences in broadcasting, explaining the many ways he took his career to the next level. Mr. Rosenhaus (along with Tom Hamilton) is the voice of Cleveland baseball on the radio. Mr. Rosenhaus hosts additional shows including "Indians Warm Up" and "Tribe Talk" on the Indians Radio Network. When asked about getting started in this field, Mr. Rosenhaus' greatest piece of advice was to get started wherever you can. Rudy and I did just that.
With the help of Mr. Lowry and Mr. Kane, the club successfully made its debut on October 30th, 2021, as we broadcasted Delbarton's football game against St. Joseph's Montvale. Since then, we have broadcast two other home games this season against Seton Hall and Camden Catholic. With fall sports winding down, we look towards winter sports to continue our broadcasting. Unlike football where there was already a live stream, neither basketball nor hockey has a live stream we can utilize. That said, we are looking for anyone who would be interested in recording winter sports games at Delbarton. With more opportunities to broadcast, we are looking to expand beyond Rudy and I covering home football games.  
If you have an interest in broadcasting Delbarton sporting events, I highly recommend joining the Broadcasting Club. To all Delbarton student readers, please join the Schoology page for updates about upcoming opportunities. Rudy and I are both very passionate about this and we believe there are many other young men within the Delbarton community who share this very interest. Even if you only do one or two broadcasts, you will get exposure to this side of the sports world. The beauty of the club is that you don't have to be the one talking into the microphone to get involved. As a group, we do a lot of prep work to help prepare the broadcasters with as much knowledge, information, and statistics as they need to feel confident about what they are saying and to have enough content to talk about for hours on end. We look forward to continuing this not only through the winter season but for years to come. Tune in to the next live stream to hear Delbarton's Broadcasting Team in action. As always, Go Green Wave!