An Inside Look At the School Hosts Program
Welcoming New Students to the Green Wave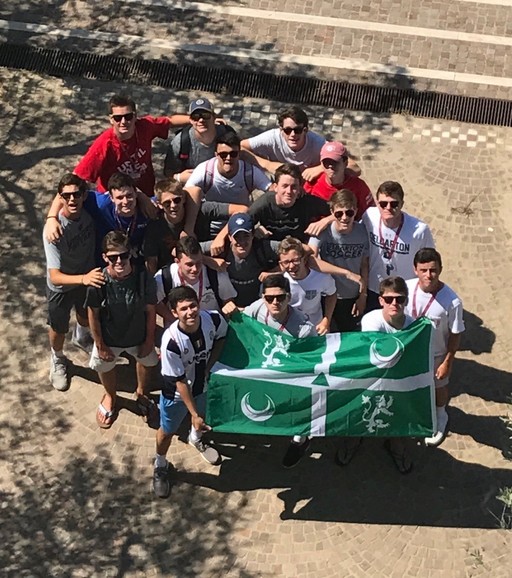 From Tuesday, January 25th, to Wednesday, February 2nd, more than 60 newly accepted students were invited for an interactive experience with the Delbarton community. They were spread among 10 current seventh graders and 31 current ninth graders who acted as guides for these "Students for a Day", formally known as the School Hosts program. The current Delbarton students were tasked with bringing these prospective students around the school and demonstrating exactly why Delbarton is such an amazing school.
Changes in the New Year
Due to COVID restrictions, only students unsure about whether they wanted to attend Delbarton were asked to participate. This also led to a reduction in the number of School Hosts, as well as the number of guests each Host was asked to tsupport. Furthermore, prospective transfer students were not given this opportunity, only incoming seventh and ninth graders. The touring process was different as well due to the new semester schedule.
Becoming a School Host
In October, a notice was sent to all current seventh and ninth graders about the School Hosts program. They were provided with a brief description as well as an application form, which was due fwithin a week of the post. The application asked for demographic information, interests, and involvement in school activities, and it included some essay questions. Each student's application was then reviewed and voted on by the coordinators, sophomores who were previously involved in the program. This year's coordinators were Donovan Carey, Neel Dhall, Jack Grbic, Abdiel Perde, and Michael van Raaphorst.
Duties and Procedures as a School Host
Each day before the prospective students were scheduled to arrive, the candidates' hosts were asked to call them and provide an introduction and a brief overview of the day to come. Students were matched based on their interests provided in the application. However, there were several instances where the prospective student's parents filled it out for them, so it was the Host's responsibility to establish a common ground. The day of the visit, each Host arrived at school early to meet his buddy. He would then bring his buddy to his classes and free blocks, basically demonstrating what a normal day looks like. He was also asked to fulfill any requests, such as if his buddy wanted to meet a certain coach or teacher. Most importantly, he had to showcase exactly why Delbarton is such a wonderful school and convince his buddy that they should enroll.