Poem from Orange, NewJersey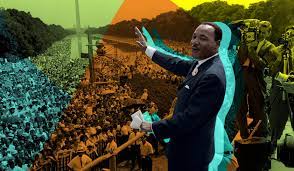 Every year we remember the story, we are told in every single font, 
of black brothers and sisters who marched, 
we remember and act like Savants.
We remember that black guy from history, but can only recall his fame, "Jamal?Demarcus? Malcom?"
no it's Martin remember the name.
He fought tirelessly through words and pure actions, but still died like a thug in the street, his opposition had finally caught him slackin, Martin never got to see peace.
Martin never got to SAY peace, 
to his wife, his kids, his mom. But they all saw him with tear stained eyes, as they prayed for him and read a Psalm.
At least the Reverend Doctor has peace, 
we've gotten better but we are still fighting, 
still watching the way that we walk and we talk,
I'm still here. 
I'm sorry I'm not whining. 
We know through painful experience that freedom is never voluntarily given by the oppressor; it must be demanded by the oppressed.
So I stand here with bass in my chest. 
To the world I exclaim, "Let us rest".
To the world I say where is my peace, for my brothers and sisters in pieces, 
To the world I say where is my heart, 
cause each day seems like heartbeat decreases. 
Cause each day my heartache increases, from one news channel to the next to the next, 
I'm not blaming, not saying it's your fault, 
I'm just writing, expressing my stress.
The Reverend Doctor wrote speeches and spoke, expressing the feelings of his people, 
like Moses to the Promised Land, or 
like Captain America to The Avengers
Martin wrote, spoke, and smiled. He marched a lot, walked and sat too. He shook hands, kissed babies, dropped an album. Nah I'm playin but that would be cool. 
He used his God given gifts to bless others, to protect, to lead, to thrive. We must all do the same for our brothers. Use our gifts to make sure we fly high. 
Use our gifts to make others grow back stronger, be like Martin, inspire and dream. He fought for true freedom and breakthrough. 
make sure you remember the name. 
Martin.
Like anybody, I would like to live a long life. Longevity has its place. But I'm not concerned about that now. I just want to do God's will. And He's allowed me to go up to the mountain. And I've looked over. And I've seen the Promised Land. I may not get there with you. But I want you to know tonight, that we, as a people, will get to the Promised Land!
And so I'm happy, tonight
I'm not worried about anything.
I'm not fearing any man!
Mine eyes have seen the glory of the coming of the Lord!