The Murdaugh Murders
Corruption, Murder and Crime in South Carolina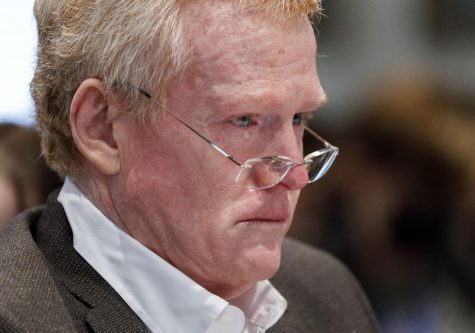 There have many wild murder stories before, but very few have reached the same levels of insanity as the recent Murdaugh murders have. For those who don't know, Alex Murdaugh, a fifty-four-year-old legal practitioner from South Carolina has recently become the center of many headlines due to the killings of his wife, Maggie, and son, Paul. His trial was the focus of mass interest, and his status as a lawyer, rocky history with the law, and the brutality of his crimes brought widespread fascination. He was pronounced guilty in a court in South Carolina a few weeks ago and has been sentenced to two consecutive life sentences (fifty years without the possibility of parole). 
That's the part everybody knows. 
The part that people don't know, and the reason that Alex Murdaugh's crimes are so interesting, has to do with his family's history and his actions leading up to this double homicide. These are details that truly expose the depth of Murdaugh's corruption and evil.  
The first suspicious event in the Murdaugh murder saga, though not entirely relevant, occurred on July 19, 1940, when Randolph Murdaugh Sr., Murdaugh's great-grandfather, was hit by a train when his car stalled on the tracks. Law enforcement at the time ruled the death an accident, but many people still harbor suspicions of suicide and sabotage, as no one can figure out how Murdaugh's car could have stalled square on the train tracks. Randolph Sr. was succeeded by his son, Randolph "Buster" Murdaugh, who gained his family unimaginable riches through the repeated suing of CSX, a railroad company. Ol' Buster Murdaugh wasn't exactly known for his composure, as on multiple occasions the South Carolina Supreme Court had to reprimand him for his arguments during death penalty cases in which he would threaten to use his position as Solicitor to "release other rapists" into the community should certain people not get the death penalty. This ray of sunshine would produce another Randolph Murdaugh, a man who would become the father of the now-infamous Alex Murdaugh. This is where the true villainy begins.
Alex Murdaugh's family had been linked to two suspicious deaths before the trial. The first was that of high schooler Stephen Smith, who was found dead in the middle of a county road in 2015. Due to a lack of tire tracks or debris that normally suggest a car crash, the police, and the coroner ruled the death a homicide, though pathologists later suggested the cause of death may have been the crushing blow of a passing side-view mirror. Buster Murdaugh's (Alex's son) name pops up dozens of times in the murder investigation, and local rumors allege that Buster may have been in a relationship with Smith at the time of the incident. The day the body was found, Alex and his brother Richard could be seen walking right through the crime scene police tape, unhindered by local law enforcement. 
The deaths don't stop there, as Alex's other son, Paul, had an incident on a boat in 2019. He and his friends had spent the whole night partying. It has been reported that Paul's friends called him by the nickname "Timmy" when he was drunk because it seemed as though alcohol changed him into a different person entirely. Reportedly, he would get much more reactive and violent, almost vicious. His friends alleged that on that night, he had been arguing with his girlfriend, Megan Doughty, and had assaulted her. A few hours later, Paul smashed the boat into a wooden piling, ejecting all of his passengers. Everyone survived except for young Mallory Beach, whose body was found floating in the water days later, broken and drowned. Only a few hours after Paul and his friends were carted to the hospital, Alex Murdaugh arrived and tried to convince one of the friends, Connor Cook, that he had been driving the boat. After this failed, Richard Murdaugh III, Alex's father, arrived at the hospital and stopped police from questioning his grandson, again wielding his status as a former Solicitor as a legal weapon. Again, Alex was allowed to stroll into the crime scene with immunity, this time with his wife Maggie.
This was the first event in a chain that would expose to the world the evil and corruption of the Murdaugh family, and specifically, Alex Murdaugh. 
The next suspisious event was the death of the Murdaughs' housekeeper, who "tripped" and fell down the stairs of the Murdaugh hunting estate, with Alex being the sole witness. The housekeeper died hours later in the hospital, and Alex told her sons, the Satterfields, that they should sue him, suggesting they should hire his old college friend. Alex and his friend collaborated behind their backs, and the sons sued without any knowledge that the accused was raking in the money they were paying. Brian, one of the brothers, was mentally impaired and low on money, and Alex watched as his trailer was foreclosed due to the expense, knowing the money was flowing right into his bank account. As people began to grow suspicious of Murdaugh's practices, the Satterfield settlement was recalled, and people started to notice subtle irregularities. This would lead to more discoveries, and as more and more cases of potential fraud and theft started to crop up, suspicions rose. 
On July 7, 2021, Murdaugh loaded a shotgun and a semi-automatic rifle, shouldered them, walked into the family stable, and slaughtered Paul and Maggie Murdaugh where they stood in a desperate attempt to pull suspicion away from his financial crimes, which had very nearly been unveiled during the Beach family's lawsuit.
After the murders, having pinned the crime on an unknown intruder, Alex attempted to regain some credibility with his law partners, but by that point, too many irregularities had been found in his financial records and he was forced to resign. 
Mere days later, Alex called 911. He had been shot in the head.
His shooter was his cousin Eddie, a longtime friend of Alex's and the man who supplied him with oxycodone, an addiction on which he reportedly had spent millions of stolen dollars. Murdaugh's plan was to hire Eddie to kill him, saving himself from the inevitable trials he was facing and leaving millions in life insurance to his remaining son Buster. Eddie's incompetence with a gun both saved Murdaugh's life and ended it, as Alex would be sent, only a few years later, to live the rest of his life in prison with only a scar on his head to remind him of his failures. 
There have been many twisted people and many horrible murderers, but few have been so menacing as Alex Murdaugh, a man who would do literally anything to others to help himself. I don't think there will ever be another story that matches up to the Murdaughs' in terms of pure ridiculousness and unadulterated evil. At least I hope not.