St. Benedict's Hall: An Update on the Learning Commons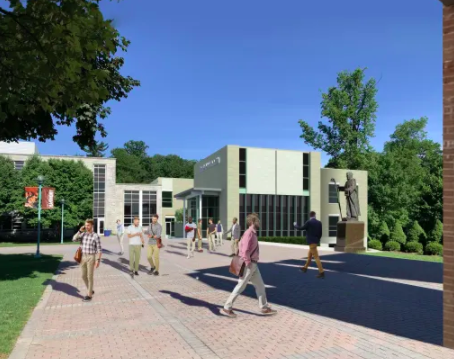 On Monday, February 25th, the Delbarton community gathered for a special morning meeting. After the usual opening and jazz band music, Father Michael announced the construction of a new building on campus: The Learning Commons. His announcement, in addition to the diagrams and detailed presentations he gave relating to the new building, energized the student body. Months later, the Learning Commons was given its official name: St. Benedict Hall. The name was requested by an anonymous donor for the building, and is a fitting name for such a prominent location on Delbarton's campus. 
St. Benedict Hall will sit on the side of Trinity Hall adjacent to the Science Pavilion. The 20,000 square feet expansion will feature numerous additions to the Delbarton learning experience. First and foremost is the Pavilion: a large multi-purpose meeting room for students, parents, faculty and staff, and alumni. It will serve as a larger version of the Gregory Room. The library will be relocated to St. Benedict Hall as well, and be much larger than its predecessor. In conjunction with the library, a media room will allow students to "consume, create and communicate knowledge in ways not possible before". These larger rooms will be joined by smaller study rooms for individual students who need a quiet place to do work. There will also be rooms containing video screens suited for students to work on group projects without disturbing others in a common area. 
The entire guidance program, including college counselling, will be moved to St. Benedict Hall's Guidance Center. This will allow for a centralized location for students to meet with their guidance counselors. There will also be three classrooms in the building, completing the transition of student activity out of Old Main. One of my personal favorite Benedict Hall features includes the mysterious "living wall". 
Construction on St. Benedict Hall began on March 2, and despite Covid-19, the building is scheduled to be completed by the early summer 2021, and be fully ready for use by the fall of that year. For those interested in the construction, this link shows a live feed of construction on the hall. The Delbarton community is excited for this newest addition to our campus, and we eagerly await its completion for next year.