A Vision Into the New Year: Sophomores
Sophomore Co-Presidents Share Their Thoughts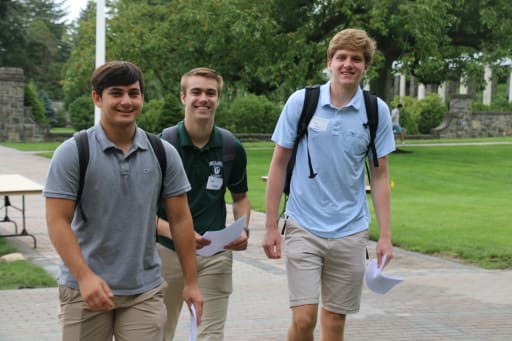 Abdiel Perde: Co-President, Sophomore Class
Sophomore year is off to a great start and everyone is looking forward to an amazing year. With a class of 146, we are simply ecstatic. Last year, after Covid-19 changed our plans, making the transition to high school a bit weird and a little difficult for some, we now accept that "it is what it is". Now our student body wants to experience as much of Delbarton Life as we can; the "new normal" Delbarton. Colin Pryma (co-president) and I are working on creating a Council of Sophomores to ensure that all voices from our class are heard and to produce more ideas for a greater chance of success this year. Obviously, with Covid-19 cases slowing down, there's drastic differences between this year and last year. However, this school year can only be successful if people truly commit to experiencing and learning about the opportunities offered by the school and supporting their brothers. 
Colin Pryma: Co-President, Sophomore Class
As Co-Presidents, Abdiel Perde and I are looking forward to a fun and exciting year, filled with great Delbarton traditions. Our class of 146, (including our five new transfer students) has already been getting in the swing of things, full steam ahead and ready to take this year by the horns. Last year, many of our boys were deprived of many school wide opportunities due to the global pandemic. Spirit Week, Homecoming, Semi-formal dances, packed barns and other activities, were heavily affected by the pandemic. So far, we are off to a great start: barns already packed the St. Anthony's football game and the freshmen soccer game. Our newly created Council of Sophomores is a great way to expand the flow of ideas throughout our student government and student body so that we may make this year truly unforgettable. This year, we hope to be minimally affected by Covid-19 on school wide events. We will be able to grow as a class and community as a whole. We can have a great year as long as we all get active, obey the Covid Rules and involved in the community. So, let's think back to that great Delbarton saying, "If you're gonna get wet, get soaked." Now let's get soaked and have a great year!