"Everything Everywhere All At Once" – Movie Review
A movie for the ages that you won't forget.
In our lives, there are only a few things that are truly inevitable: death, taxes, and perhaps laundry. This idea is well understood and where the characters find themselves in the beginning of writer/directors, Daniel Kwan and Daniel Scheinert's ("The Daniels") Oscars Best Picture winning-film, Everything Everywhere All at Once. What poses as a lighthearted, typical family movie soon transforms into a philosophically and emotionally mind-bending two hours, traversing the meta-verses. 
Michelle Yeoh gives a virtuoso performance as Evelyn Wang, an owner of a laundromat under IRS audit who lives with her husband, Waymond Wang (played by Ke Huy Quan), daughter Joy (played by Stephanie Hsu), and her father Gong Gong (James Hong). We are introduced to Evelyn preparing for a meeting with an auditor while simultaneously trying to cook food for a Chinese New Year party with Waymond that will hopefully live up to the demandingly hightheir  standards of her visiting father. 
As if her current problems weren't enough, her constantly-depressed daughter wants to bring her girlfriend Becky to the party while Waymond wants to discuss their marriage with Evelyn. Right when Evelyn begins to feel overwhelmed, another version of Waymond from the Alpha-verse appears. At this point in the film, humans learn to "verse-jump" and are threatened by an agent of chaos known as "Jobu Tupaki". Watchers are thrust into a multi-verse adventure with Evelyn that make her question everything she knew about life, love, and family.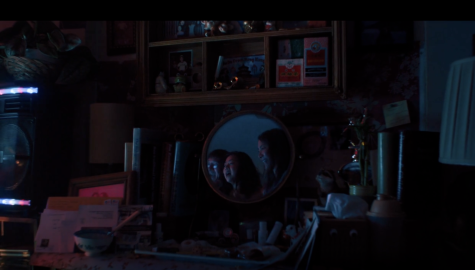 Much of the movie is set in a sterile IRS building where Evelyn battles auditor-of-the- year IRS agent Deirdre (played by Jamie Lee Curtis).
As Evelyn and Waymond's relationship flies up and down through the multi-verses, it's their daughter Joy who proves to be vital to their family. Joy represents the paragon of a growing generational divide. She carries the weight of Evelyn's broken relationship with Gong Gong and the disappointments of a lost American dream. This pressure manifests itself in a rebellion so great in magnitude that it stretches beyond multi-verses where a giant everything-bagel looms like a black hole ready to suck everyone into the void.
When chaos seems to take charge for most of one's life while stability only zips though in small moments, the movie reminds us that it is those small moments that we should remember and hold on to.