Will Donovan Propels Varsity Soccer Team Past Mendham and to 4-0 Start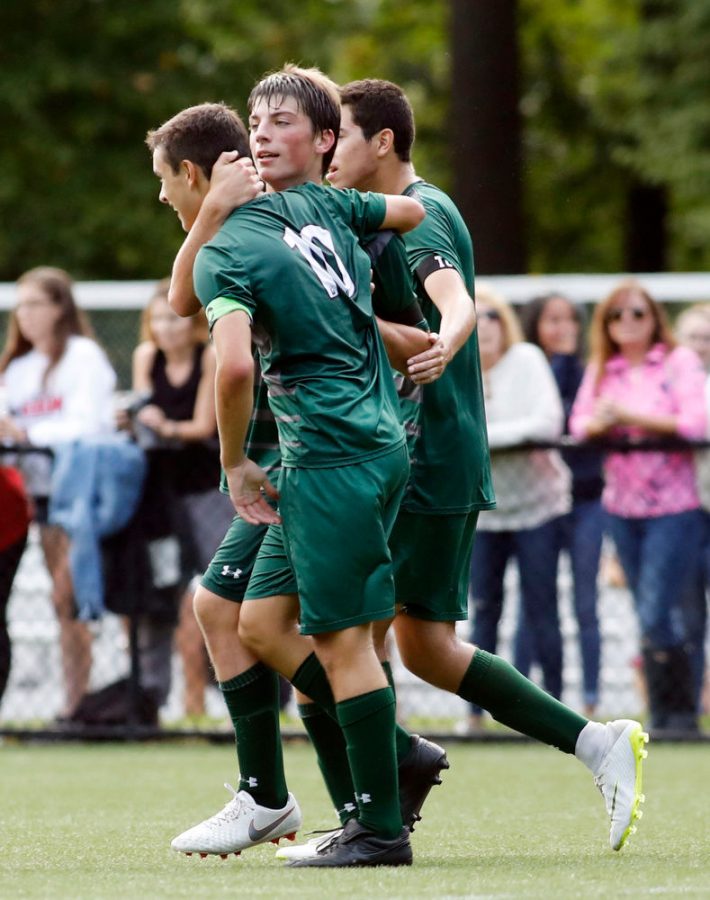 All week last week, Mendham High School students spoke about how badly they wanted to face the Delbarton soccer team. Their team had gotten off to a hot start this season, winning four straight games to begin the season perfectly. Despite their great intensity and desire to beat the Green Wave, the varsity soccer team held strong and defeated Mendham by a score of 2-1. Senior Will Donovan scored both goals for Delbarton, including a go-ahead goal with 10 minutes remaining in regulation.
Mendham brought an incredible amount of students to Ryan Field to watch the game, which made a large Delbarton turnout even more crucial. Fortunately, our students did not disappoint. The game got off to a slow start, as both teams played conservatively to open up the rivalry matchup. A little more than halfway through the first half, however, Will Donovan and the Wave finally broke through Mendham's strong defense and put the first goal on the board. Donovan's shot was very impressive, as it was a cross-body volley, meaning he had to contort his body as the ball was in midair. Later in the half, to Delbarton's dismay, Mendham got on the board after a good lead pass set up a breakaway against Delbarton goalie Kyle Swift. Other than this goal, Kyle Swift had a tremendous game, notching four saves. The first half then ended 1-1.
The second half got underway to a much faster start than the first, with shots from both sides coming early, causing both schools' pits to become rowdier as the game progressed. The Wave, especially, had many chances, particularly corner-kicks, but Mendham's stellar defense seemed impenetrable. Finally, after a save from Mendham's goalkeeper, the ball came back out of the 18-yard box and bounced in front of Will Donovan, who had already proven himself a "volley master". The ball bounced from Donovan's left to right, and as the ball elevated to his right knee, he adjusted his leg and swung. The ball had both dip and curve and was seemingly impossible to save. The goal was truly magnificent and led to a dog-pile celebration of both players and spectators along the fence of Ryan Field. After the second goal, the Green Wave "parked the bus" and killed time until the clock read triple zeroes.
Not only did the Green Wave manage to defeat a tough rival, but they did so under great pressure, with numerous Mendham students watching and heckling throughout the entirety of the game. With the win, the Wave moves to 4-0 on the season and remains the top team in the county. The team has little rest between this game and next game, as the Wave faces Chatham two days later on Thursday, September 20th, at Ryan Field.