Fantasy Football Guide: Week 3
"...this guide should help everyone from novice to football junkie..."
Pierce Munsey, Staff Writer
October 1, 2019
Hang on for a minute...we're trying to find some more stories you might like.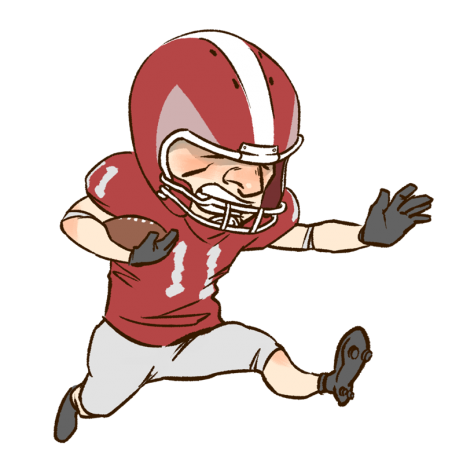 Welcome to the Delbarton's Fantasy Football Corner!
It seems like every year, more Delbarton students are getting involved in this exhilarating game. It adds even more excitement to football, an already exhilarating game. Junior Matt Facchine said, "It's pretty competitive… different kids do it with a lot of different groups… [everyone] asks for advice on setting lineups." Now, playing fantasy football can be challenging, and even experts have to make difficult decisions on a week-to-week basis. However, this guide should help everyone from novice to football junkie.
First, it is important to evaluate the defenses that your players are lining up against on a week-to-week basis. For example, even if you have Aaron Rodgers on your team, you may want to consider benching him when he goes up against the Chicago Bears. However, there are select players that you should rarely if ever take out of your lineup. For example, (barring injury) it would be foolish to take Patrick Mahomes, Saquon Barkley, Deandre Hopkins, or Travis Kelce out of your lineup no matter the match-up. Now, if you happen to own Mahomes and Rodgers, you could get away with starting Rodgers if he has a very favorable defensive match-up. However, it is also wise to take advantage of a good match-up and trade Rodgers to fill a position of need. 
Second, always "buy low and sell high". For example, this week, Matt Breida had a great game against the Bengals, but I caution buyers. Although some might think that Breida will consistently put up the numbers he did on Sunday, he may not. Why is this so? Since Tevin Coleman and Jerrick Mckinnon are both hurt, wouldn't that make him the lead back? Not necessarily. When evaluating a player's roles in an offense, it is important to look at snap counts and touches. Breida only appeared on 29% of the snaps, and his "backup" Raheem Mostert appeared on 47% of offensive snaps, while also getting one more carry than Breida.  Therefore, although one would think that Breida is prime to get a lot of touches, the snap counts suggest that starting him is a gamble. Breida averaged 10.1 yards per carry last week, while in his career, he has averaged 5 yards per carry. However, there is no guarantee that he starts over Mostert, making his yards per carry meaningless. In fact, you can use these high yards per carry numbers to distract a potential buyer from Breida's low snap count and pull off a beneficial trade. 
In addition, do not pick up free agents after one game-breaking week. If a player who has lacked production most of his career suddenly has a huge week, you should be wary about putting them on your team. He will more than likely be a boom/bust player or just a player that produced well out of his expected points range. This ties into standard deviation, and we go into deeper detail on that later.
Another important aspect of evaluating fantasy football players is looking at game scripts. If your player's team is most likely to win the game, they will most likely play more conservative by running the ball in the fourth quarter. Thus, it will only add value to the running back of that team. If your player's team is most likely to lose the game, that means they will be in passing situations in the fourth quarter, which helps the receivers on that team.
WEEKLY ADDITION: Marques Valdes-Scantling
MVS (Marques Valdes-Scantling) has disappointed so far this year, getting a total of 14.1 fantasy points across 2 weeks. However, I believe this is going to change. First off, the Packers have faced two tough defenses (Minnesota and Chicago) to start the season, so the offense has been limited. In addition, MVS has great upside.  His offensive snap count in week 2 was 88%. The next highest wide receiver was Geronimo Allsion at 46%. He even had a higher snap count than TE Jimmy Graham (73%). This snap count proves that MVS is the WR2 in Green Bay. Why do I love this so much? Because it is an offense run by Aaron Rodgers, and touchdowns are up for grabs. Sure, Rodgers had a down year last year, only totaling 25 touchdowns. However, this was a rare occurrence. Compared to his last five healthy seasons, the standard deviation of his 2018 season (where he started all 16 games) was 3.06. For those wondering, this is extremely rare. About 95% of the time, data will be within two standard deviations. Therefore, we can definitively say that Rodger's 2018 season was a fluke, and he will return to throwing around 35 touchdowns per season. Naturally, somebody needs to catch these touchdowns. That's why I loved Davante Adams before the season. He already finished as a Top 3 WR in PPR last year, and I expect him to finish Top 2 with an increase in touchdowns. I was concerned about drafting MVS because I did not know his position on the depth chart, but clearly he has emerged as the WR2 in Green Bay. All in all, acquiring MVS would be a low-risk, high-reward move that could end up winning you your fantasy game this weekend. 
Come back next week for more tips on how to win your fantasy football match-up.