Winter 2020 Musical Preview: Merrily We Roll Along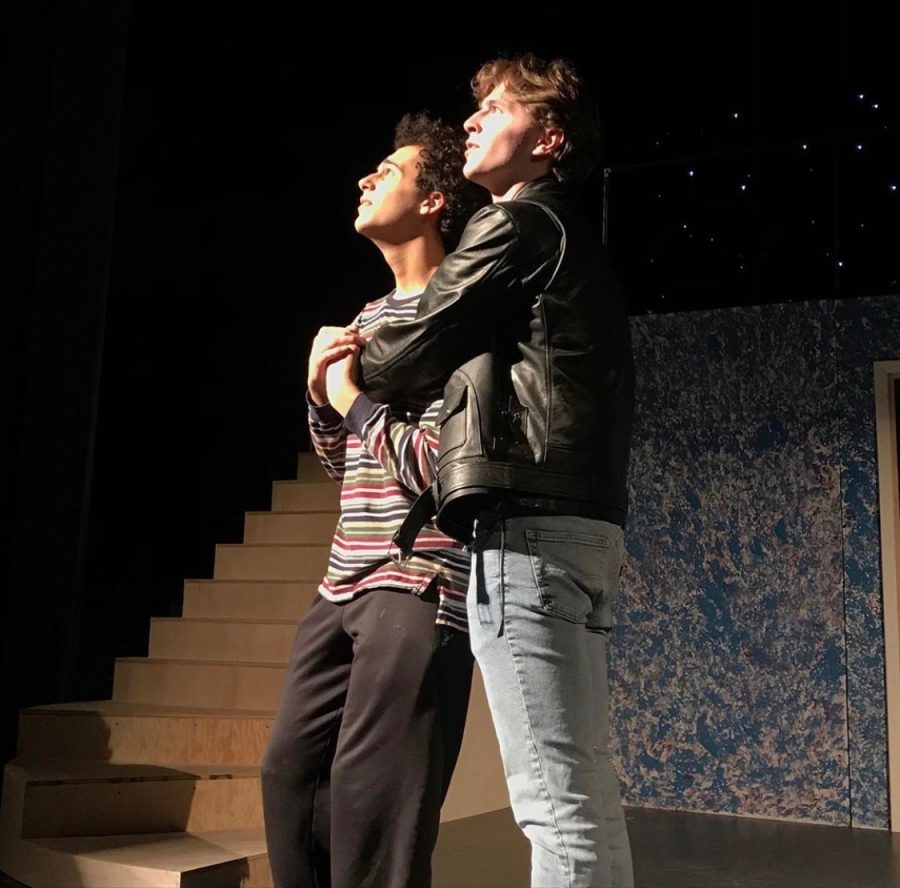 Andrew Madonna, Staff Writer
February 4, 2020
Arguably the biggest Arts event of the year, the Delbarton Abbey Player's Winter Musical is quickly approaching. This year's production is "Merrily We Roll Along", a lesser-known musical by Broadway legend Stephen Sondheim. As the cast prepares for a long and demanding "tech week", let's look at this magnificently complex musical.
"Merrily We Roll Along" first debuted on Broadway in 1981. The main plot follows a group of three longtime friends: Frank a composer, Charley a lyricist, and Mary a writer. Uniquely, the musical begins in the present and moves backward, looking through the key moments (both good and bad) these friends had together in the world of show business that ultimately made them who they are, or as they say in the show, "get to be here."
Although this musical reached limited success on its first run on Broadway, it actually aged quite well, and subsequent Off-Broadway productions received great reviews. In one 2012 production, the renowned Lin-Manuel Miranda, creator and star in Broadway musicals "In the Heights" and "Hamilton", played the role of Charley. He described the music and songs as "ingenious in how [they are] crafted." Miranda further commented, "the songs you hear in the beginning, are reprises in a way, and you hear and get to know the building blocks of each song as [the play] moves backward in time." Now that is something you just do not see in the majority of musicals. As someone playing in the Pit Band, I can attest the score is very good. Audiences will hear a wide range of music, from fast-paced swinging jazz, to somber ballads. 
The senior cast members are especially excited about their final performance in a Delbarton musical. "The cast is the strongest it ever has been during my time at Delbarton, and everybody is ready to show off their talent to people", says Rory Quinn '20, "It will really be a great way to wrap up my history with the theater program." Owen Spina '20 further suggests, "It's kind of funny that the main theme of this play is about looking back on your life and the time you have had with friends, it really makes me think about the great moments I have had over the past four years doing the annual musical at Delbarton."  
So, if you are looking for something great to see this weekend, "Merrily We Roll Along" is here for you. Again, this is one of the biggest Arts events of the year, and you don't want to miss it. The cast has been working extremely hard to put on the best performance for the entire Delbarton community, so come out and support the Arts. I promise you will not be disappointed.   A preview will be presented at a school assembly on Wednesday, February 4 during M-block!
BUY TICKETS NOW AT https://delbarton.ticketleap.com/merrily/. Performances are Friday, February 7th and Saturday, February 8th at 7 pm, and Sunday, February 9th at 2 pm.