One Act Festival
Save the Date: April 22 and 23 at 7:30 PM.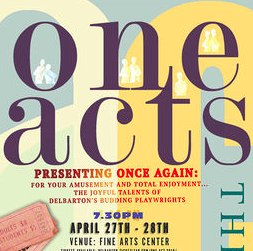 It is spring!  The sun is shining, the sap is rising and a young man's thoughts turn to … Delbarton's Annual One Act Festival!  This year we will once again present student-acted, student-directed and (for two of the three) student- written works.
Jack Tobin is directing  "Words, Words, Words", a previously published work by David Ives.  It is based on the probability theory that given an infinite number of monkeys, an infinite  number of typewriters and an infinite amout of time, eventually one of the chimps will produce Shakespeare's Hamlet.  It is an entertaining and amusing play featuring Wan Virtudazo, Donovan Perry and Nick O'Brien.
In a more serious vein, Hayden Kim has written and directs an original work, "Childhood Dreams" which deals with the critical issues of mental health and living up to expectations for a high school student.  This play features Zach Cirillo, Ryan Hall, with WanVirtudazo and Nick O'Brien again (in a double-casting).
Finally, we offer a political drama, "All is Still in Algiers" written by Will Ritter and directed by Will Ritter and Sahej Sandhu.  This work examines the personal and political conflicts that accompany a political change in a colonial country when the former ruling class is ousted and indiginous leaders assume power.  The cast features Delbarton's own Eoin Quinn, Bridget Lomax (St. Elizabeth Academy) and Mikayla Sharif (Mt. St. Mary's).
The shows will be presented on April 22 and 23 at 7:30 PM in the FAC.  Come on and see your brothers perform.